Hyderabad: Former President of India, Pranab Mukherjee was admitted to the R&R hospital in the Delhi cantonment on August 10 and was operated for removal of a clot in his brain. "Shri Pranab Mukherjee's health condition continues to remain critical.
Following this, few messages have started circulating this morning, on Whatsapp, expressing condolences on the demise of the Ex-President. The message in Telugu translates to "Former President Pranab Mukherjee is no more! Om Shanti. India's former President Pranab Mukherjee expired a few moments ago, in Army Referal Hospital located in Delhi Cantonment"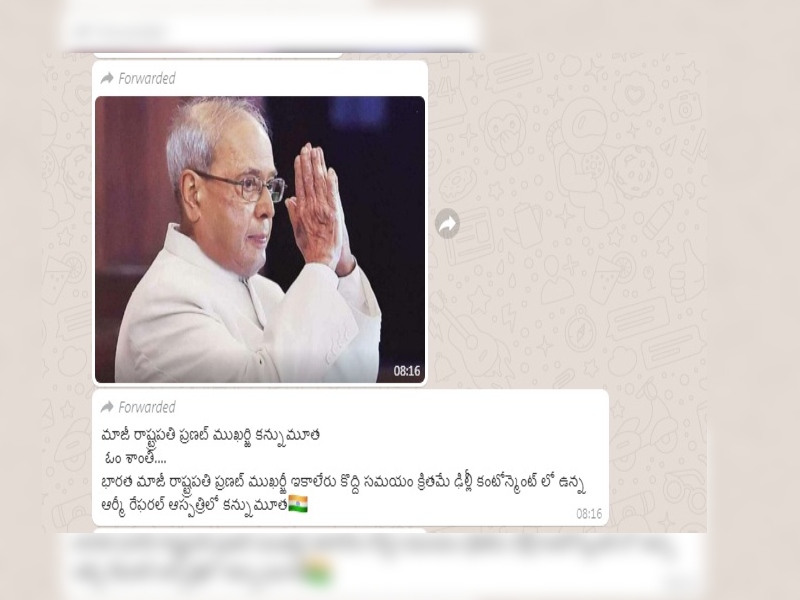 Even, renowned Journalist Rajdeep Sardesai Tweeted this news and deleted later.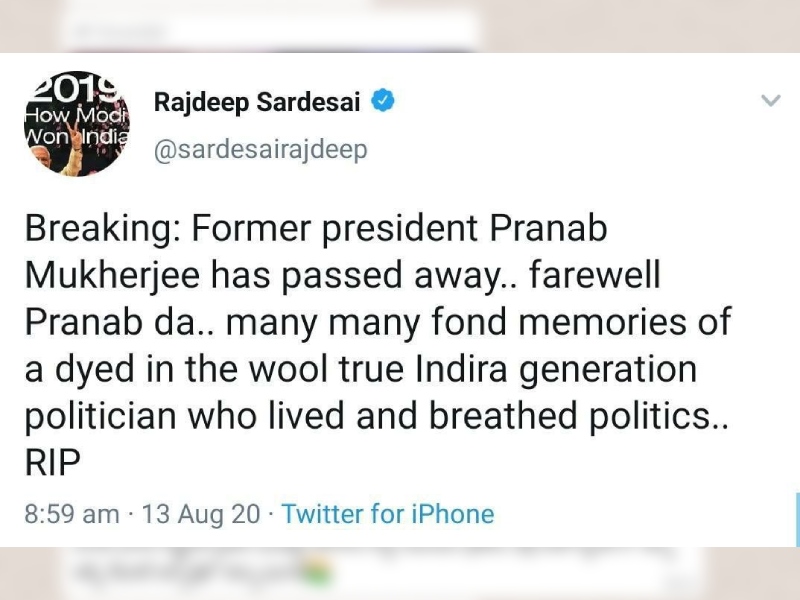 Fact Check:
The claim is FALSE.
The former President is in a critical condition and on ventilator support as per reports on August 13.
According to the doctors attending him, the condition of the former president had worsened on August 11, 2020, and he had not shown signs of improvement, the doctors attending on him said. The 84-year-old had also tested positive for Covid-19 prior to the surgery on Monday.
Former President's son , Abhijit Mukherjee also tweeted that his father's condition is stable and the news in circulation is FALSE.
His tweet mentions: "My Father Shri Pranab Mukherjee is still alive & haemodynamically stable! Speculations & fake news being circulated by reputed Journalists on social media clearly reflects that Media in India has become a factory of Fake News."
RR Hospital also released a clarification stating that "The condition of Hon'ble Shri Pranab Mukherjee remains unchanged this morning. He is deeply comatose with stable vital parameters and he continues to be on ventilatory support."
Rajdeep Sardesai, later apologized on Twitter stating that he fell for fake news in circulation.
Therefore, the news of Former President's demise is FALSE.
Claim Review :
News about demise of former president Pranab Mukherjee
Claimed By :
Social Media User