Hyderabad: Why should nurses, doctors and hospital staff be at risk with their constant interaction with COVID-19 patients? This was what three techies from Hyderabad thought, as they decided to redesign their robot, amid the COVID-19 crisis.
Called the 'Interactive Service Robo', this 'social robot' is capable of delivering food, medicines and what not to patients in hospitals, the inventors say. "Obviously, health officials are at higher risk due to exposure with patients. This robot can minimize that to an extent, and thereby do the job that might otherwise need manpower," said Syed Abdul Bari, one among the three behind the innovation.
"The robot will be controlled via a mobile app, either using Wi-Fi or BlueTooth. The camera fit on the robot will help the person who is controlling it to view what is being done and on what track the robot is going," he said.
The robot was actually created as part of the final year project of these three engineering students, based in Hyderabad. Although the robot was initially created with restaurant service in mind, the innovators felt that it could be put to better use in hospitals now, especially during the COVID-19 health crisis. "The three of us are former engineering students at ISL engineering college. We passed out in 2019. As the coronavirus outbreak has put the entire nation into lockdown, we wanted to do our bit to help," said Syed. The team consists of Syed Abdul Bari, Mohammed Ashfaq Ahmed and Mirza Salman Baig, all from the city.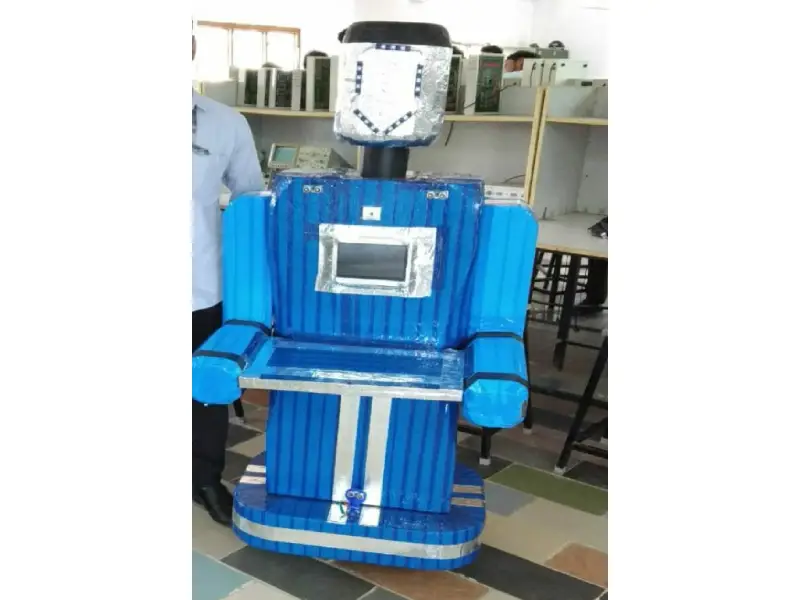 'Made model robot with just Rs 25,000'
This 'social robot' was made on an experimental basis, with a budget of Rs 25,000, says the innovators. "In other countries, such robots are already being made, but at a higher budget," said Syed.
Meanwhile, their invention has already caught the eye of the state government officials. Seeing their post on Twitter, Jayesh Ranjan, IT and Industries Principal Secretary had asked if the robot could be deployed as a demo in one of the hospitals in the state. "We have to refurbish the robot and fine-tune it, so that it is ready to be used. We will be working on it from tomorrow, hopefully, if they give us the green signal, it will soon hit the hospitals here," signed off Syed