Bhongir: The famous Yadagirigutta Lakshmi Narasimha Swamy temple in Bhongir in Telangana is all set to host the 'mother of all yagams' in February. The temple, which Telangana Chief Minister K Chandrasekhar Rao renamed as 'Yadadri temple' is located 65 kilometres from Hyderabad. KCR decided to perform a 'Maha Sudharshana Yagam' at Yadadri, which is dedicated to Lord Narasimha Swamy.
Soon after Telangana's formation and assuming office as its first Chief Minister in June 2014, KCR decided to transform the 1,000-year-old Yadagirigutta temple at a whopping Rs 1,800 crore. He unveiled his plans to develop Yadadri as a "major pilgrim and tourist centre" like Tirumala and started renovation works on 14.5 acres on the hillock in May 2015.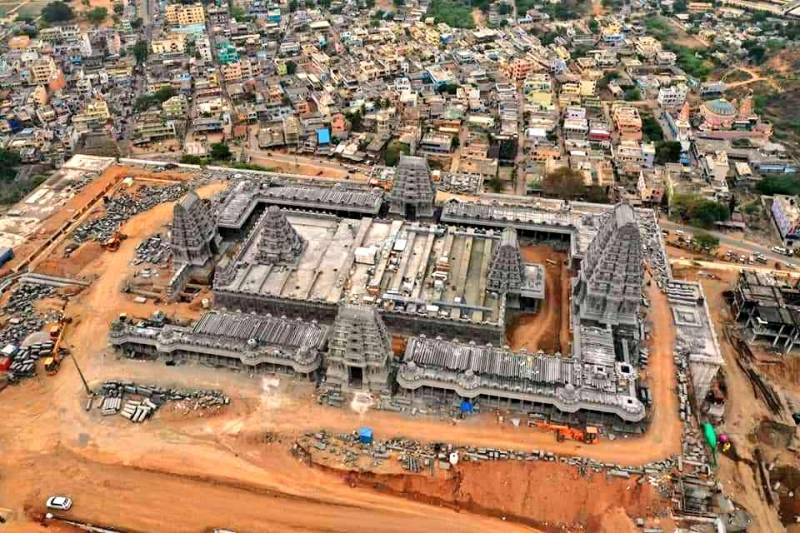 Telangana IT Minister KT Rama Rao tweeted pictures of the renovated Yadadri temple, showing that works have reached the final stages. The renovated temple with various facilities will be ready to invite pilgrims from February 2020.
About 2.5 lakh tonnes of granite from a hill in Gurjepalli in Andhra Pradesh was transported to Yadagirigutta to rebuild the temple. In other words, a 9.4 square kilometre mountain has been moved to create the renovated Yadadri temple. In the process, a 30-tonne monolithic block was transformed into a 15-tonne image of Alwar (a Vaishnavite saint). There are 12 statues in various locations inside the mandapam — which is 202 feet long and 103 feet wide with 36-foot high walls.
However, to protect the originality and the sanctity of the old Yadagirigutta, the original cave temple of Narasimha Swamy and the rock with Hanuman carving were not touched for renovation.
Coinciding with the inauguration of the renovated Yadadri temple, KCR has decided to perform Maha Sudharshana Yagam in February 2020. Over 3,000 ruthviks, Vedic scholars and others would participate in the yagam. As many as 1,048 yagna kundas — small pyres made of bricks where the ritual is performed — would be constructed in this 100-acre yagna vatika.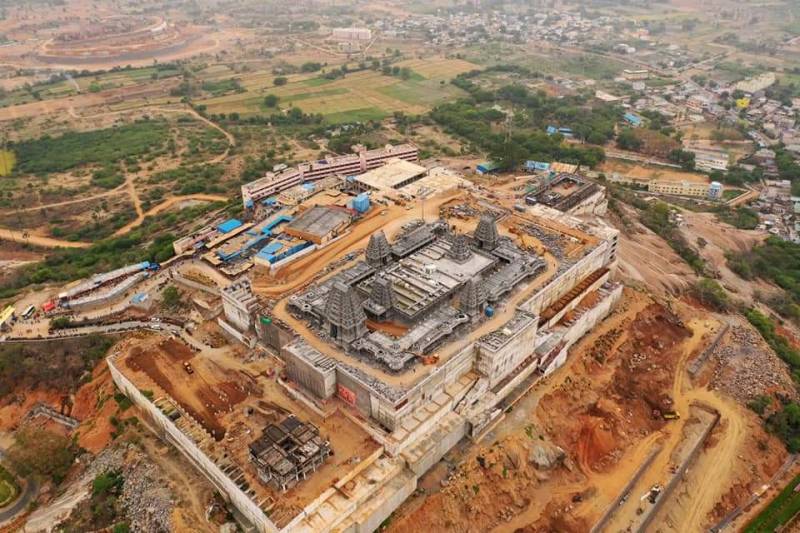 KCR has decided to rope in the peetaadhipathis of the Vaishnava peethams from across the country, including Badrinath, Srirangam, Jagannath, Tirupathi and seers from other holy places all over the world.
KCR has also decided to invite top leaders from the central government, Chief Ministers, governors, and ministers, apart from spiritual heads of all Hindu sects concerned with the Sudarshana Yagam.