Highlights
After the outbreak of the pandemic, as many as 10,893 police personnel have been infected with Covid-19, including the police and CRPF

Over 12,152 police personnel have been in quarantine/ self-isolation and as of today, 97 have succumbed to the disease

Andhra Pradesh and Telangana, it was found that 46 police personnel of Andhra Pradesh which has a force strength of 61,168, tested positive
Hyderabad: The Indian police have been on the forefront fighting against the Corona crisis, protecting the healthcare workers, controlling crowds at hospitals, and implementing lockdown to ensure smooth flow of essential services and see that the supply chain is not interrupted.
After the outbreak of the pandemic, as many as 10,893 police personnel have been infected with Covid-19, including the police and CRPF.
Over 12,152 police personnel have been in quarantine/ self-isolation and as of today, 97 have succumbed to the disease. Maharashtra which has a force strength of 2,13,382 has the highest rate of positive cases with over 4,743 testings positive and 59 succumbing to the infection followed by Tamil Nadu where 1,511 police tested positive.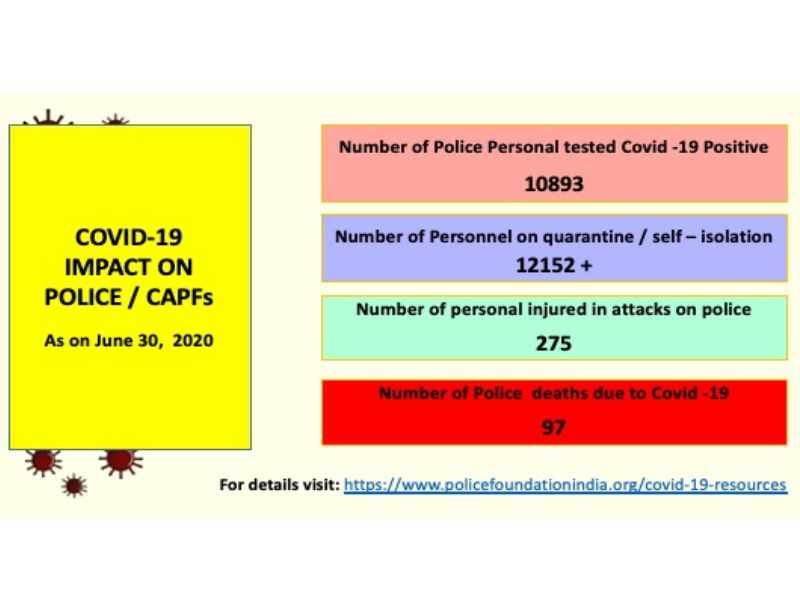 On comparing the data of Andhra Pradesh and Telangana, it was found that 46 police personnel of Andhra Pradesh which has a force strength of 61,168, tested positive for the virus while one cop succumbed to it.
In Telangana, over 200 of the total 53,115 police personnel in the state tested positive. Even in TS, one cop succumbed to the infection. A 37-year-old constable died after testing positive for Covid-19. From Hyderabad alone, a woman officer of Additional DG rank and two other officers of Additional DG and Joint Commissioner rank were tested COVID positive. Most of them have been engaged in tracing COVID positive and their primary contacts in April 2020. Also, the most affected are constable and sub-inspector in level officers.
Earlier, several officers from the
Banjara
Hills
and SR Nagar police stations had tested positive for COVID-19 and all of them had been placed under quarantine. So far, the number of positive cases among police officers has crossed 200, with most of the cases reported from police stations under Hyderabad commissionerate.
10893 Covid-19 infections among police & CAPF personnel as of today. 92 have succumbed to the disease. Please see their memorial wall on the IPF Covid-19 Dashboard: https://t.co/bx1wd4nLtV pic.twitter.com/9KJz7UVKI2

— Indian Police Foundation (@IPF_ORG) June 30, 2020
[amp-tweet tweetid="https://twitter.com/IPF_ORG/status/1278006360781680640"]
Sanjeev Kumar Yadav, a Delhi police inspector and a gallantry award winner, posted at the special cell succumbed to death after being tested positive for Covid-19 on June 30.
Police personnel across India have been applauded for their extensive humanitarian work, ensuring food and medicines reached people in need.
At the same time, law enforcement during a pandemic is fraught with the risk of contracting the infection, as police personnel come in direct contact with the countless number of people while discharging their duties