34 per cent consumers now spending over 4 hours per week on group video calls; WhatsApp and Zoom most preferred group video calling apps

15 per cent consumers say they will switch to Jio Meet soon

Meeting hosts key stakeholders in deciding the choice of platforms

70 per cent group video call users want any recording of their calls to be stored in India
New Delhi: For people stuck inside their homes during the COVID-19 lockdown, cut off from their families and colleagues, video calls have become a normal part of their everyday lives. In India, more and more people are using video calling apps like Zoom, WhatsApp, Microsoft Teams, Google Meet, and Skype.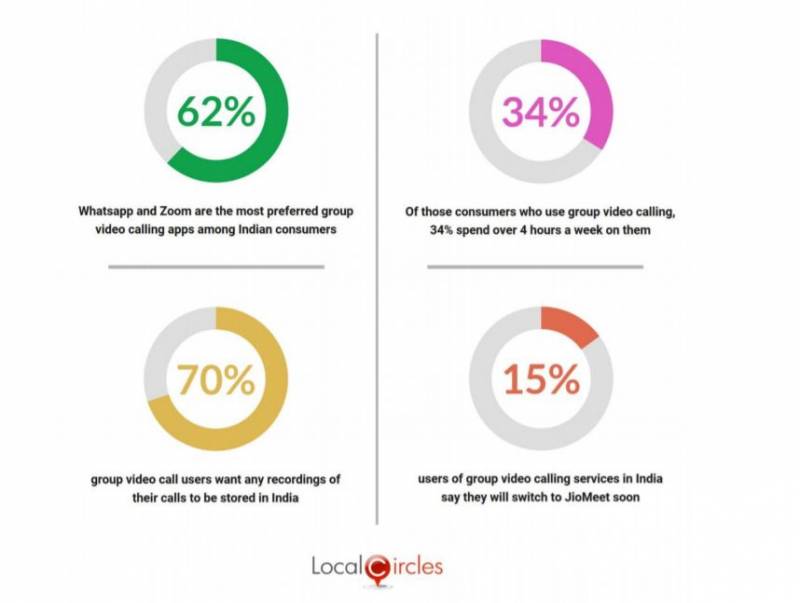 LocalCircle surveyed over 35,000 people from 247 districts in the country and found that 34 per cent of respondents spend over four hours a week on video calls. WhatsApp and Zoom were the most preferred video calling apps among Indians with 27 per cent saying they use Zoom while 35 per cent said they preferred WhatsApp. Meanwhile, 11 per cent used Microsoft Teams for video calls, while 13 per cent used Google Meet/Hangout, five per cent used Skype and four per cent said they use Jio Meet. Five per cent of the respondents said they preferred other apps for group video calls.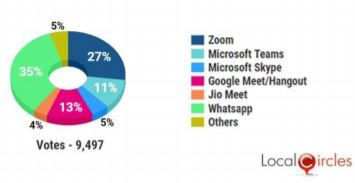 When asked how much time they spend on video calls, 37 per cent respondent said they spend less than an hour per week, while 28 per cent said they spend between one-four hours per week. Meanwhile, 14 per cent said they spent four-eight hours on video calls, while another 14 per cent spent eight-16 hours and only three per cent said they spent 16-24 hours. Also, three per cent of the respondents spend more than 24 hours per week on video calls.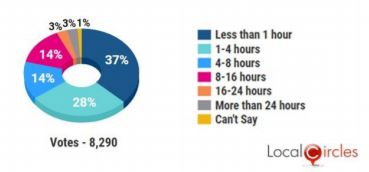 Following the lockdown, families started connecting with their loved ones through video calls while small-medium enterprises and small businesses quickly adapted to the changed circumstances and started conducting meetings online. Schools started online classes and millions of students started connecting with teachers and friends via group video calls. Also, TV channels found a new way of connecting their guests to live broadcasts.
WhatsApp launched "Messenger Rooms" which allows up to 50 people to participate in a video call with no time limit. This feature is available on both android and iOS platforms. Many schools are using applications like Microsoft Teams and Google Meet to conduct online classes. Reliance Jio recently launched the Jio Meet app with many features similar to Zoom.
For many, video calls are limited to catching up with family and friends on a Sunday, while for others their work now involves spending six-eight hours on group video calls each day. Students, especially those in senior school, are reportedly spending 10-12 hours on group video calls for classes, after school tuitions, and group projects.
LocalCircle's findings indicate that of those people who use group video calls, 34 per cent spend over four hours a week on them. This is a significant change both from pre-COVID usage when group video calls were limited to use by some corporates and small businesses to connect with their remote or global teams.
When respondents were asked if all apps providing group video call services be required to store the same in India, 56 per cent respondents said yes and said they will switch providers if they don't comply, while 14 per cent said yes but they won't switch providers even if they don't comply. Also, 12 per cent said platforms should not be required to do this while 16 per cent said it does not matter to them.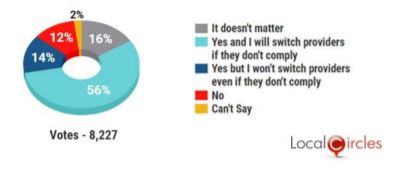 The poll results showed that 70 per cent group video call users want recordings of their calls to be stored in India. After the India-China border mishap in the second week of July, 59 Chinese apps were banned by the Indian government over safety and privacy issues.
Following the ban, many India-based applications witnessed a huge surge in downloads. When asked what was preventing them from switching from Zoom, WhatsApp, and Teams to a platform like Jio Meet, 25 per cent said they are happy with what they are using while 27 per cent said the meeting host uses the above apps and they are generally an attendee. Meanwhile, 19 per cent said they don't trust Jio Meet while three per cent said it lacks certain features and four per cent said it is difficult to use. Fifteen per cent said they will switch to Jio Meet soon.

Jio Meet claims that it can be used to make high-definition audio and video calls and allows up to 100 people to join a call without any call duration limits. "This app has been launched at a time when Zoom's popularity has exploded due to the ongoing pandemic, and it won't be wrong to say that Jio Meet is aiming to be India's Zoom. However, with Zoom's zooming market cap, and the resources of Google, Facebook, and Microsoft, one can expect all these companies to only improve their group video calling capabilities and features," according to LocalCircle's report.
It also added, "With many organisations already having announced work from home for the next few months, concerns around re-opening of schools and demand from parents for continuing online classes instead...are some indicators that the overall usage of group video calling apps will continue to rise in the coming year."
Of the over 35,000 respondents who took part in the survey, 61 per cent were men while 39 per cent were women. Also, 49 per cent of the respondents were from tier 1 cities, 32 per cent from tier 2, and 19 respondents from tier 3, 4, and rural districts.