Hyderabad: Vehicle registrations in Telangana have declined in the last seven months reflecting the adverse impact of Covid-19 in the automobile sector.
According to the vehicle registration database of Regional Transport Authority, Government of Telangana, 8,98,813 new vehicles were registered between January and July, this year, a decline by over 27.8 per cent, when compared with 2019.
In the same period, last year, 12,44,840 vehicles got registered in the state, as per the data.
This comes as a double whammy as registrations were on a declining trend last year in the wake of the slower economic growth in India.
There was not much difference in total registrations between 2019 and 2020 in the first 3 months till March. However, the imposition of national lockdown measures since March 25 saw registrations falling drastically from April.
For instance, it decreased from 1,64,959 in March to only 2,161 in April, which further gained momentum with the registration of 70,593 vehicles in May. Last year, in the month of April, 1,68,662 vehicles were registered while in May, 2019, 1,73,808 vehicles were registered.
In April, only tractors and farmland vehicles got registered as these registrations were pending with the Regional Transport Authority offices. In May, with lockdown being eased and the registration office being opened partially, vehicle registration gained momentum.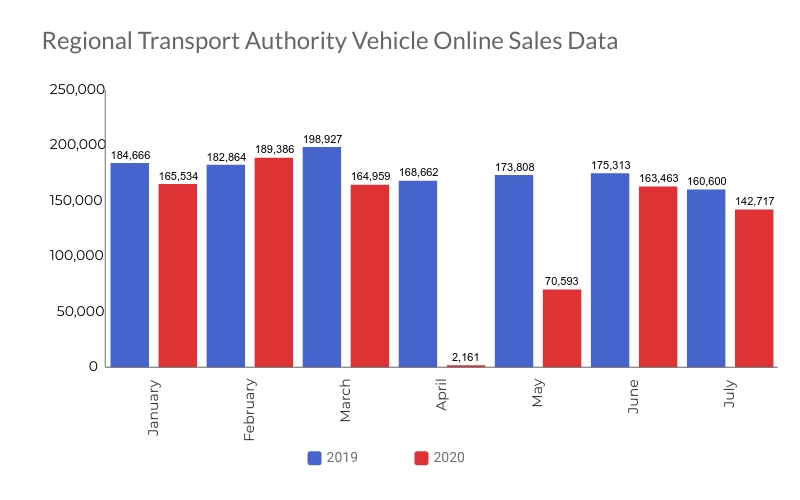 In June, the registrations picked up to 1,63,463 as the gradual lifting of lockdown began. However, the surge in Covid-19 cases in July had an adverse impact and registrations fell to 1,42,717 in July.
On Year-Over-Year (YOY) basis, the registration of vehicles declined by 27.8% in the first 7 months when compared with the corresponding period during last year.
This is also in alignment with the overall national trend, which witnessed a 5.52% decline in vehicle registrations from 2.27 crore in 2018 to 2.14 crore in 2019. In the first 7 months, there were only 0.89 crore vehicle registrations in India.
The revenue collection through alteration of motor vehicles, change of addresses in the registration certificate, renewal of a permit, etc. was constantly increasing over the years and it is feared that this might also see a decline in 2020 due to the pandemic.