Hyderabad: Around 74 plus lakh bank accounts in Telangana will received an amount of Rs 1500, as promised by the Telangana Chief Minister K ChandraShekar Rao to support families during crisis. A total of Rs 1,112 crore have been transferred by government to various bank accounts, said IT minister K.T. Rama Rao.
This comes,days after Chief Minister KCR announced financial aid to people in Telangana amidst Corona Crisis. The Minister also shared that more than 87 percent of free rice has been distributed to 76 lakhs card holders in the state, that amounts to 3 lakh metric ton of rice.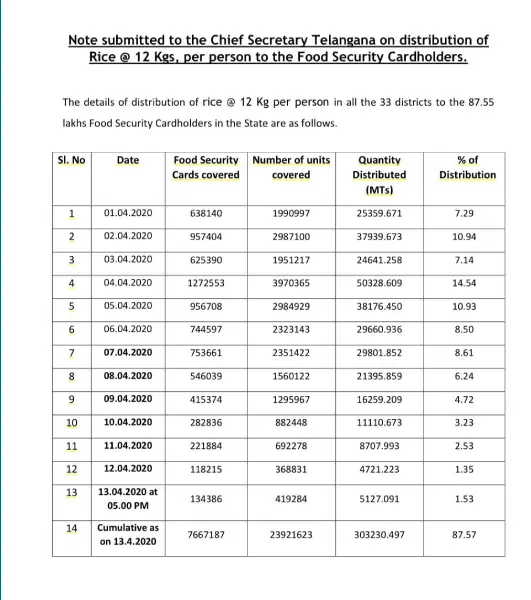 Earlier during the lockdown, The CM announced sanctioning of Rs 2,417 crore to assist the Below Poverty line (BPL) holding ration cards.This is to ensure that there was no break in the emergency services and supply of essentials to the poor and marginal. 'They (referring to families) will be given 12-kg free rice per head besides Rs 1,500 monetary assistance for each household possessing ration. We will supply 3.36 lakh tonnes of rice costing Rs 1,103 crore to over 86 lakh ration card holders free of cost," the CM said.
KCR stated that the government had invoked the provisions under The Indian Epidemics Act, 1897, for imposing the shutdown and the government would have special powers to tackle emergencies caused by calamities like outbreak of epidemics.
The state head also directed private companies to pay salary for their staff during the shutdown period.'Even the labourers working in construction sites should be paid by contractors', the CM said.