Hyderabad: The COVID-19 death toll in Telangana reached 17 after one person died of the virus on 13 April. The state also reported 61 new cases on Monday.
So far, 693 Corona virus cases have been reported in the state, of which 103 have been discharged. The number of active cases in the state is 472. On Sunday alone 28 new cases and two deaths were reported.
According to the ministry of health data, Telangana reported the highest number of cases in the country on 13 April. Till 5 p.m on Monday, Madhya Pradesh had reported 40 cases, Tamil Nadu 32, and Gujarat 23. Also, India has reported 9,352 COVID-19 cases so far, of which 8,048 are currently active. The country reported 324 deaths, while 980 have recovered or migrated. The number of cases has doubled in the last seven days.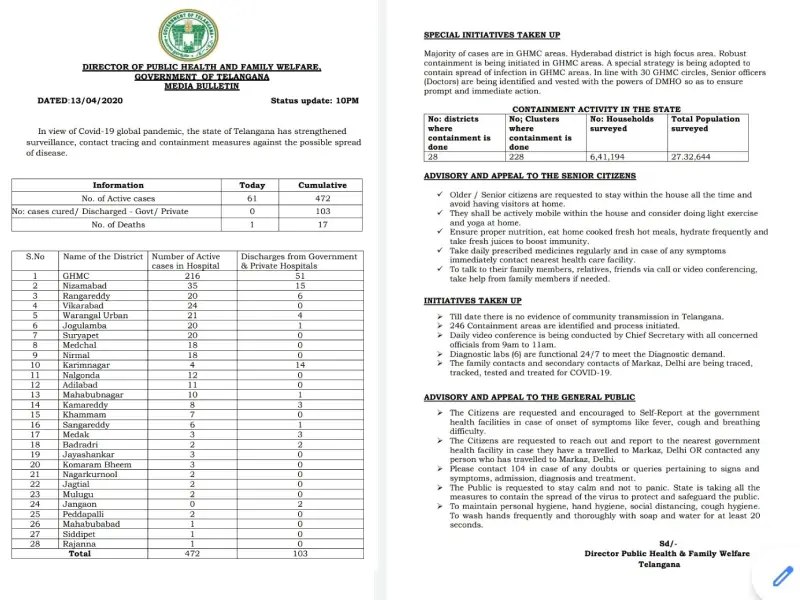 India crossed the 1,000 mark in 60 days. From there the count doubled to 2,000 in four days, and to 4,000 in the next four days. The number of cases crossed 9,000 in a week.
Meanwhile, a new situation has developed in Telangana after two people from Nirmal district who had participated in a religious congregation at Deoband in Uttar Pradesh tested positive for Corona virus. Official sources said the Deoband congregation took place a few days before the Nizamuddin event. Reportedly, over 100 people from Telangana participated in the event.
So far, 202 hotspots have been identified in Telangana. According to Chief Minister K. Chandrasekhar Rao, around 1,200 people who attended the Tablighi Jamaat, including their primary contacts, have been quarantined. In total, 1,650 people were placed under isolation.
Amidst a spurt in the number of COVID-19 cases in the state, KCR has decided to extend the lockdown till 30 April. "The lockdown has helped contain the spread of Corona virus to a great extent. There is no other better solution than this. I request people to cooperate and refrain from mass gatherings until April 30," he said.