Hyderabad: Middlemen and shifting the agri produce have been major hassles for the farmers since long. Lockdown has hit transportation and it became tough for many farmers to transport their produce to the city. Sensing this trouble, Okro Ventures, a Hyderabad-based agri-tech startup collected the produce directly from farmers and sold it to the consumers.
Abhinav Daga, one of the founders of Okro Ventures said, "The startup was launched with an idea to remove the middlemen. We found that the profits that should reach farmers were being bagged by the middlemen and tried to do something in this area."
The 18-month-old startup has a pool of 90 farmers with whom they co-ordinate for the produce. "Basing on the customers' need, on a day-to-day basis, 25-30 farmers are contacted and their produce is collected," explained Daga.
Apart from transportation of agri produce, we also provide a platform to sell the crop and give farmers advice on the type of seed to be used and how to develop a quality produce.
"After working with farmers for a long time, we were able to understand how much work they have to do to produce the crop. It is a 24x7 job and the monetary benefits that they get is very less, so we also ensure that they get '2-'3 more if they sell their produce to us, than selling to middlemen, "said Daga.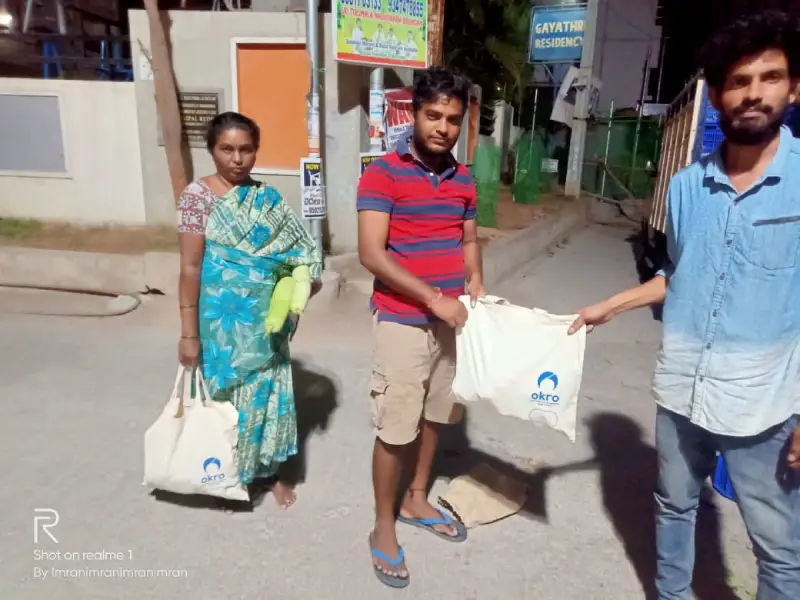 Okro didn't face much problem with their supply chain amid lockdown, which the other established grocery delivery platforms faced. "Initially, we had few issues but we were able to sort them soon as it was just us and the farmers," said Daga. Amid lockdown, the startup is also running a non-profit business by just covering transportation costs.
The startup also ensures that only good quality products reach the consumer. Every day, by 7 am, we inform our farmers how much produce we want and Okro's team reaches the farmers to collect the produce. The collected produce is brought to our warehouse in Chevella where the sorting is done. Poor quality products are removed and the others are packed based on the consumers' need. Later, they are delivered by the delivery boy, explained Daga.
He said that as the farmers are seeing profits they are being loyal to the company. The company also guides farmers on how to increase produce in the farm, amount of fertilizers to use, how to do organic farming and others, which in turn helps the organization get a quality product.