Hyderabad: A 45-year-old man fondly called as 'Jiyaguda Pahalwan' and his nine family members have been tested positive for coronavirus. The medical reports have only amplified the misery of the tightly-knit family who has already lost the eldest cousin to COVID.
Ten members of the family have now been admitted to Gandhi Hospital in Hyderabad. Eight others have been put under home quarantine. The last three weeks have been extremely distressing for the family. The lane adjacent to the famous Gopi Hotel in Jiyaguda has been turned into a containment zone.
Like any other Indian family, Pahalwan lives with his mother, two brothers, and their spouses. The adjacent house belongs to his 'Badi Papa's'. The 'khandan' (clan) is known for establishing one of the oldest 'Akhada' (wrestling training institute) in the old city that has produced many sportspersons.
Misfortune hit the family when the eldest cousin complained of pressure in the chest. The 68- year old, with pre-existing ailments, was shifted to a Corporate Hospital where he was tested positive for coronavirus.
The test reports shocked the family as the man had no domestic or international travel history. He was neither a primary contact of a COVID patient. He succumbed, Five hours after he was put on ventilator at Gandhi.
"My elder cousin was physically and mentally fit. A darling of all, his life revolved around his cousins and their families. He never stepped out of the house since the lockdown. The only time he ventured out was when he was taken to the hospital. There were no family members by his side. He might have survived had someone been around," Pahalwan said.
Tragically, the man died on his 40th wedding anniversary, and to date his wife has not been informed. His wife, two sons, and their spouses, all primary contacts, have been tested positive. The eldest daughter-in-law tested positive five days after she delivered a baby. Luckily, her one-and- half-year-old son and 15-day-old infant have tested negative. Three weeks on, the source of the infection is not known.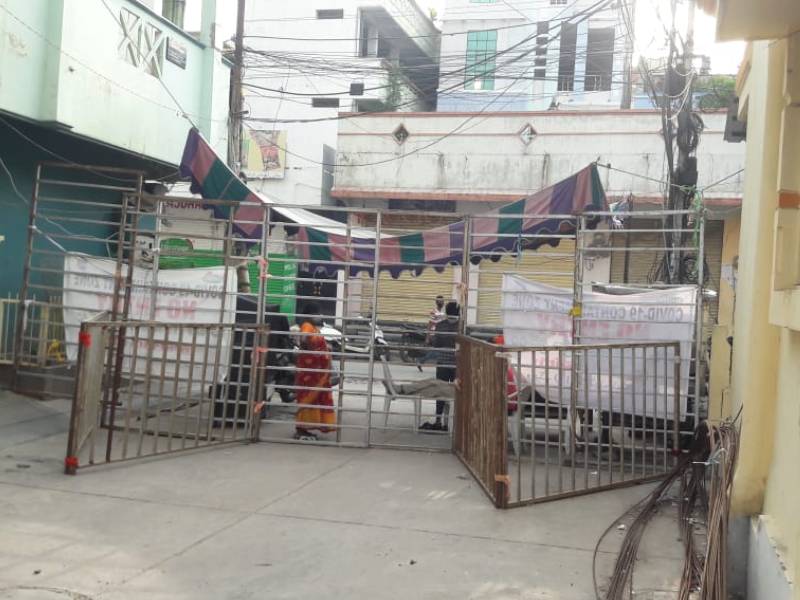 How the virus spread in Pahalwan's family?
On May 13, Pahalwan began coughing and it wasn't that simple as it would sound. The infection was so severe that he would become semi- conscious by the intensity of coughing.
"I stopped my social activities since the lockdown was imposed. A week after losing my eldest cousin, I began to witness a few symptoms. On May 13, I visited a private hospital in Tappachabutra. Doctors, however, referred me to King Koti where I was tested positive. Since then, I have been at Gandhi with six of my family members", he said.
On May 22, three more family members and a youth from the neighborhood tested positive. They include his elderly mother, wife, and nephew.
This particular case also speaks much about how the Telangana government is under- testing primary and secondary contacts of a COVID patient. GHMC member Mahmood Hussain told NewsMeter that Pahalwan's 18 family members have been placed under quarantine at Jiyaguda. "I have been running pillar to post to get the primary contacts tested. Since I knew Pahalwan, I dialed Collector's office, GHMC zonal commissioner, and even district health officers. Six days after repeated requests, seven of the 18 family members were taken to the Sarojini quarantine center for tests. Four samples have come back positive," he said.
It is to note that of the 18 primary contacts only seven showed symptoms. Others are asymptomatic and have been placed under quarantine. An Asha worker has been assigned to keep a tab on their health.