Vijayawada : Andhra Pradesh police have advised public to avoid cash sanction for atleast two weeks, in view that the CoronaVirus 'might' have spread through currency. Notably, so far, there is limited scientific evidence to back the claim that coronavirus transmits via paper (currency).
An internal order issued by the DGP's office comes  after a businessman from East Godavari district, with no history of foreign travel or any contact with primary or secondary source of Coronavirus, tested positive for the disease.
Apart from him, a physician from Guntur who contracted the virus i. To contain the spread, the police have advised people not to collect cash for two weeks starting from April 14. They also advised people against visiting red zones even for essential commodities.
In a statement, police said exchanging currency notes while selling goods as the possible source of his infection. The statement read, "This phenomena rings alarm bells in our State as online transactions are minimal and mostly business is carried through cash transactions. Person tested in East Godavari district had no travel history outside the state and no primary contact with COVID patient. However they have done the business in which they collected currency notes from many persons while selling goods/essentials. This got them infected which clearly indicates currency notes are culprit carrying the virus. Therefore in the light, public is advised to avoid collection currency notes for 2 weeks beginning April 14th, also avoid red zone areas even on essential commodity business'.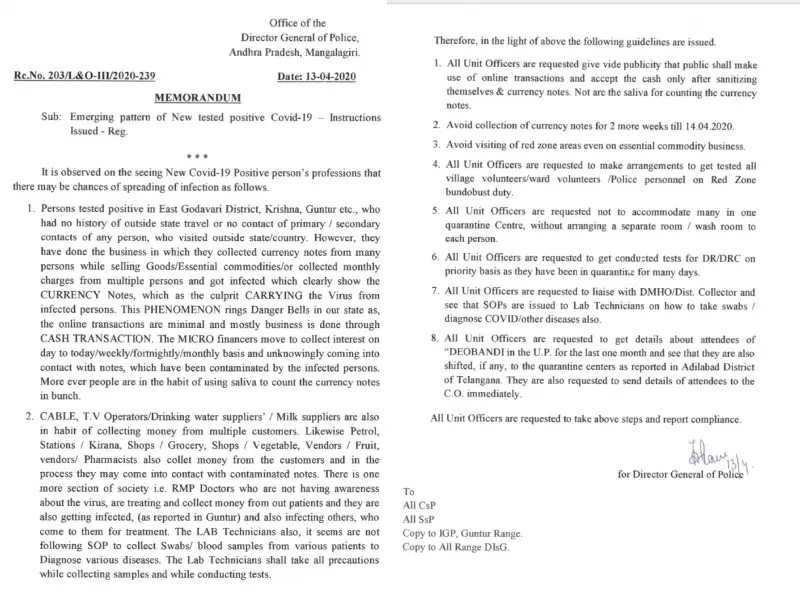 According to the statement cable TV operators, drinking water suppliers, vegetable vendors, milk suppliers, kirana shops, grocery shops and others mostly depend on cash transactions which can lead them to contracting the virus. "There is one more section of society, i.e RMP doctors who are not having awareness about the virus, are treating and collecting money from out patients and they are been infected ( as reported in Guntur) and also infecting others. The LAB technicians also, it seems are not following the procedures while collecting swabs/blood samples from various patients to diagnose various diseases' said the statement . The AP police has asked lab technicians to take all precautionary measures while taking samples.
To ensure safety, all its unit officers have been asked to make arrangements to test all the volunteers, police working in red zones and disaster response force personnel.
Speaking to NewsMeter, AP DGP Gautam Sawang said, 'First of all it is not sent by the DGP but the office.It's just one of the possibilities of catching infection which our officials   have incorporated in one of the many routine messages which we send on a daily basis to keep alerting units on the ground. Just to be aware of the possibilities and to keep them alert all the time'.
He further adds , 'As on date, There is no proof or any established evidence of contamination by currency notes of any kind whatsoever'.