It's clear that people who wear masks in public places, are likely to experience less serious illness from the deadly COVID-19 virus! Even the World Health Organization has confirmed that wearing masks can restrict the entry of virus through droplets expelled by the infected person. So, it's time we treat a mask like a necessity than a mere accessory!
However, not every mask available in the market is suitable for everyone. To help you choose the best one for your age, profession and health condition, we have listed out the 10 Different Types of Masks for Covid-19 Protection.
5 Types of Covid-19 Masks for Men and Women:
Listed below are the 5 types of best masks for COVID-19 protection available in India, along with information on who should wear it and what are it benefits:
1. 3-Ply Washable Woven Cloth Masks: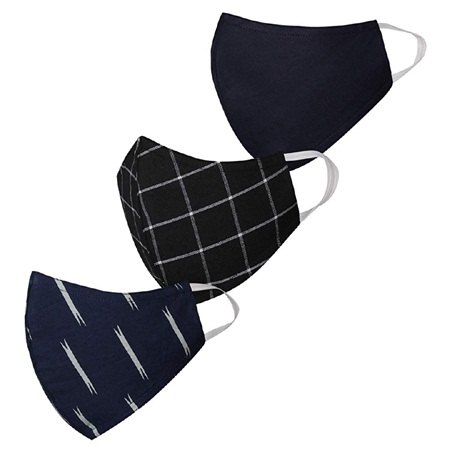 When it comes to comfort and better breathability, a 3-ply cotton mask is the best! It is designed for general public use and comes with three layers which offer about 75%-80% protection from COVID-19. The special cut of the mask fit snugly on your nose and mouth, offering superior coverage. Ear elastic bands secure the mask in position and allows you to move around freely without having to worry too much. Do check out the colorful prints and designs to match your outfit.
2. 5-Ply Reusable Outdoor Masks: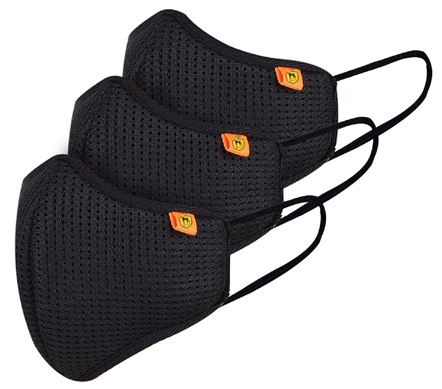 A 5 ply mask is designed to filter 95% of foreign organisms including dust, pollution and even the virus from entering your body. It offers the benefits of five layered quadra filtration technology, that includes a mesh layer, particle filtration layer, 2 micro particle filters and lastly a cotton fabric for sweat absorption and breathability. The ear loops are designed with premium elastic to prevent the mask from slipping off. These reusable and washable masks are ideal for those who frequently travel outdoors, including working professionals, bikers etc.
3. 3-Ply Disposable Surgical Masks: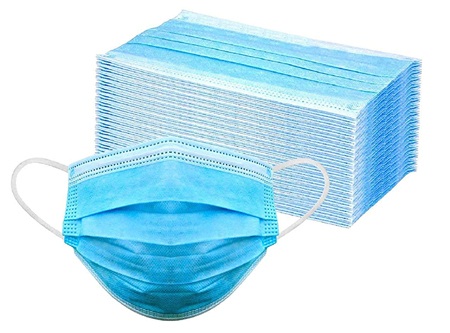 Surgical masks are disposable products which are made specially designed for frontline healthcare workers, including doctors, nurses and staff. These masks are made with blue non-woven plastic fabric that can protect the user from large particle droplets, which are the primary cause for COVID-19 infection. The mask is rectangle in shape with pleats or folds and there is a metal strip on the nose to adjust the shape. It comes with slightly loose fitting elastic ear bands. The mask cannot be reused and must be discarded immediately after a single use.
4. Disposable N-95 Masks (without Respiratory Valves):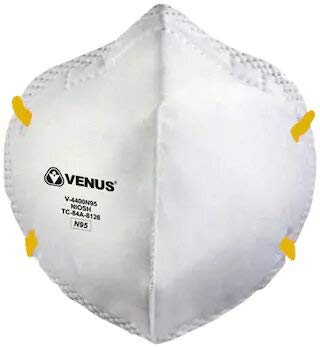 N-95 masks are specially designed for medical and industrial purposes, where the exposure to foreign particles and microorganisms is extremely high. It is made with N95 FFP2 Grade material that filters 95% of PM2.5 particles. This particular mask is designed in a round shape that fits your face perfectly and covers the nasal and mouth area. An aluminium clip is provided on top of the nose for better fit and braided elastic bands sit well on your ears. These types of masks for COVID-19 protection are strictly recommended for adults who work in specific fields only.
NOTE: Avoid buying N95 masks which have respiratory vents as they are not deemed to be safe.
5. Full Face Masks with Plastic Shield: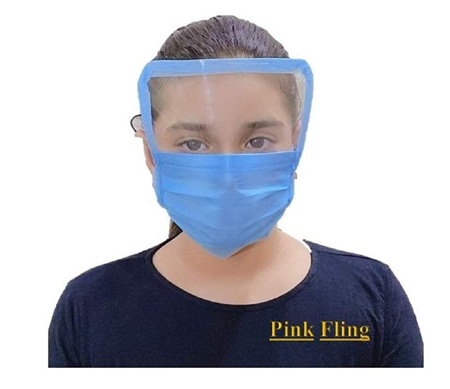 This innovative mask for COVID-19 protection gives you the confidence to move around in public without much worry. The mask offers the benefits of a surgical mask and a face shield combined into one. Along with filtering your dust particles, the mask also minimizes the risk of accidental contact with infected droplets getting into your eyes. It is a disposable, one time use mask, perfect for healthcare practitioners and frontline workers who are a high risk of contracting the virus.
How to Use the Mask Correctly During COVID-19 Pandemic?
Wearing a mask alone will not protect you from the virus! It is important that you wear it correctly to lessen your chances of catching the deadly disease. Here are a few guidelines prescribed by the WHO on how to use masks in the right way:
Masks should be first checked for any defects, tears or breakages in the elastic band (If any)
Place the mask correctly on the face, covering the nose and mouth properly. Adjust the elastic band or tie-ups and make sure the mask is neither too tight not too loose.
To ensure that the mask sits properly, adjust the metallic strip provided on the mask (incase of disposable or N95 masks).
DO NOT wear your mask around your neck or pull it up on your head. This increases the chances of contamination.
Before removing the mask, make sure you do not touch the front of the mask
Carefully, dispose the mask in a special bin allotted for medical waste. If it is a reusable mask, put it in warm soap water and wash it thoroughly after each use.
NOTE:
Even reusable masks have a limit and it recommended to change them after 30 washes to minimize the risk of physical wear and tear of the material.
Also, Masks are not recommended for ailing patients with pre-existing respiratory illness or children below 2 years.
We hope this article has helped you understand the different types of masks for COVID-19 protection. Do check the latest varieties and models available under each category on popular online shopping sites like Amazon. Along with using a mask, it is also important to practice social distancing and follow a good hand hygiene to prevent the nasty microbe from your ruining your body and your life!