With continuous rains lashing the city, you must be thinking of buying a raincoat that lets you jump in the muddy puddles without getting soggy. Well, we just heard you! That's why we have shortlisted 10 branded raincoats for men and women, which have the best ratings in the Indian market.
They are made with superior waterproof material and come in eclectic color combinations and patterns for added style! So, instead of letting the monsoons dampen your spirit, take a look at these top raincoat brands in India and pick the one that you like the most!
10 Best Raincoat Brands for Men and Women in India, 2020:
Take a look at these popular raincoats that you can shop online:
1. Wildcraft Hooded Longline Rain Jacket: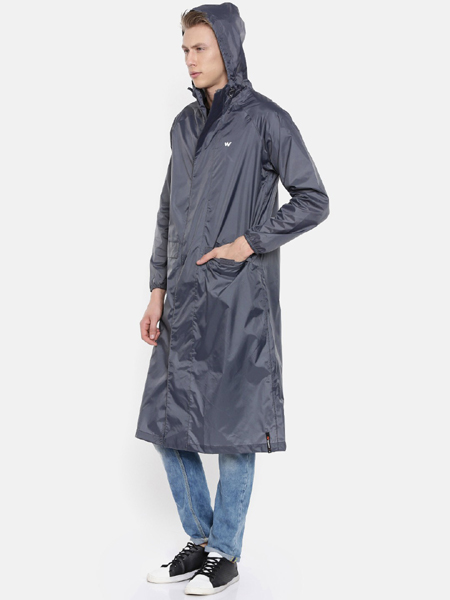 This water-resistant longline raincoat from Wildcraft can keep you covered till the knees. It is designed to withstand even heavy rains and comes with a high-performance zipper that doesn't fail in moisture. The lightweight nylon fabric repels water without sticking to your skin. The branded raincoat for men even comes with a hood, a Velcro closure and two pockets to store your knick-knacks.
2. Sports52 Wear Printed Rain Jacket for Men: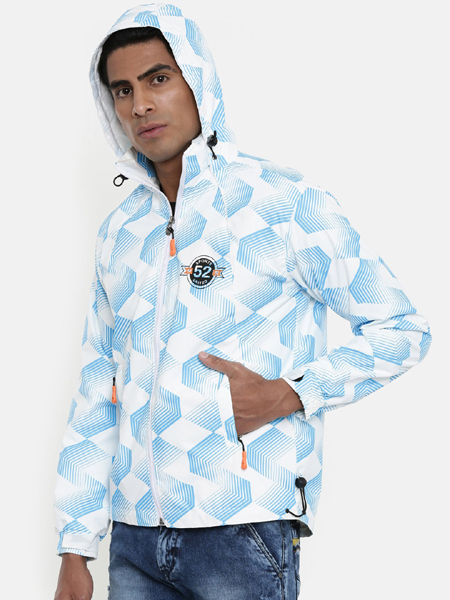 When the skies turn grey, throw on this white and blue printed raincoat to brave the steely rains in style. This bright and fashionable jacket is from Sports52 Wear which is considered to be one of the best raincoat brands for bikers. It features a quirky print and a hood collar with long sleeves and zipper closure. The mesh lining repels water and keeps you dry.
3. Columbia Sleek Rain Jacket for Men: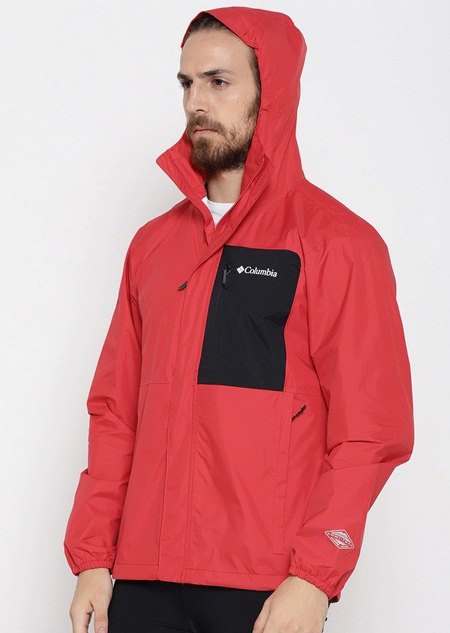 If budget is not a problem for you, then Columbia is a highly recommended raincoat brand for you! Whether it is a gentle drizzle or a heavy downpour, this red rainproof jacket can keep you dry with its omnitech waterproof material. The sleek and stylish coat features elastic cuffs, adjustable hem, hood and multiple internal pockets to save your essentials from getting wet. Pick this if you don't want to miss out on your jogging or hiking sessions even during the wet season.
4. T-Base Reversible Rain Jacket for Men: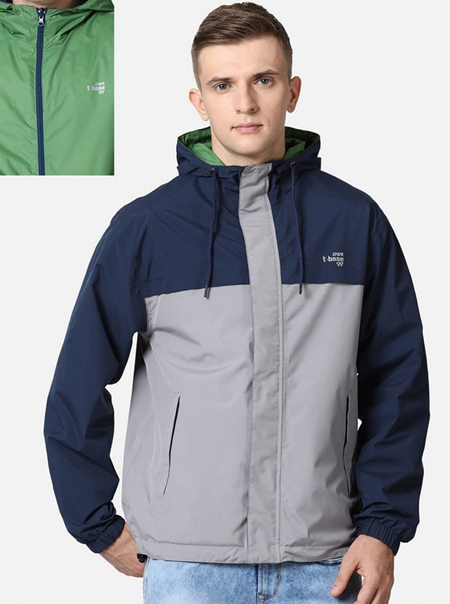 One jacket- Two ways! That's the advantage of buying a reversible jacket. This multifunctional raincoat from T-Base offers two different colors – blue and green on the inside and outside. So you can pick the side based on your mood and enjoy wearing a variety without spending extra. The lightweight jacket also features a concealed zipper placket, two side pockets, hood and breathable vents on the back to give you lasting comfort.
5. Duckback Men's Rain Suit: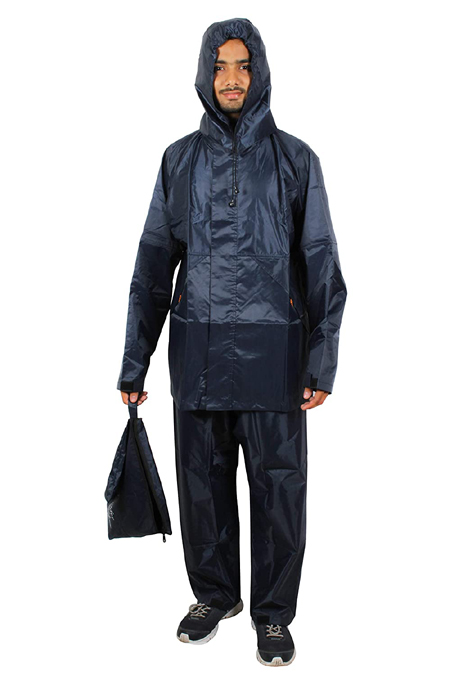 Duckback is a popular raincoat brand in India, primarly for its low-cost, high quality rainwear. Take a look at this full suit which comes with a hooded jacket and a waterproof trouser for complete protection. This high-performance suit is made with premium polyster that repels water without sticking to your skin. As a bonus, you even get a wet bag to carry your soggy suit.
6. Zeel Printed Taping Raincoat for Women: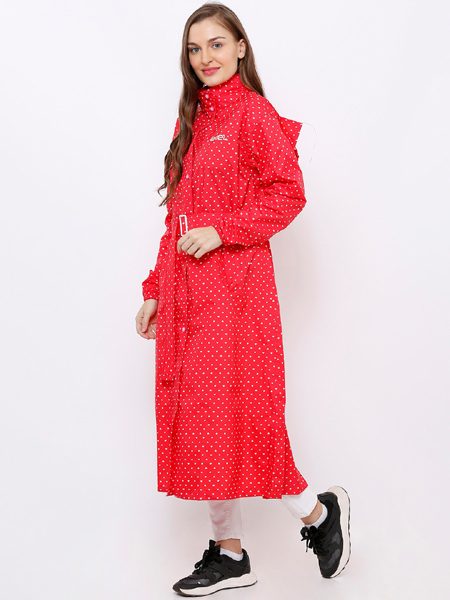 This bright and beautiful raincoat is a great way to step out in style, even when the weather doesn't co-operate. It is from Zeel brand, which offers eye-catchy rainwear for women. The red and white knee length coat features a cute heart-shaped print all over the body. It even comes with an elastic hood, sleeves, snap buttons, two pockets and a stylish adjustable belt. Don't you just love this piece?
7. Quechua Women's Hiking Rain Jacket: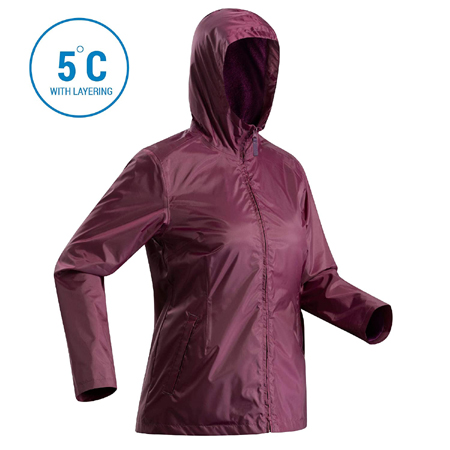 Quechua is a French brand that is renowned for its mountain sports products. It is sold in Decathlon stores and surprisingly low in cost for the quality it offers. Seen here is a maroon hiking jacket for women that comes with a waterproof material on the outside and a warm fleece layer on the inside. It can help you withstand temperatures as low as 5 Degree Celsius. This jacket is perfect for women who want a jacket as tough as them!
8. Romano Women's Hooded Rain Jacket: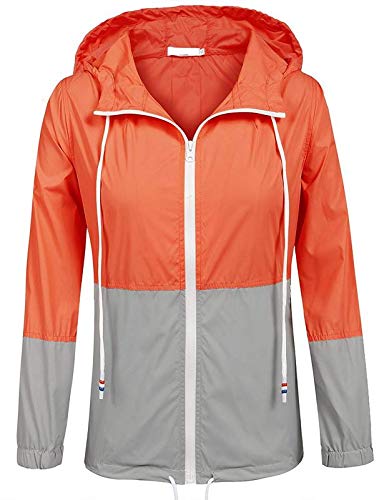 Another affordable Indian raincoat brand is Romano. It offers colorful rainwear for women that function as good as they look. Seen here is a bright orange and grey rain jacket that is made with 100% waterproof material. The color-blocked jacket also features elastic sleeves, drawstring hood, zipper closure and a drawstring hemline for better protection.
9. The Dry Cape Knee-Length Women's Raincoat:

This knee-length raincoat from The Dry Cape lets you enjoy an outdoor session even when its raining incessantly. The high-end polyester material keep you as dry as a bone. The dual color solid rain jacket comes with a hood, a snap button placket, full sleeves and an adjustable belt. It works quite well on your knee-length dresses. So, all you need is a pair of waterproof sneakers to make the most out of your rainy day out.
10. Burdy See Through Raincoat For Women:

If you don't want your pretty outfit to go waste, then pick this see through raincoat from Burdy. The light and transparent material lets the crowd take a peek into your OTD, without you getting wet. The textured finish on the surface adds an element of glamour to your outfit and also repels water quickly. It even comes with a hood, so you can cover up in vogue!
So folks! These Top 10 branded raincoats are worth an investment, especially if you don't want to confine yourself to indoors throughout the rainy season. Adding them to your wardrobe can get you prepared for sudden hiking trips or even an unexpected downpour during travel. If you already own one of these brands, do let us know your reviews!