Tattoos are a part of fashion and style today with the world learning to appreciate the beauty of body art. Body art is now considered a way of expression. Body art is a raging trend in India where there are so many tattoo parlours cropping up. So, if you are among those who are hesitating to get a tattoo inked, this article would be an eye-opener. Here is a list of best tattoo shops in Hyderabad. Check out now!
15 Famous Tattoo Artists in Hyderabad:
1. Koru Ink:
Koru Ink was established by their resident artist SubhojitChakroborty in Sindhi Colony, Secunderabad. Koru Ink is one of the most sought-after best tattoo studios in Hyderabad. SubhojitChakroborty's accomplishments are well known within the tattoo industry as he has won the Best Realism Award at the Heartwork Tattoo Festival in 2015. They are also known for their custom tattoo designs and diverse tattoo styles such as dot work, trash, geometric, abstract, watercolour, hyperrealism, and psychedelic, etc. Their tattoos have distinct lines and shades. Their realistic tattoos with intricate detailing set them apart from others. It is better to consult them at least a day or two days before you get the ink work done, as it gives them enough time to work on your ideas.
Address: 1-8-215/38, PG Road, Innovation Colony, Ramgopalpet, Hyderabad, Phone: +917506154644.
2. Angel Tattoo Studio:
Amin Sultan Hajiani runs The Angel Tattoo Studio. He is an award-winning celebrity tattoo artist. Their team consists of six artists. They specialize in abstract pieces and dotted geometric tattoos. This tattoo parlour in Hyderabad lays a lot of emphasis on quality. They possess the skill and experience to etch meaningful artwork into your skin and can make a style statement, a customized masterpiece, coloured or black and grey tattoo. They aptly use their skill and technique to work on great quality tattoos with fine lines and smooth shading techniques. They ensure to maintain proper hygiene. The studio has Avant-Garde tools and skilled artists, trained to design any tattoo per the customer's request!
Address: Devaki Chambers, Shop 15, Opp. HDFC Bank, Ramgopalpet, Hyderabad, Phone: +919642033248.
3. Joysen Tattoo & Piercing Studio:
Joysen is a young Kolkatta based tattoo professional successfully running this studio in Hyderabad for almost a decade now. Joysen is one of the most reliable tattoo artists in the city. The studio's forté is in shading and watercolor-effect tattoos. However, they do portraits too. They also provide cover-up tattoo services where they effortlessly cover up any old blemish or scar with a new design. Among the tattoo centres in Hyderabad, this studio offers tattoo training for body art enthusiasts. According to Joysen, no tattoo that is impossible to create, and his tattoos are appreciated globally. He has received attention on an international scale too.
Address: Jubilee Hills Branch – Plot No 8a, Beside State Bank Of Mysore, Indra Nagar Cross Road, Jubilee Hills, Hyderabad, Phone: 9989832713.
Address: Kondapur Branch – Above Maavuri Vanta, Opp: Siddi Vinayaka wines, Near Kothaguda circle, Kondapur, Hyd, Phone: 8897770464.
4. Vinnu's Body Art Studio Tattoos:
Vinnu's tattoo studio is at Ramnagar X Road. They specialize in portrait tattoos. They have a strict policy that emphasizes on stringent hygienic inking standards and insists on all their customers being over 18 years of age. Vinnu has been conferred with many awards, and the studio aims to create tattoos that adhere to every individual's requirement and taste. Vinnu's is one of the best tattoo places in Hyderabad.
Address: SVR Building, 1-7/659-A/1, Ramnagar X Road, Musheerabad, Hyderabad, Phone: +919666666602.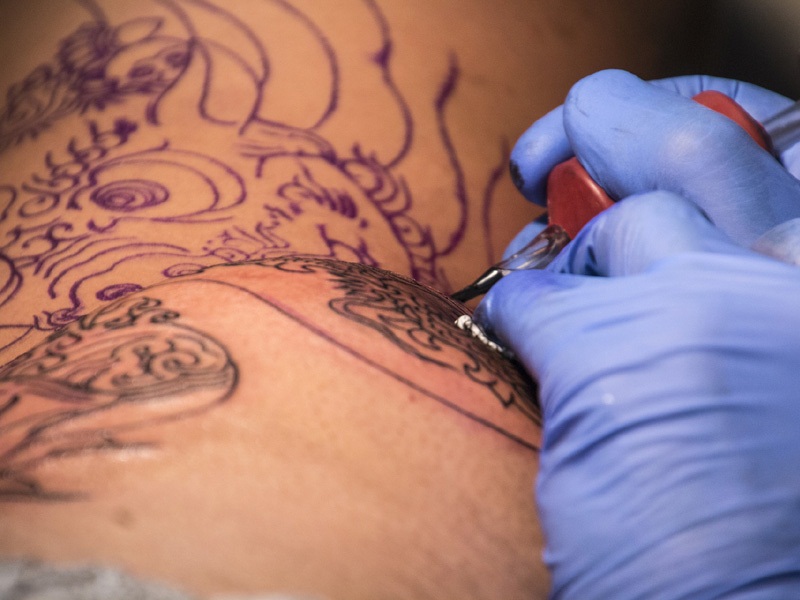 5. Hakim's Aalim:
Aalim Hakim owns this tattoo parlour in Banjara Hills. The brand is located in Bengaluru, Mumbai, and Dubai. One can get a complete makeover here right from a haircut to a badass tattoo. Aalim Hakim was trained under his father, Mr. Hakim Kairanvi, a celebrity hairdresser. Hakim Junior today has created a name for himself where he successfully runs body art parlours all over India, including Hyderabad, Mumbai, Bangalore, and Dubai. In keeping with the current trend, one can find that his parlour is artistic and swanky with a cutting edge tattoo booth with cool music to set the mood.
Address: Jahnavi Trade Centre, 1st Floor, Road 36, Jubilee Hills, Hyderabad, Phone: +914023541879.
6. Destino Tattoo Studio:
For those who want simple tattoos, then Destino Tattoo Studio is the place for you. This female tattoo artist in Hyderabad, Vijaya Durga, has transformed her flair for drawing and painting into her profession. Here she is striving as a female tattoo artist in the city. Although Destino Tattoos is her studio in Madhapur, yet she continues to tie up with popular salon Alexander. She does different kinds of tattoos, be it standard or customized with great care. If you are looking for budget-friendly parlours, then this is the right studio for you.
Address: Plot 68, Ayyappa Society, Beside Farm Fresh Market Madhapur, Hyderabad, Phone: +917997299555.
7. Sana's Tattoo Studio:
Sana's is well known for it's customized tattoos, and the studio aims to cater exclusively to tattooing needs. The artists here are highly skilled and create beautiful tattoos based on your requests. They are a team of creative and professional artists. Their creations are such that you can comfortably sport the tattoos based on your ideas.
Address: 2nd Floor, Plot No 41, D V Colony, Opp D V House 2, Above Arzoo Tailors, Minister Road, Secunderabad, Phone: 040 64589914.
8. Vikram Tattoos:
Vikram is a well-known tattoo artist from Delhi who is working in Hyderabad. He is one of the best tattoo designers in Hyderabad. He is proficient in creating any kind of tattoos, be it custom artwork, portraits, spiritual, realistic, oriental, tribals, black, and grey, or colour pieces and has been working since 2005. His artwork is created with perfection. He can even offer you excellent ideas on which tattoos will suit you. He is a very well trained artist and along with his team of able assistants who can help you choose an appropriate design you are looking for. He is one of the best tattoo artists in Hyderabad who is confident enough to say, "I let my work speak for me!." He has been a go-to guy for several first-timers who want to get their first tattoo inked.
Address: 3rd Floor B.K. Estate opp. JalagamVengal Rao Park Road, No. 1 Banjara Hills Hyderabad, A.P near Nagarjuna Circle, Phone: 8106415324.
9. Dow Tattoo Studio:
Since 2014, Dow's Tattoo Studio has been providing quality tattooing for all. They pay individual attention to every tattoo design they create. Detailing is very important to them. They utilize several techniques to ensure that the result is perfect and the customer is satisfied. The artist has practiced for years apprenticing and learning this skill to perfection before starting his own studio. Client satisfaction is vital to them.
Address: 8-1-105/6/c, Sai Baba Temple Rd, Sita Nagar Colony, Maruti Colony, Shaikpet, Hyderabad, Telangana 500018, Phone: 097008 87776.
10. Naksh Tattoos:
Naksh Studio began in 2012, and they have many studios spread across the city. It has a great tattoo culture where they provide free consultations with emphasis on hygiene. They offer some of the best black and coloured tattoos, temporary tattoo, tattoo removal, lip tattoo, permanent tattoo, and ear and nose body piercing. Among Hyderabad tattoo parlours, this is a one-stop-shop for tattoos. Some of the plus points of this studio are that walk-ins and custom work are always welcome. They provide top-rated tattoos along with training and courses: They have a highly creative team.
Address: Level 2, Asian Radhika Mall, 500062, Officers Colony, Dr. AS Rao Nagar, Hyderabad, Telangana 500062, Phone: +91 9052270001, 9676751440.
11. V Square:
V Square Tattoo Studio is the creative brainchild of Varun and Vicky. Their primary focus is on providing a safe, clean, and hygienic environment for people to relax and transform their individual opinions into tattoos. They believe in having one-to-one contact with the customer. The team consists of talented tattoo artists, and there is an exclusive female tattooist too only for girls. This place is ideal as compared to other Hyderabad tattoo centres as you readily get expert advice on the best tattoo for you.
Address: 3-5-908, 1st Floor, Pooja Manhore Arcade Below Narayana Junior College, Venkataswamy Nagar, Himayatnagar, Hyderabad, Telangana 500029, Phone: +918978620620/9866773536.
12. Artcore Tattoo Studio:
The Artcore Tattoo Studio is one of the best tattoo artists in Banjara Hills, Hyderabad. They emphasize on safety and hygiene. They are very popular in tattooing and specialize in 2D tattoos, 3D tattoos, shaded tattoo, illusion tattoo, permanent tattoo, spray tattoo, temporary tattoo, and biomechanical tattoo. Their skills are commendable, and they cater to all types of customized requirements of their clients. Artcore Tattoo Studio in Banjara Hills is open on all days of the week, anytime between 09:00 – 21:00.
Address: 47, Rd Number 3, Panchavati Society Colony, AK Enclave, Green Valley, Banjara Hills, Hyderabad, Telangana 500034.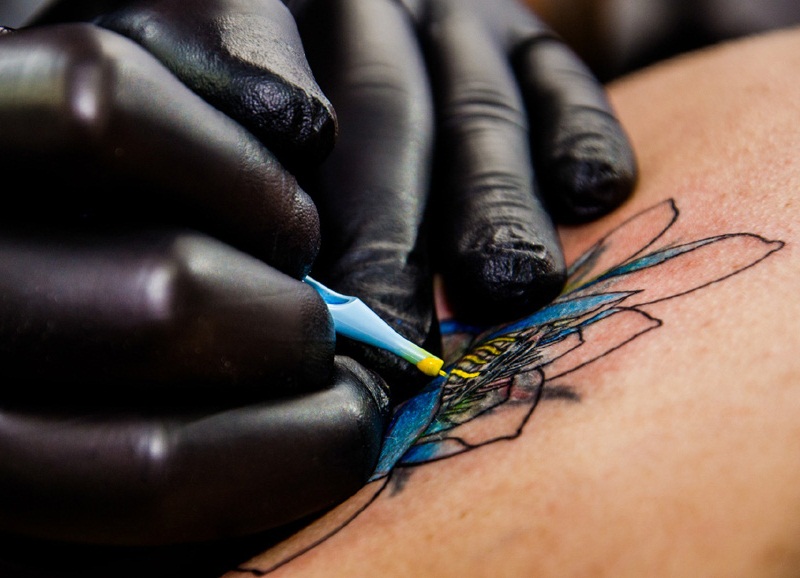 13. Deftinks:
Abdul Aleem owns Deftinks. He discovered his passion for arts, and in 2012 he established Metal Inks Tattoo Studio. He then worked as a professional tattoo artist for four years and is well known for his realistic tattoos. He is one of the best tattoo artists in Hyderabad. He has mastered various styles in tattooing and has an experience of 7 years. The studio is in Gachibowli. The tattoos created here can be expressed through multiple categories – individuality, personal tale, fashion, experiences, memories, spirituality, hiding scars, and vitiligo tattoos. They give utmost importance to hygiene and use only safe and sterile equipment. If you are looking forward to a masterpiece in body ink, then you are in the right place. Some of the services they offer are Permanent Tattoo Artists, Piercing Studios, Training Studios, Cosmetic Tattoo Services, etc.
Address: Plot no. 132, Vinayak Nagar, Gachibowli, Hyderabad-500032, Phone: +91 97014-12403.
14. Buddha Tattoo Studio:
This studio was begun in 2009 by Karan Vadakedath. They have a clientele of over 25,000 and are proud to be one of the best tattoo studios in Hyderabad. They are a team of easygoing professional artists who are highly skilled in what they do. They patiently advise on post-tattoo care and are ready to clear all doubts. Apart from Karan, there are two more artists, Rahul and Jeet, who both have six years of tattooing experience each.
Address: House no: 2-40/1/A, Beside Hadippa – the Urban Tadka Hotel, Gachibowli – Miyapur Road, Kondapur Main Road, Kothaguda, Hyderabad, Phone: 040-40191129, 90100 54845, 91779 05143
15. Inkkraft Tattoos:
Inkkraft tattoos were started in 2013 by Pinku Bijoy Ghosh, who is a renowned artist. Initially, he began as a jewelry designer. His inspiration for art and love of tattoos made him choose this as his profession. He started this studio at Banjara Hills (Road #9). The studio earned a name for providing customized tattoos of the highest quality. They maintain the latest equipment and highly meticulous standards of hygiene. The studio aims to cover all the genres of tattooing grey, black, hyperrealism, tribal, etc.
Address: No. 8-2-584/3, 1st Floor, Mahmood Habib Plaza, Road No. 9, Vimal Nagar, Banjara Hills, Hyderabad, Telangana 500034, Phone: 095507 72508.
Hyderabad, similar to other metros, has a large number of tattoo studios, parlours, and even some unsafe roadside booths! Some of them may not be very hygienic. That is why we gave you information on the best tattoo studios! So, pull your sleeves up and pick one from the list of top 15 best tattoo shops in Hyderabad, safely get inked and flaunt your stylish tattoo! Don't forge tot let us know your experiences.