Hyderabad: Expressing their dissent regarding the Citizenship Amendment Bill (CAB), scores of Muslims and concerned citizens took to the streets to protest on December 13. Thousands of people marched on the road near Azad Square in Mehdipatnam, holding placards saying 'No CAB, No NRC'. The protest, which was organised by Students Islamic Organisation, Hyderabad, was attended by people from all walks of life, who joined in large numbers.
Calling CAB unconstitutional and illegal, Talha Fayazuddin, the State President of SIO Telangana, noted that the bill is not just anti-Muslim, but also inhuman and irrational. Speaking to NewsMeter, he said, "The government has spent crores of rupees on citizenship exercises, while it is at one of the lowest points in the Global Hunger Index. This bill is against the secular and democratic values of India, and we demand that it should be removed immediately. The government cannot suppress our voices, and ban communication, like in Assam. Even if they do, this struggle will go on."
Protests were taken out from several parts in the city, including Mecca Masjid, after the Friday congregational prayers.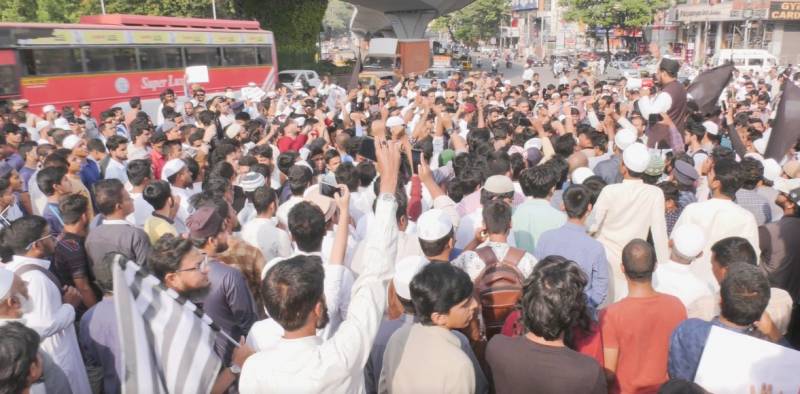 Citizens, from the Northeast who migrated to Hyderabad for work, also participated in the protest. States like Assam, Tripura and Meghalaya in the Northeastern region are witnessing massive demonstrations in the name of this bill. Meanwhile, many Northeastern residents who have settled in Hyderabad believe that it is the need of the hour to resist the bill.
Nadeem Khan from Imphal, Manipur, says CAB is an attempt to destroy the indigenous culture of their state. "I belong to Manipur, and I've seen a lot of what the Indian Army has done to us in fake encounters. Are we not Indians? However, nobody cares because we are in the Northeast. Now, Assam is burning, Tripura is burning. Curfews are happening, and the internet is cut. The government is clearly saying that it does not care about its citizens. They want to divide people in the name of religion," said the protestor.
The Citizenship Amendment Bill, which was passed in Rajya Sabha on December 11, is the first law in India that would decide citizenship along religious lines. "The Citizenship Bill sees people neither as humans nor as Indians first, but according to our religion. It is entirely against the ethos of the Constitution. The Constitution is explicit in its statement that it does not discriminate based on religion, gender, caste or creed. Ultimately, we are all brothers and sisters of India, and we need to remain so," said Lubna Sarwath, a social activist who participated in the protest.
Meanwhile, MANUU Students Union have called for a massive protest rally Against CAB on December 14. The Life Changing Revival Center Church at Secunderabad has called for an All Night Prayer for the nation and government on December 13.