Nothing can quite describe the softer side of your nature than a flower. These delicate beauties are used as symbols for emotions like love, innocence and even melancholy. Undoubtedly, flower tattoos are the first choice of many people, who use them as a medium to convey their state of mind and their personal view of life.
Whether you find an inspiration in the symbolism of flowers or simply wish to immortalize their beauty, then check out these 10 Beautiful Tattoos of flowers for men and women!
10 Different Types of Flower Tattoos With Meanings:
We have collected 10 popular flower tattoo designs which feature different flowers and their meanings:
1. Lotus Flower Tattoo: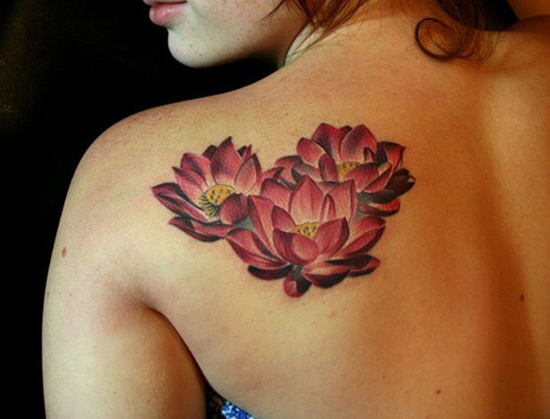 Lotus is considered as a sacred flower in countries like India, Thailand etc. This beautiful flower also has links to Hinduism and Buddhism in which it is considered as symbol of purity and divinity. Depending on the color of lotus, the symbolic meanings also change. For example, this trio of blooming red lotuses represents love, passion and youthfulness. As a lotus is considered supreme in many cultures, it is wise to get these flower tattoos inked on the upper part of the body.
2. Lily Flower Tattoo: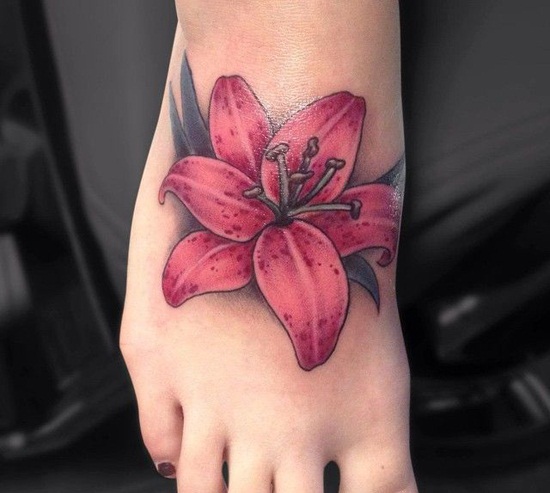 Another popular tattoo of flower is a Lilly. This scented bloom has rich symbolic meanings in various parts of the world. Depending on the color of the lilly, this symbolism also changes. For instance, this pinkish-red lilly flower tattoo on leg represents love, admiration, passion and romance. It is also a common practice to add a name or a message to this flower as a way of telling someone how much they love them!
3. Rose Flower Tattoo: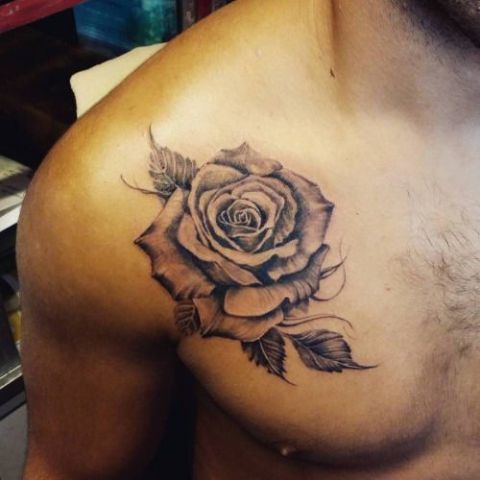 A rose is a symbol of love and a promise of new hope and beginnings. This blooming flower tattoo for men shows a beautiful rose without thorns. Getting it inked on the chest shows that the person has been hit by the Cupid's arrow. People who are in a deep relationship with someone prefer a rose as a means to convey how much they value the other person. Also, most men avoid colors and prefer sticking to a basic black for a cleaner look.
4. Sunflower Tattoo: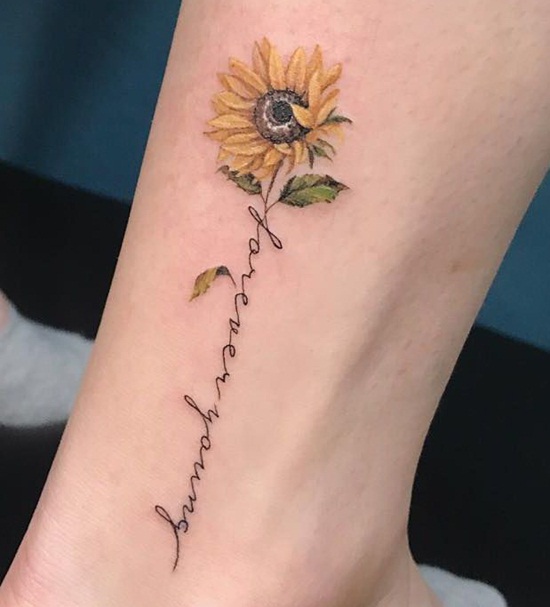 If you are looking for a simple flower tattoo that also looks stylish on your body, take a look at this Sunflower tattoo on leg. A small and pretty sunflower is inked in bright yellow and brown colors, along with leaves to show its freshness. This theme extends into a message "Forever Young" which replaces the stem and adds a secret statement to your tattoo. So, if you wish to celebrate youthfulness, this is the design for you!
5. Dandelion Flower Tattoo: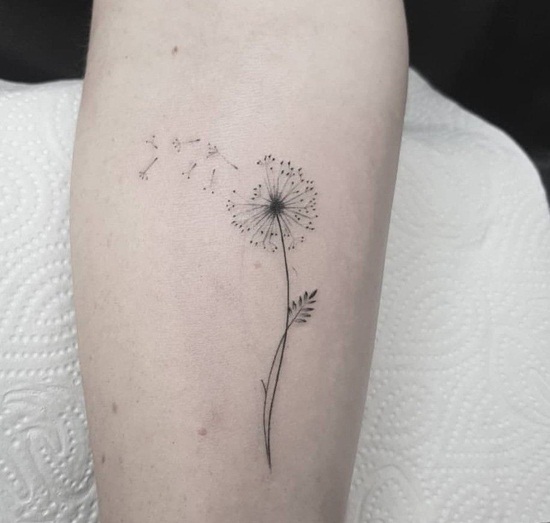 If you are looking for a small flower tattoo that is rich in symbolic meanings, a Dandelion flower tattoo it is for you! This minimalistic tattoo features a dry and fluffy Dandelion which is blown gently to release the seeds as a act of making a wish! Symbolically, this means connecting yourself to the roots and rediscovering your innocence or your past. Such a tiny fluffball and such deep philosophy!
6. Cherry Blossom Flower Tattoo: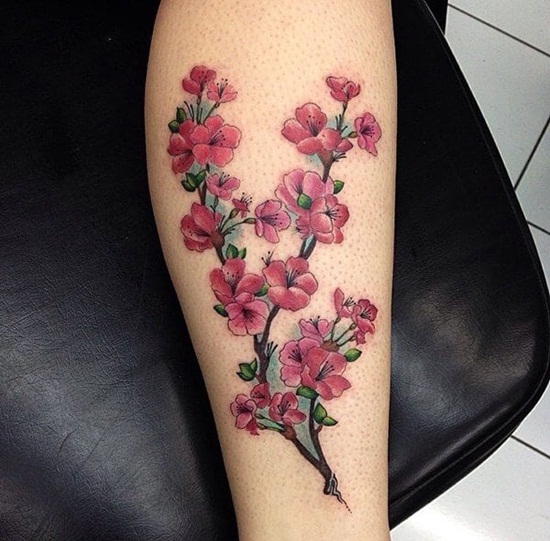 Japanese Cherry Blossom or Sakura are one of the most preferred flower tattoos in many countries. These lovely pink blooms are associated with many meanings and metaphors. One interesting fact about Sakura flowers is that they don't last for very long and hence are used to indicate the temporariness of human life. They also act as reminders to enjoy every minute of our life while it lasts! You can opt for a single flower or a bunch with a branch and leaves on your legs, hands and back.
7. Wildflower Tattoo: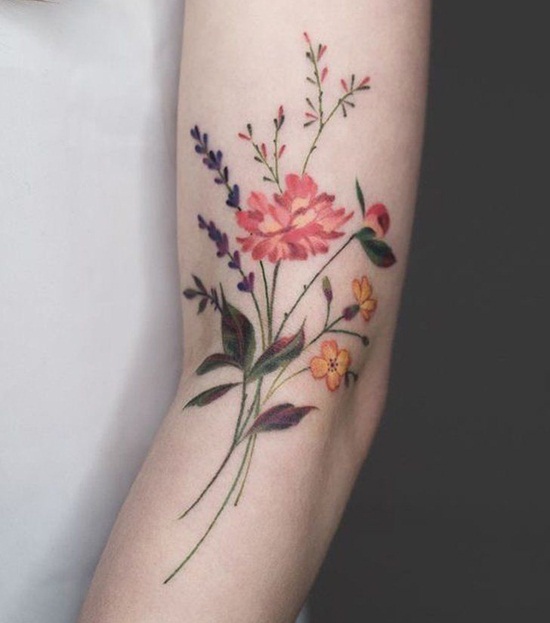 Wildflowers are random flowers that grow in free, open space without any restrictions or boundaries. So, if you are a person with a free spirited nature, this colorful floral tattoo design is just for you! Also, wildflowers have a tinge of mystery to them! They suddenly pop up anywhere and anytime without human control. Perhaps, this is why they are used to represent the mysteriousness of a person who has many untold, unshared secrets in them!
8. Orchid Flower Tattoo: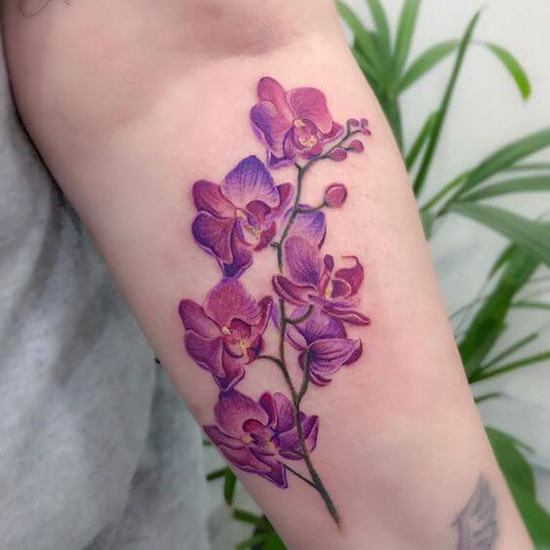 Orchids are associated with elegance, beauty and sophistication. They are usually picked by women as a way to represent their delicate feminine side, spirituality and confidence. Also, Orchids are free-spirited flowers which grow well in an unrestricted environment and when captured, they wilt and refuse to budge. Even men also prefer this flower tattoo to indicate nobility and free-spiritedness. Don't forget to add that bright violet color for a realistic effect!
9. Lavender Flower Tattoo: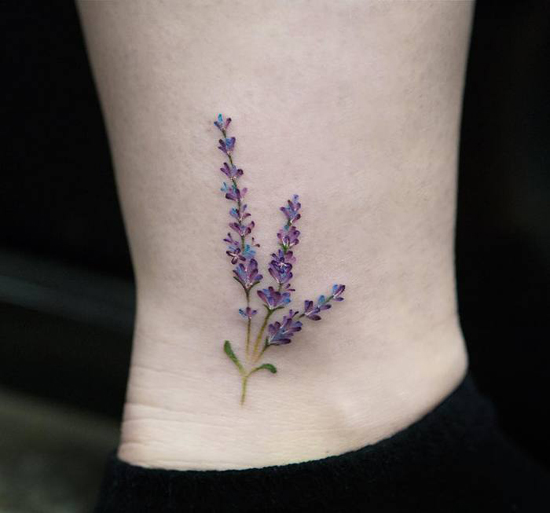 If you believe in the concept of "less is more", this beautiful floral tattoo is just for you! Lavender flowers are not only gorgeous to look at, but also offer many healing properties. They are tiny, but the benefits are mighty! This is why Lavender is used as a symbolism for "size doesn't matter" in many parts of the world. Also, the bright purple shade of these tiny flowers is associated with royalty, luxury, refinement and elegance.
10. Peony Flower Tattoo: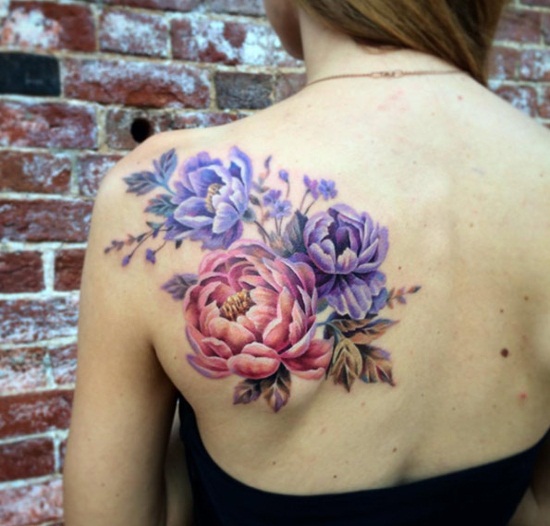 We can't help but agree that peonies are one of the prettiest flowers on the planet! This is why they are used for inking traditional flower tattoos which are both colorful and meaningful. Peonies are associated with prosperity, good luck and wealth. When grown in the right environment, peonies also prove to be strong flowers which last for a really long time. This is often taken as a symbolism for hard work paying off with good rewards in life.
Flower tattoos are not only beautiful to look at, but also convey a whole of meanings, when words fail to do so. So, it is important to carefully understand the symbolism of the flower, the details in the design and even the colors before making it permanent on your body. Do you presently have a floral themed tattoo? If yes, we would like to know more about it!