Highlights
Ashish Goud was earlier involved in assaults

Two eye witnesses told police Ashish caught the hand of victim

Police issue FIR under 354 IPC
Hyderabad: The Bharatiya Janata Party(BJP) has expelled BJYM youth leader Ashish Goud following the molestation case booked against him. The party's senior leaders have reported blocked Ashish from involving in party affairs and have pulled him up for the act. 'BJP does not encourage members who do not respect women, said a senior BJP leader.
Cyberabad police, on Saturday ( November 30th ) booked a case of outraging modesty against Patancheru former MLA and BJP leader Nandeeswar Goud's son Abhishek Goud. The accused Ashish Goud is accused of molesting a model and Bigg Boss Telugu -2 reality show contestant. Ironically Ashish Goud participated in a protest on Saturday shouting justice for Veterinarian doctor who was gang raped and hours after his public protest in the day he molested a celebrity in the pub in the dark.
Madhapur inspector of police S Venkat Reddy said that incident happened on Saturday night at Artistry Pub in Novotel Hotel in Madhapur.
"We have registered a case under section 354 of the Indian Penal Code. We have received a complaint around 4.00 am, and we immediately booked the FIR. Two girls who are eyewitnesses said that the accused ex MLAs son molested her," said Venkat Reddy.
The investigating officer said that the cops would grill the accused and take action. Police are verifying the CCTV footage of the pub.
Molestation of Bigg Boss contestant happened at Artistry Pub Novotel
In the FIR the Bigg boss participant alleged that Ashish Goud pulled her hand. Complainant alleged bouncers in the pub remained mute spectators despite Ex MLAs son harassing them.
Nandeeshwar Goud's son was earlier arrested in February 2012 for thrashing a worker of a liquor shop. Ashish kidnapped and assaulted a 25-year-old on Krishna Goud, the worker of liquor shop for not providing him liquor.
Goud's family was initially in TDP and then joined Congress and the BJP.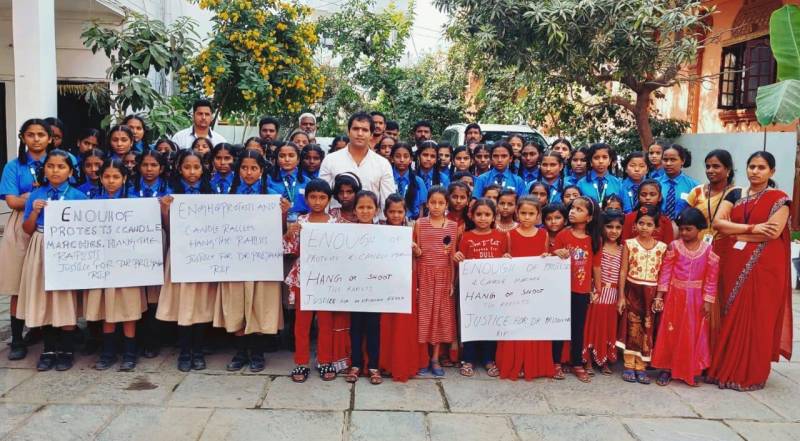 Police said Ashish Goud led the protest with school children holding placards "Enough of protests and Candle marches hang the rapists'. Police said on Saturday night he was involved in molestation of a woman. Several newspapers have earlier reported that Ashish Goud is 'Terror in Patancheru' when his father was an MLA resorting to assaults.
BJYM leader Ashsih says false allegations levelled, "shoot me if am guilty"
According to the complainant, Ashish Goud and two of his friends misbehaved with her by catching their hands, and shouting at them using vulgar language. She also complained that Ashish Goud threw bottles on the floor and had threatened to hit them.
BJYM leader and son of Ex MLA Ashish Goud said the allegations of molestation made against him by Bigg Boss Telugu 3 contestant are false. He said "If I am found guilty shoot me in front of the police station,"He added," I went to the birthday party of my friend Vishnu at Novotel. I don't know who the complainant is. I was at my table. They were sitting in front of my table. I told bouncers that I have a lot of friends and asked to move them aside. Even a TRS MLA was sitting in the table in front of me. Bouncers told the girls four to five times. She didn't listen and entered into an argument with the bouncers,"
Ashish said," This all looks like a diversion. She might have mistaken about me. I asked the inspector to check the CCTV footage. All the facts will come out. It is a political drama. As I am active in BJYM and doing a lot of programmes like Gaurakhana and Dharma protection they targeted me.I am emotionally disturbed due to the wrong allegations. I will die in front of the police station if wrong. Beat me up without clothes if I am wrong. The Pub as crowded she may have mistaken me. FIR has been booked against me,".
He added, "I protested yesterday with the kids against the gang rape and killing of veterinarian doctor. I was in Siva Deeksha all days. My friend postponed his birthday party from November'
Regarding his involvement in the attack on a liquor shop employee in 2012, Asish said, "They were selling liquor above MRP. The employee spoke to me rashly in abusive language. It was also a politically motivated case. During Telangana agitation time a case is booked against me for an incident at the toll plaza. I am acquitted out of all these cases and came out clean,"
He added," My wife is pregnant, and I am disturbed due to this,"