Republic TV chief Arnab Goswami and his wife were attacked on Wednesday in Mumbai while the two were driving home. The couple was unhurt and Mr Goswami's security guards managed to apprehend the attackers.
However, several people have raised allegations that Mr Goswami staged the incident. They have shared the metadata of the videos uploaded by Republic TV on Twitter to prove that the video was, in fact, filmed hours before the alleged attack.
The metadata shows that the video was created at 8.17 pm on 22 April while the Goswamis were attacked at midnight of that day.
Fact Check:
The claim that the videos uploaded by Republic TV were shot hours before the actual attack is false.
Social media platforms like Twitter, YouTube, and Facebook strip the metadata of the image or video before uploading it. Metadata details that can be extracted from these platforms include the date and time the video is uploaded.
The metadata values i.e. the date and time extracted via these platforms are displayed in the GMT format (IST-5.30hrs). This means that the video was uploaded on 22 April at 8.17 pm GMT not IST.
Alt News co-founder Pratik Sinha rubbished the claims that the video was shot early. "This is wrong analysis. You cannot determine the original time of a video based on a video that is uploaded to Twitter because Twitter strips all the Metadata (sic)," he tweeted in reply to one of the tweets.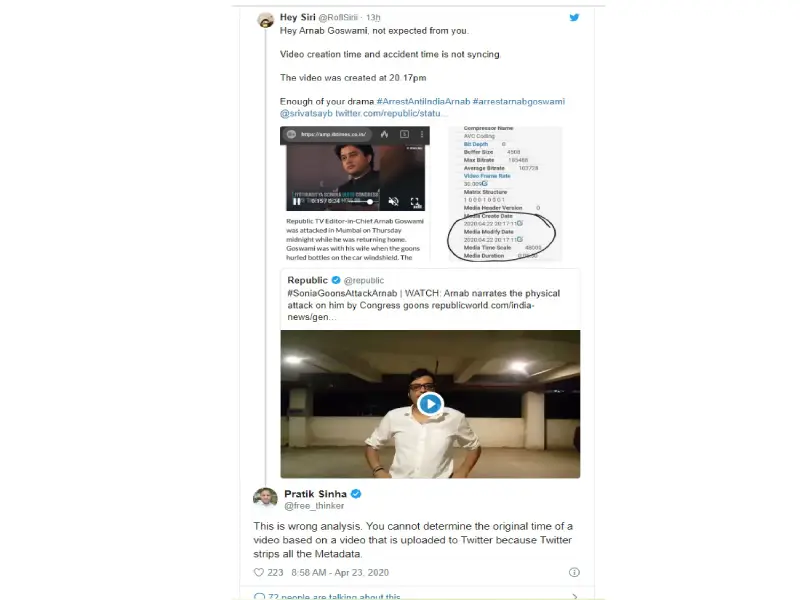 There have also been allegations that eminent personalities like Sambit Patra and others tweeted about the attack before Republic TV which published the news at 1.06 am. This claim, too, is false because the channel had announced the news at 12.30 a.m through the breaking news ticker.
Claim Review :
claims about Arnab Goswamis video metadata real
Claimed By :
Social Media Users