Hyderabad: A post is viral on social media with the claim that the Government of India is providing free android smartphones to students in the wake of Covid-19 crisis. The claim states that the smartphone is being provided as the academics of students has been affected in Corona times and the smart phone would help them follow online classes with the help of internet.
Newsmeter received requests to verify this claim on WhatsApp. Below is a screenshot of the claim.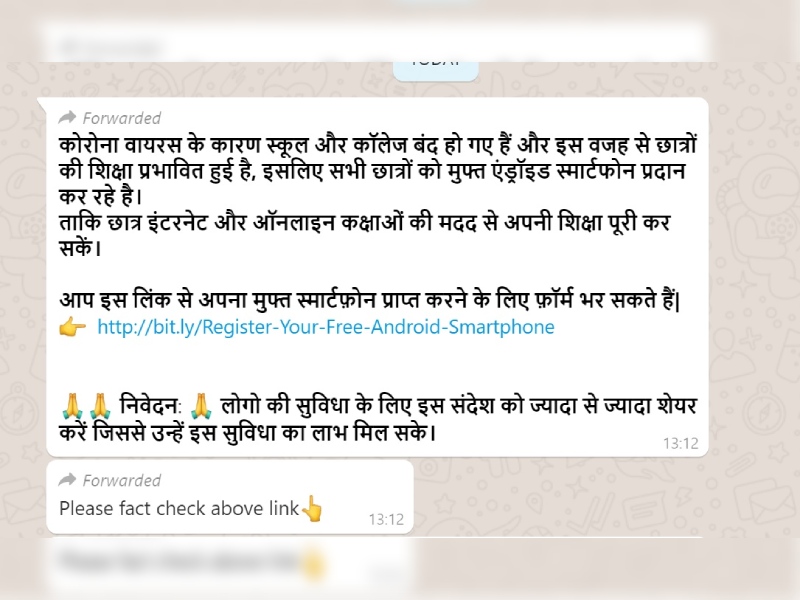 The claim when translated reads," Schools and colleges have been closed due to Coronavirus and because of this the education of students has been affected, so the government is providing free Android smart phones to all the students. So that students can complete their education with the help of internet and online classes. You can receive your free smart phone with this link by filling the form http://bit.ly/Register-Your-Free-Android-Smartphone/. Request: For the convenience of people share this message to many people who will benefit from this".
Fact Check:
This claim is False.
Newsmeter viewed the link in the given claim and was directed to a page with another link. The form stated the same and further wrote that the last date for registration is September 20, 2020. In order to receive the smartphone, personal details like Name, Phone Number, Name of City, and Pin code needs to be provided.
It should be noted that this is not an official link of the government but is a link from a blogging service called ' Blogspot'. No official news of the government would be published in a blog-publishing service.
Newsmeter checked the official website of the Government of India and found no such notice. No statement was released by the government that referred to giving away free Android smartphones.
The Press Information Bureau (PIB) debunked this news on August 24, 2020, and said that no such announcement has been made by the government. The PIB Fact Check advised people to refrain from clicking the link as it could steal data.
The tweet reads, "Claim: The education of students has been affected due to the closure of schools and colleges due to Coronavirus, so the government is giving free android smartphones to all the students #PIBfactcheck: This claim is fake, the central government has not made any such announcement. https://t.co/LkFA2rMtSn".
The central government has made no such promise. However, the Government of Punjab distributed free smartphones to Class XII students. The scheme 'Punjab Smart Connect Scheme' will benefit 1,74,015 Class XII students of government schools in the first phase which will be completed by November, this year.
Thus, the claim that the central government is providing free android smartphones is false.
Claim Review :
Govt. is giving free smart phones to Students
Claimed By :
social media users