Hyderabad: On 4 September 2020, Raj Thackeray allegedly tweeted that Kangana Ranaut will receive a grand welcome when she returns to Mumbai.
The tweet in Hindi tralates as, "On 9 September, Hindu lioness Kangana Ranaut will be given a grand welcome in Maharashtra's capital, Mumbai. Sanjay Raut, if you have courage, try and stop us." The account has been deleted. (archived tweet)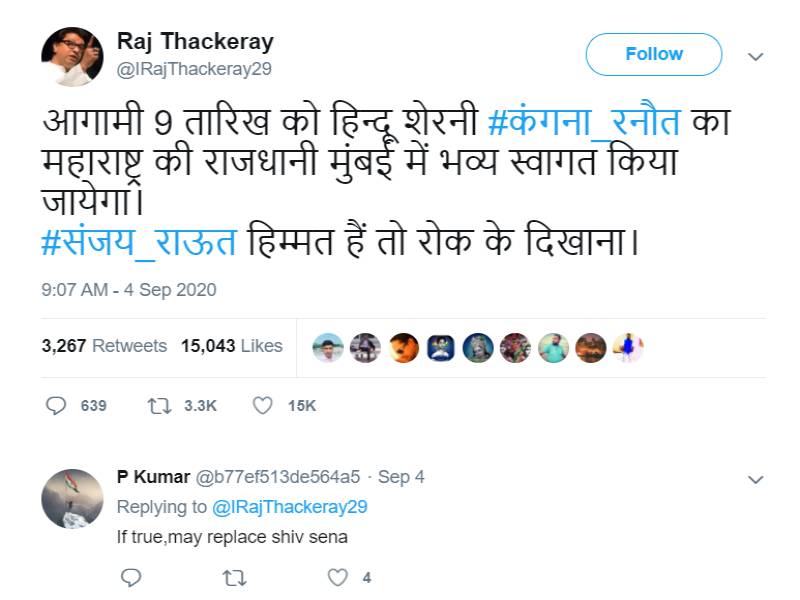 FACT CHECK:
The claim is FALSE.
NewsMeter checked the official Twitter account of Maharashtra Navnirman Sena (MNS) chief Raj Thackeray and found no such tweet. Thackeray's official account, created in May 2017, is verified and has over 7,28,000 followers as of 8 September. The username on Thackeray's real account is @RajThackeray while the viral tweet was posted from @IRajThackeray29 which was created in 2020. Clearly, it was a fake account.
https://twitter.com/RajThackeray?s=09
The tweet became viral following the Twitter feud between Kangana, MLA Pratap Sarnaik, and MP Sanjay Raut. Sarnaik had said that the actress should be booked for sedition after she linked Mumbai to Pakistan Occupied Kashmir (PoK).
Sanjay Raut Shiv Sena leader has given me an open threat and asked me not to come back to Mumbai, after Aazadi graffitis in Mumbai streets and now open threats, why Mumbai is feeling like Pakistan occupied Kashmir? https://t.co/5V1VQLSxh1

— Kangana Ranaut (@KanganaTeam) September 3, 2020
Sanjay Raut, meanwhile, wrote that if the actress did not feel safe, she should not return to the city. Responding to Raut's statement, Kangana tweeted that she will be returning to Mumbai on 9 September and challenged anyone to try and stop her.
I see many people are threatening me to not come back to Mumbai so I have now decided to travel to Mumbai this coming week on 9th September, I will post the time when I land at the Mumbai airport, kisi ke baap mein himmat hai toh rok le 🙂 https://t.co/9706wS2qEd

— Kangana Ranaut (@KanganaTeam) September 4, 2020
NewsMeter found that the fake Twitter handle had changed its user name from @RealThackeray to @ThackerayOffic and then finally to @IrajThackeray29.
There are multiple fake Twitter acounts under Thackeray's name, including @RaajThakrey, @realthakare, and @proudhindu29. Tweets from these accounts range from the Sushant Singh Rajput case to Kangana's statements to criticism of the Maha Vikas Aghadi (MVA) government.
https://twitter.com/RaajThakrey?s=09
https://twitter.com/realthakare?s=09
https://twitter.com/proudhindu29?s=09
According to Hindustan Times, in 2012 Thackeray had asked Twitter and Facebook to delete all fake accounts misrepresenting him following reports that he was the first to tweet about the death of former Chief Minister Vilasrao Deshmukh. "I do not tweet as I don't even have an account," Thackeray had said.
https://m.hindustantimes.com/mumbai/raj-wants-twitter-to-delete-his-fake-accounts/story-crq7Le1RrSL6SZLw52ZQzK.html
Therefore, the claim that Raj Thackeray had said Kangana will get a grand welcome on her return to Mumbai is FALSE. The tweets were from a fake account impersonating Thackeray.