Fact Check: Collage of Rakhi Sawant pictures embracing Pakistani flag are from a movie shot in 2019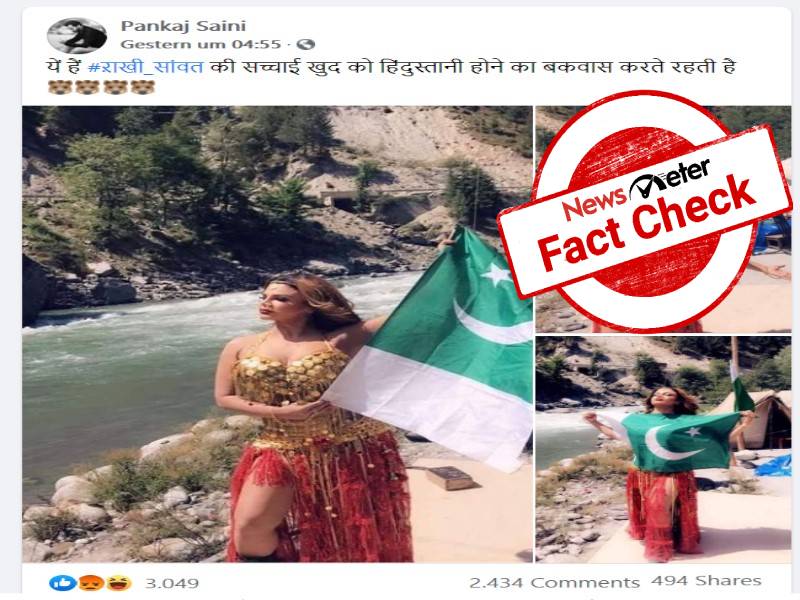 Hyderabad: A few pictures of Bollywood actress Rakhi Sawant have been viral on social media in which she is seen embracing Pakistan's national flag.
A Facebook user posted a set of pictures with a caption that translates to, "This is the truth of Rakhi Sawant. She speaks rubbish about her being a proud Indian."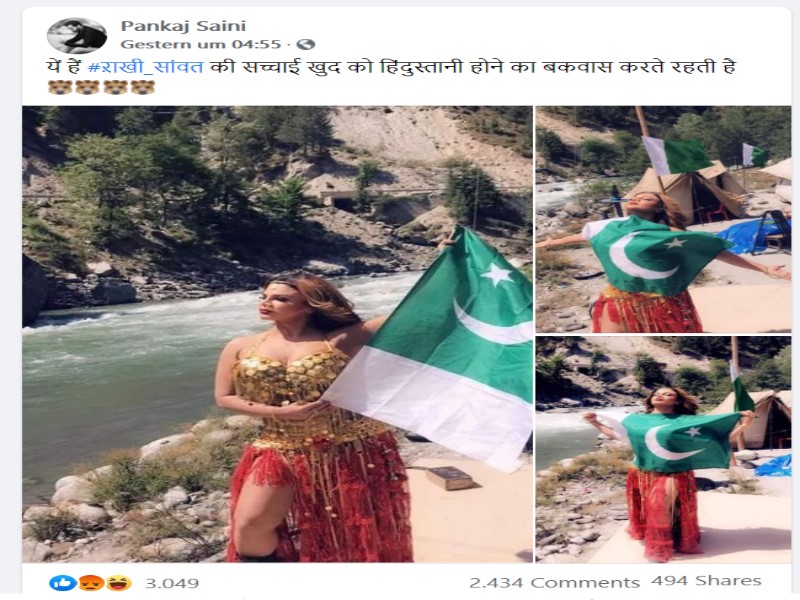 Another Facebook user posted a set of pictures with a caption that translates to, "Here is the truth of Rakhi Sawant who keeps on talking rubbish about being Indian."
Several netizens are sharing the same collage of photos and captions on Twitter to troll the actress.
http://web.archive.org/web/20200922080549/https://twitter.com/NikeshNandan/status/1307880793633554433?s=20
Fact Check:
The pictures are of the movie shoot "Dhara 370" in 2019. The claim is false.
Using reverse image search on Google, Newsmeter found many news reports with the same picture. According to a report, Rakhi Sawant shared photos of her embracing the Pakistani Flag, on her social media account Instagram on May 8, 2019. It was part of a shoot for the film Dhara 370. Rakhi features as an item girl in the movie.
https://indianexpress.com/article/entertainment/bollywood/rakhi-sawant-trolled-pakistan-flag-dhara-370-5719191/
https://news24online.com/news/nation/rakshi-sawant-dares-modi-poses-pakistan-flagvideo-36878369/
https://www.dnaindia.com/bollywood/report-rakhi-sawant-embraces-pakistani-flag-has-fans-furious-over-her-act-2747508
After being trolled by many netizens, Rakhi posted the same images on her Instagram profile and clarified that the pictures were taken during a movie shoot, "I love my India, but it's my character in the film Dhara 370."
Hence, the claim is FALSE.
Claim Review :
Collage of Rakhi Sawant pictures embracing Pakistani flag
Claimed By :
Social Media Users