After the YSRCP government formed, many religion-related controversies are surfacing in Andhra Pradesh. One such issue has found heat in Machilipatnam town of Krishna district after the town hall's renovation.
Allegedly, officials of the AP Endowments Department renamed the town hall from 'Mutnuri Krishna Rao Town Hall' to 'Sri Victoria Memorial Buildings and Public Library'. Some claim that the AP government had done so with a "malicious intention to encourage Christianity in the region".
Netizens have claimed that naming the town hall after a foreigner is an insult to great leaders such as Mutnuri Krishna Rao and Pingali Venkayya from Machilipatnam. Posts also stated that this town hall had been named after Mutnuri Krishna Rao and its current renaming is intentional.
మచిలీపట్నం కృష్ణాపత్రిక ఫౌండర్ ముట్నూరి కృష్ణారావు పేరున ఉన్న టౌన్‌హాల్ పేరు ఈ విధంగా మార్చారు 🤦🏻‍♂️🤦🏻‍♂️ pic.twitter.com/J9UA986oH2

— karthik (@merespectator18) November 25, 2019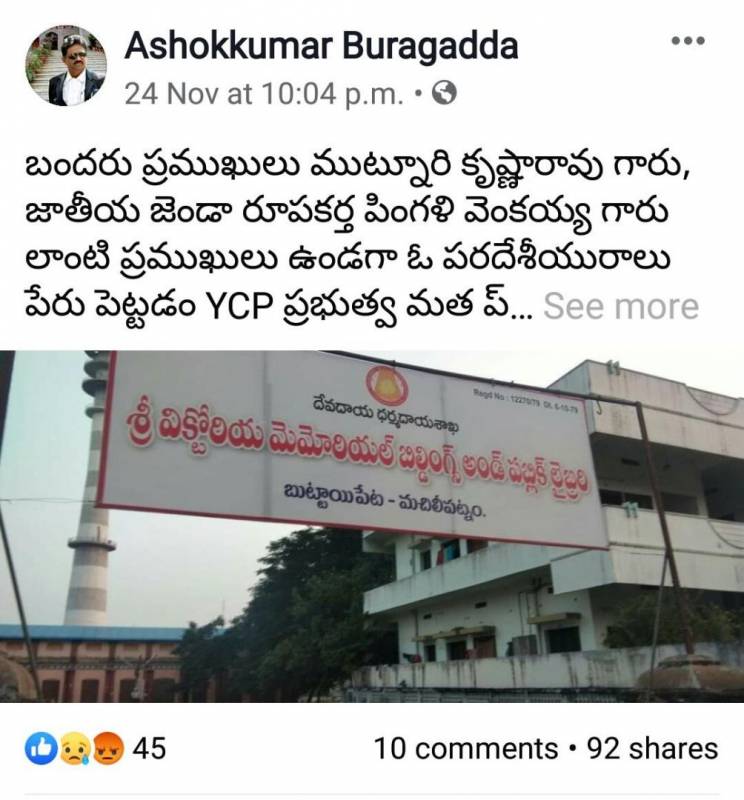 Fact Check: Through an online search, the NewsMeter team found that this place is famously referred to as Bandaru town hall or Machilipatnam town hall. However, we found no mention of the name 'Mutnuri Krishna Rao town hall' anywhere. We could not even find a name board, confirming this name.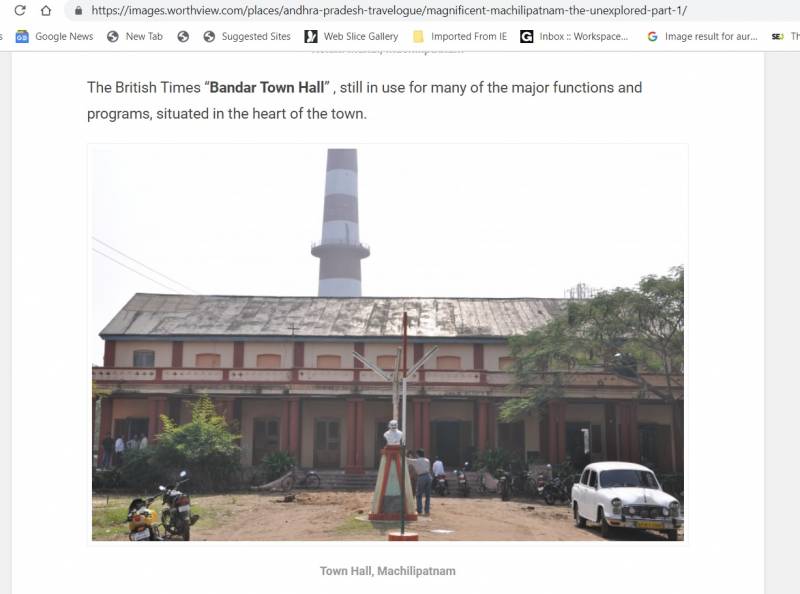 Although, in a book called 'The Great Indian Patriots Volume 2' there is a mention that the Machilipatnam town hall has been named after Mutnuri Krishna Rao. However, Andhra Jyothi's Machilipatnam edition claimed differently on November 29. The report stated that when the town hall, when established in 1905, finalised its name as 'Victoria Memorial Building and Public Library', as British Queen Victoria visited India that year.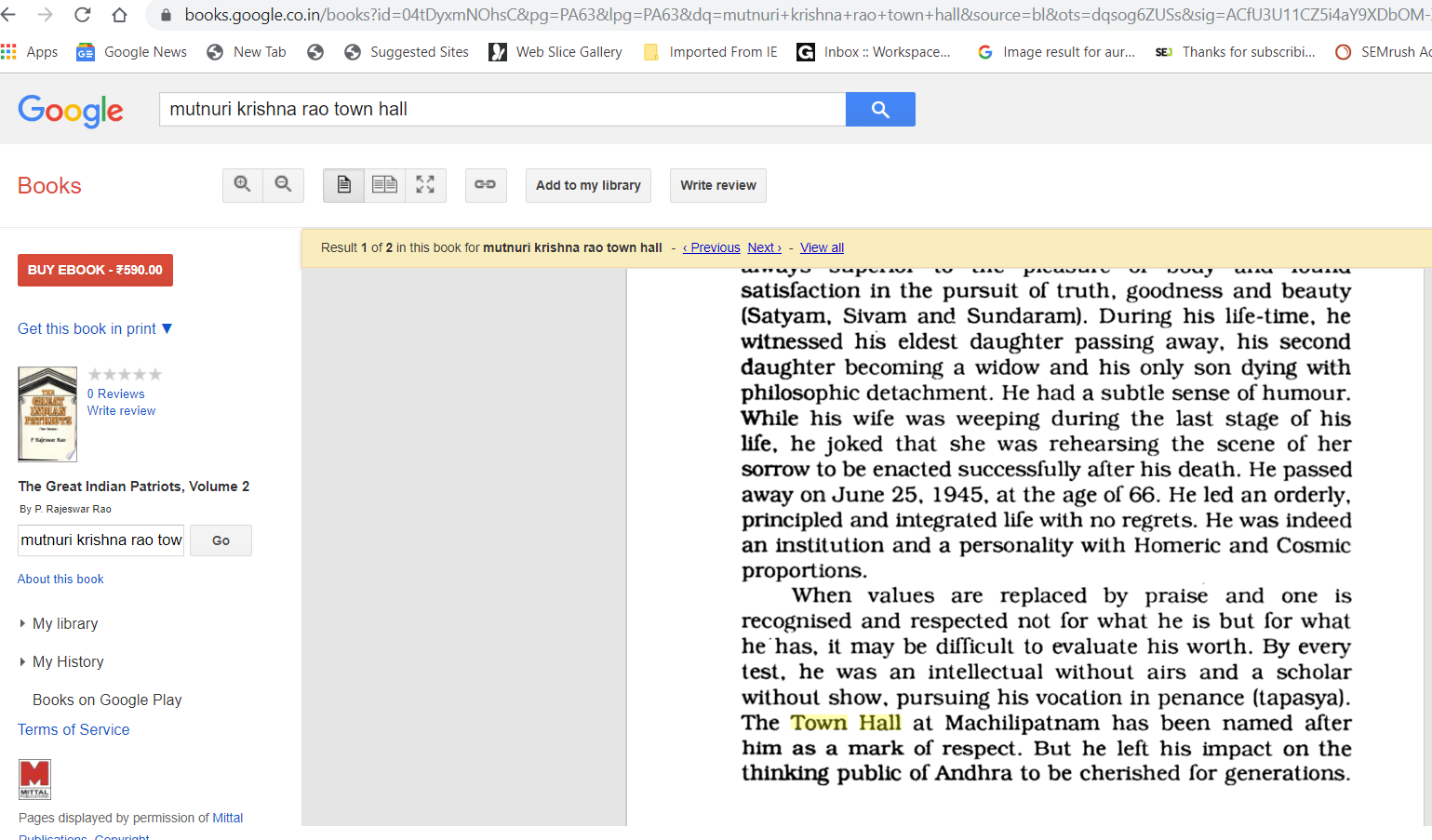 After independence, in 1982, many leaders proposed to change the name of the building to 'Mutnuri Krishna Rao Town Hall', after the great scholar and freedom fighter. Krishna Rao was the doyen of Telugu journalism, and editor of the famous Krishna Patrika, a weekly newspaper. Officials at the time ignored this proposal, and this name never became official.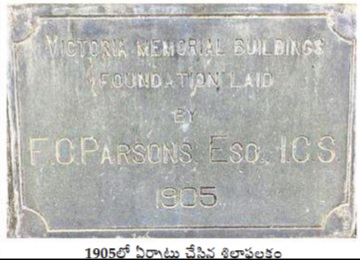 Kondrekula Srinivasa Rao, a zamindar, donated the land that would later become a site for the town hall and behind it land for Ganesh temple. Since the same person gave the ground for the temple and the town hall, the latter also came under the jurisdiction of the AP Endowments Department.
After the recent renovations, the actual name of the town hall became known. Even though there had been proposals over the years to rename the building, the change never happened.
The town hall is still named 'Victoria Memorial Building and Public Library' after Queen Victoria. This error seems to have occurred due to negligence from the side of officials of the Endowments Department. However, it is not a malicious one.
This claim is PARTLY TRUE.