Hyderabad: A message claimed to be from the Indian Council of Medical Research (ICMR), New Delhi has been going viral on social media including WhatsApp, Facebook, and Twitter. The message asks citizens not to travel abroad for the next two years, along with several other guidelines.
The message asks citizens to desist from eating food from outside for the next one year. Interestingly, it also cautions people against wearing belts, watches, rings while going out, without providing any scientific reason for this.
Fact Check:
The message is as follows:
ICMR New Delhi* Please read carefully
Some very important points:
1. Postpone travel abroad for 2 years.
2. Do not eat outside food for 1 year.
3. Do not go to an unnecessary marriage or other similar ceremonies.
4. Do not take unnecessary travel trips.
5. Do not go to a crowded place for at least 1 year.
6. Completely follow social distancing norms.
7. Stay away from a person who has a cough.
8. Keep the face mask on.
9. Be very careful in the current one week.
10. Do not let the any mess around you.
11. Prefer vegetarian food.
12. Do not go to the Cinema, Mall, Crowded Market for 6 months now. If possible, Park, Party, etc. should also be avoided.
13. Increase immunity.
14. Be very careful while at Barber shop or at the beauty salon or parlor.
15. Avoid Unnecessary Meetings, Always keep in mind Social Distancing.
16. The threat of CORONA is not going to end soon.
17. Don't wear a belt, rings, wristwatch, when you go out. Watch is not required. Your mobile has got time.
18. No handkerchief. Take sanitizer & tissue if required.
19. Don't bring the shoes into your house. Leave them outside.
20. Clean your hands & legs when you come home from outside.
21. When you feel you have come nearer to a suspected patient take a thorough bath.
Lockdown or no lockdown next 6 months to 12 months follow these precautions.
Share this with all your family & friends.
Thank You."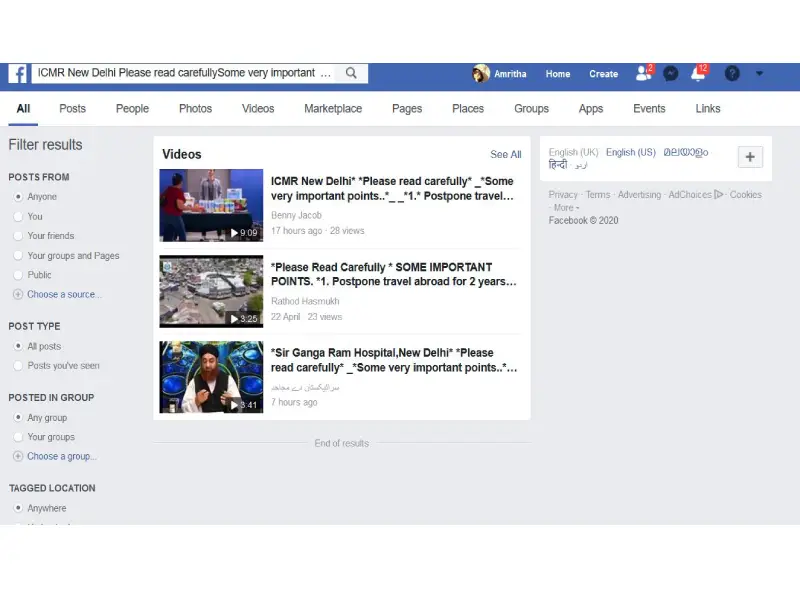 However, a Google search did not produce any results that pointed towards ICMR's new guidelines. A look through ICMR's website also revealed that no new guidelines corresponding to this WhatsApp message have been published by ICMR.
A search through Facebook showed that another similar message has been doing the rounds since the past few days. Twitter produced similar results of the same message being forwarded by other people, without verification. Meanwhile, the official version from ICMR is awaited.
Therefore, the message that claims to be from the ICMR is UNVERIFIED and could be false.
Claim Review :
ICMR ask people to postpone foreign travel for two years
Claimed By :
Social Media Users