Fact Check: Were social distancing norms flouted in Air India flight that brought back passengers from abroad ?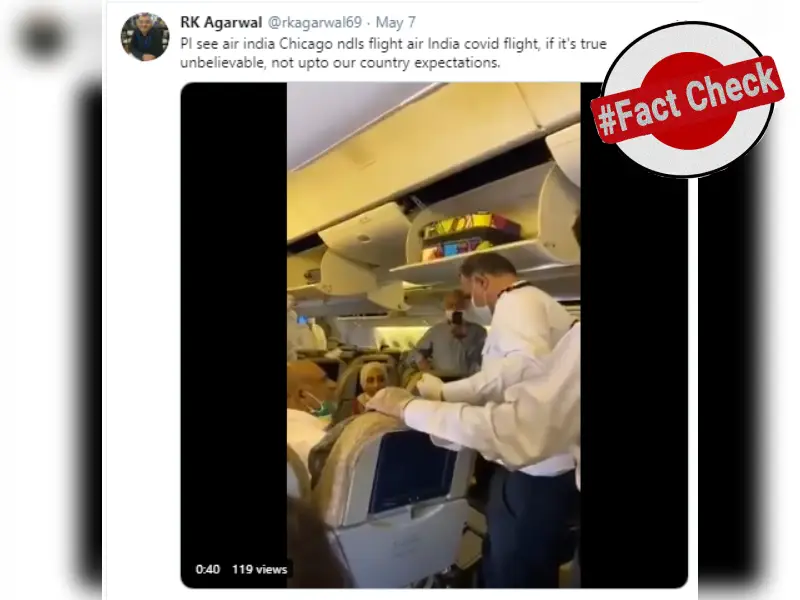 Hyderabad: Around 64 Air India Flights are functioning amid lockdown to bring back Indians stranded in different countries. On May 8, two flights landed in Kerala's Kochi and Kozhikode carrying passengers from Dubai and Abu Dhabi. A total of 354 passengers were brought back safely by the Air India crew.
While many are praising Air India for this, a video is being shared claiming that Air India flight didn't maintain the social distancing protocol in the flight from Chicago to Delhi. In the video, the passengers can be heard asking why they were not being seated as per the social distancing norm.
A man, in the video, even says that if he gets infected with coronavirus he would sue the airlines.
The video with similar claims is also being shared on Facebook.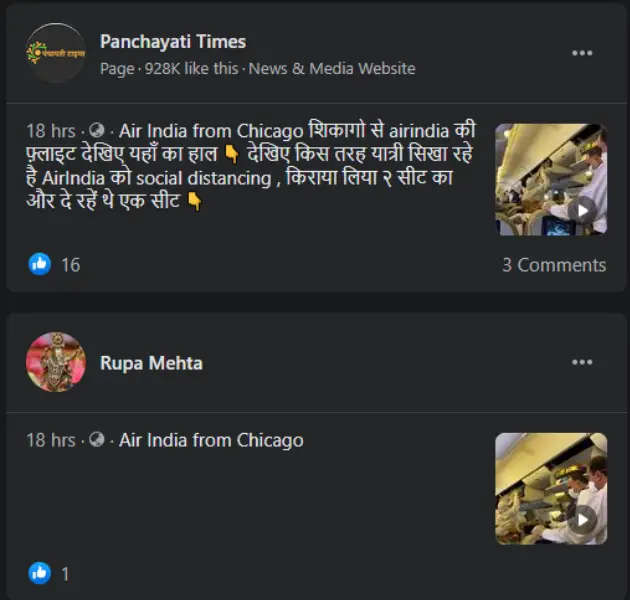 Fact Check:
Air India as an reply to one of the twitter users refuted the claim and said that it is not from Air India flight
Dear Pax, The video is not of an Air India aircraft. You are advised not to spread such misinformation in a public domain which may create panic & is a recognised offence. We are compelled to report your tweet for maligning Air India & sparking false anxiety.

— Air India (@airindiain) May 8, 2020
When we did a reverse image search extracting key frames from the video, we found a video shared on YouTube claiming that it was a Pakistan International Airlines (PIA) flight. The video was shared by YouTube page 'Empire Productions' with title 'PIA_flights bringing_back_Pakistanis_from_abroad. Were passengers seated in every seat or with some gap i between?'
The video was posted by the page on April 26.
Further, we searched using key words PIA flights not following social distancing and found that the story was covered by ANI on April 29. A screenshot from the video has been used in the story.
In its report , ANI stated that 'An amateur video has emerged on social media from Pakistan International Airlines flight, in which passengers were seen complaining about overcharged tickets and violating the social distancing norm as highly contagious coronavirus continues to grip the world.'
The video was also shared by a Twitter user 'Pakistan socio-economic monitor by Yasin J' on April 26. He tweeted the video with a caption, "#BreakingNews In special flights to bring home Pakistanis #PIA is not following #SocialDistancing and is price gouging for economy class seats in the name of leaving middle seats #lies vs reality"
Meanwhile, PIB also fact checked the video and confirmed that the claim was fake and the video was from the neighbouring country.
Hence, the claim that the video is of passengers complaining about over charging and no social distancing is not from Air India flight but from PIA.
Claim Review :
social distancing norms flouted in Air India flight that brought back passengers from abroad
Claimed By :
Social Media Users