Hyderabad: Wearing masks has been made mandatory in almost all countries across the world. Though many are abiding by this rule, several people are resisting the continuous usage of the mask when outside.
In this situation, a card declaring that the individual holding it is 'exempted' from mandatory mask requirement under the Disabilities Act in America and the card is also citing that it has been approved by the Department of Justice, is in circulation on social media.
With the title "Face Mask Exempt Card", the laminated card is being shared on the social media stating that "I AM EXEMPT FROM ANY ORDINANCE REQUIRING FACE MASK USAGE IN PUBLIC"
The card also states that wearing a face mask poses a mental and/or physical risk to me. Under the Americans with Disability Act (ADA), I am not required to disclose my condition to you. Denying access to your business/organization will be also reported to FTBA for further actions.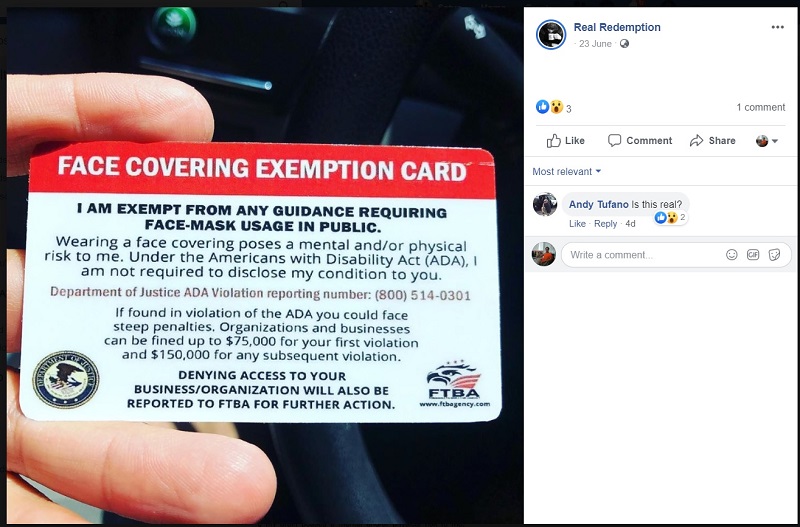 Fact Check:
The face mask exempt card is a hoax, it was NOT approved by the Department of Justice, USA.
The United States Department of Justice has released a statement refuting these claims.
It alerted the citizens that the postings were not issued by the Department and were not endorsed by it. The Department urged the public not to rely on the information contained in these postings and to visit ADA.gov for ADA information issued by the Department.
https://www.ada.gov/covid-19_flyer_alert.html
After the declaration by the Department of Justice, many media outlets have published stating that the card is FALSE.
https://edition.cnn.com/2020/06/26/us/face-mask-exemption-cards-doj-fraudulent-trnd/index.html
https://www.today.com/health/viral-face-mask-exemption-cards-are-fake-doj-warns-t185181
https://www.cnet.com/news/that-face-mask-exempt-card-thats-going-viral-is-totally-bogus/
The face mask exempt card is a hoax, the claim that this card has been approved by the Department of Justice, USA, is FALSE.
Claim Review :
Face mask exempt card in circulation on social media in the US
Claimed By :
Social Media Users