By N.N Dharmasena
On 22 June, a large group of farmers from villages like Bagajuli, Kalipur, Hatiduba, Santipur, Mariampur, Patkijuli, Belkhuti, Angarkata, and others in the Tamulpur sub-division of Baksa district in Assam staged a protest under the banner Kalipur Bogajuli Kalanadi Anchalik Don Bandh Samiti. They claimed that they were not receiving water from Kalindi river in Bhutan through the informal irrigation channel system along the Indo-Bhutan border villages. The protesting villagers demanded the Union government interfere to sort out the issue and claimed that nearly 6,000 farmers depend on manmade channels, dongs in the local language, to cultivate their lands.
Several media outlets reported the news of the protest by Assamese farmers. Some people also spread rumours that Bhutan was not giving water to farmers in Assam. Messages posted on social media claimed that China is behind the noncooperation of neighbouring countries like Nepal and Bhutan.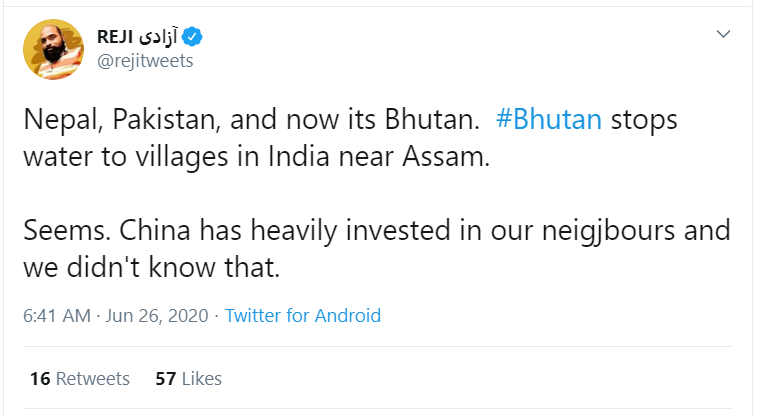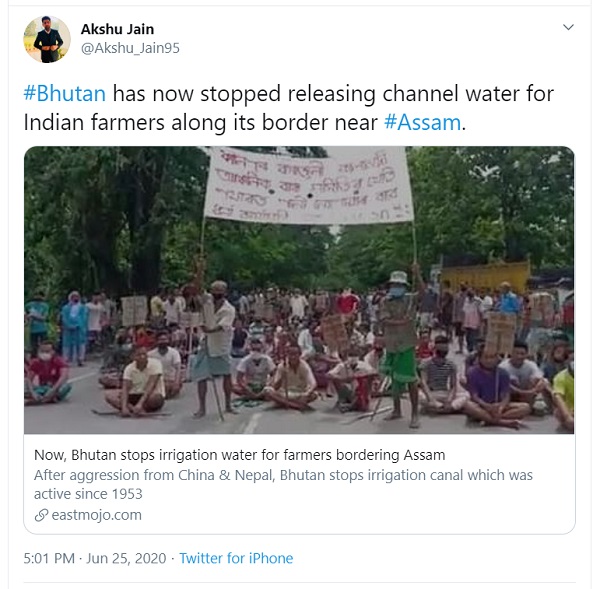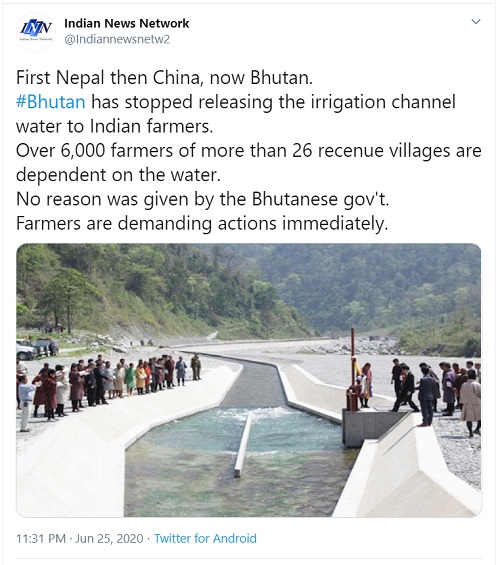 https://www.eastmojo.com/assam/2020/06/24/now-bhutan-stops-irrigation-water-for-farmers-bordering-assam
https://nenow.in/north-east-news/assam/assam-baksa-farmers-resent-bhutans-decision-to-stop-irrigation-water.html
FACT CHECK
The claim that the Bhutan government has blocked irrigation waters for Assamese farmers is FALSE.
For nearly seven decades, water from Kalindi is being diverted from Bhutan by the farmers of 26 villages of Baksa and Udalguri districts along the Indo-Bhutan border through the manmade channels. During the monsoon, these channels often get blocked and the farmers clear the obstacles and channel the water to their fields.
The editor of The Bhutanese and president of the Media Association of Bhutan, Tenzing Lamsamg, has denied the rumours that Bhutan has obstructed the flow of Kalindi. He said that every year Bhutan allows Assam farmers to cross the river and divert the water but this year due to the pandemic no outsider was being allowed into the country.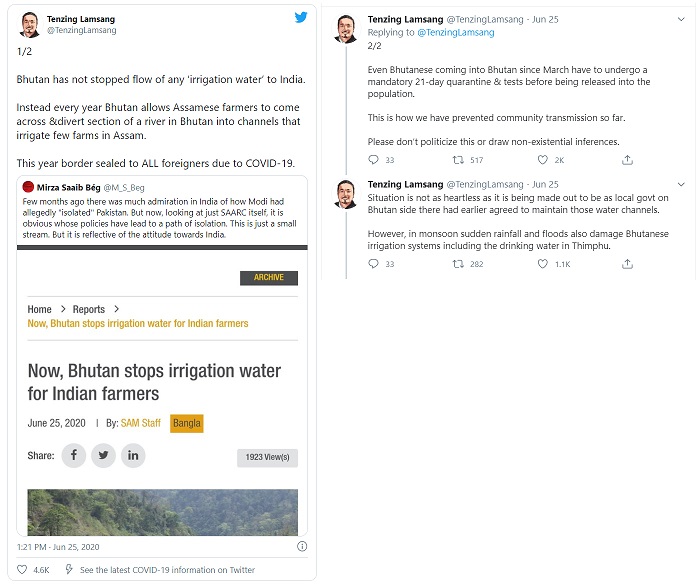 Meanwhile, the chief secretary of Assam and the Bhutan ministry of Home Affairs also clarified the issue. The CS of Assam, Kumar Sanjay Krishna, explained that the natural blockage of the informal irrigation channels was the reason why farmers in Assam were not receiving water.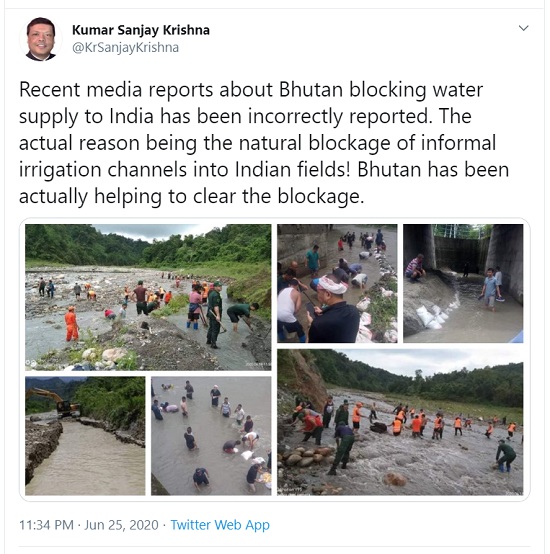 Bhutan's ministry of foreign affair said due to the lockdown farmers from Assam are unable to enter Bhutan. Officials and people of Samdrup Jongkhar district in Bhutan are working to clear the obstacles to ensure that Kalindi water flows into Assam fields.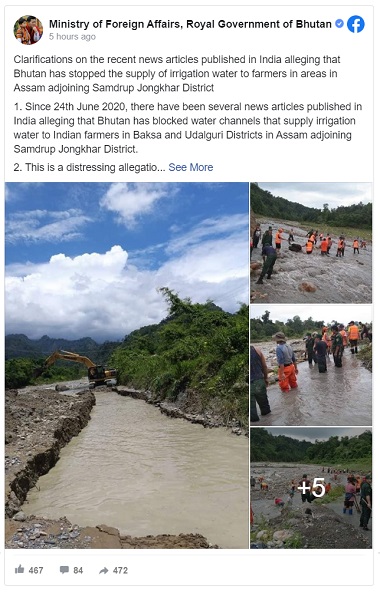 Hence, the claim that the Bhutan government has blocked irrigation waters for Assamese farmers is FALSE.
Claim Review :
Bhutan stop irrigation water for Indian farmers
Claimed By :
Social Media Users