A video showing patients on hospital beds outside the health facility is going viral on WhatsApp, claiming that it was the situation in the Old City of Hyderabad. The video shared depicted that a hospital in Hyderabad was overflowing with Covid-19 patients and so, they have been moved out of the hospital premises.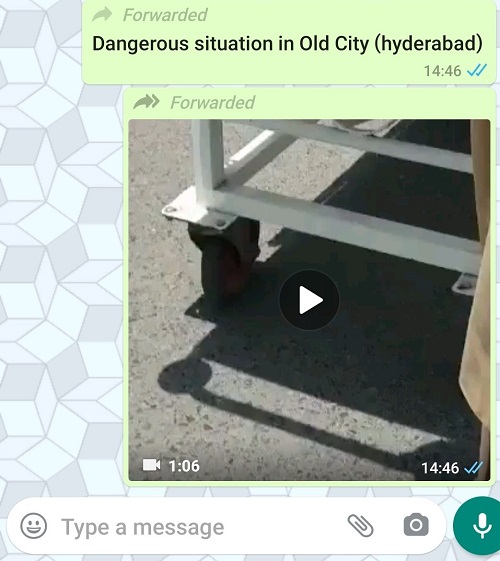 [video width="304" height="640" mp4="https://newsmeter.in/wp-content/uploads/2020/06/WhatsApp-Video-2020-06-25-at-13.46.46.mp4"][/video]
Fact Check:
The above claim that this video shows COVID-19 situation in Hyderabad, India, is FALSE.
When the extracted keyframes using the Invid tool were searched using Google Reverse image search, we found many results showing that this video was taken in Pakistan and NOT in Hyderabad or India.
Many social media accounts have shared the video with the claim that it depicts the situation of Covid-19 patients in Pakistan.
Even that is a false claim, as this video shows the patients from Lahore Service Hospital after a fire broke out in the ICU section of the hospital. This fire accident occurred in ICU section of Lahore Service Hospital on June 12, 2020.
Several news channels broadcast this news. A website named parhlo.com published an article titled 'Patients Waited Outside Lahore Hospital Due To Fire – They Are Not COVID positive'. This article was shared several times on Twitter proving that this was NOT the circumstances of Coronavirus patients but the situation after the fire incident in the ICU section of Lahore hospital.
Here are other reports on the fire incident that took place on June 12, 2020.
https://gulfnews.com/world/asia/pakistan/pakistan-video-of-patients-waiting-outside-after-lahore-hospital-catches-fire-causes-confusion-online-1.1592321600347
This video was also debunked by AFP.
Therefore, the viral video does NOT depict the situation of a hospital in the Old City of Hyderabad and the patients seen here are NOT Covid-19 patents. The above claim is FALSE.
Claim Review :
Viral video of patients lying outside the hospital is in Hyderabad
Claimed By :
Social Media Users