Hyderabad: Video of an alleged loudspeaker is being shared on social media along with a claim that it is being used by the Chinese army to target Indian soldiers in Ladakh.
"The Chinese army uses this super loudspeaker to play music at the Indian military camp in Ladakh! A large number of Indian soldiers' eardrums were injured and vomiting," reads the claim
Archive of the post can be accessed here.
The same video shared on Facebook with a similar claim.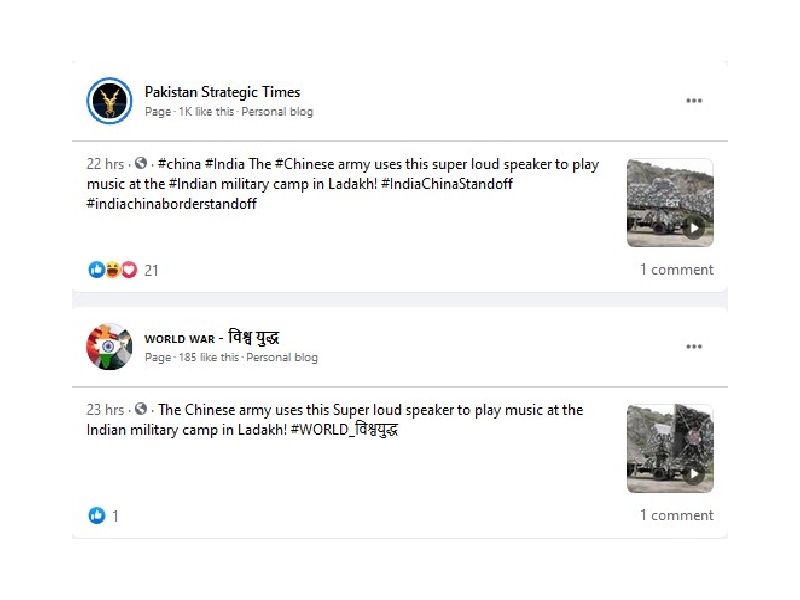 Archive of the posts can be accessed here and here.
Fact check:
The claim is FALSE. This video is four years old and not related to the present ongoing standoff between India and China.
Newsmeter performed a reverse image search of one of the keyframes of the video. Search results led to the YouTube video titled "LION KING Defender Siren" uploaded by 'Elsa Chen' on Mar 20, 2016.
The description of the video reads: "The largest air-raid siren in the world. Produced by TaizhouLionKing Signal Co., Ltd."
Air-raid sirens are also known as civil defence sirens used in giving emergency warnings to a larger population of approaching any danger.
Interestingly, loudspeakers are indeed being used by the Chinese military to play songs in recent times during the standoff. But the siren in the video is no way related to the present military tensions between India and China.
According to the Times of India article published on 16 Sep 2020: "Chinese troops have set up loudspeakers that belt out Punjabi numbers at their forward posts. This comes in the wake of Indian troops setting up an around the clock observation at the dominating height near Figure 4 (hilltop area), overlooking the positions of Peoples Liberation Army. According to sources, it is possible that Chinese might be indulging in such a drama to distract Indian troops."
But there were no reports about Indian soldiers being injured or affected by such loudspeaker activities as claimed in the social media posts.
Finally, video in circulation is four years old and NOT related to the ongoing India- China military standoff.
Claim Review :
video of Chinese loudspeaker is related to Ladakh standoff
Claimed By :
Social Media Users