Fact check: Image of a Rohingya refugee girl shared with false communal and xenophobic narrative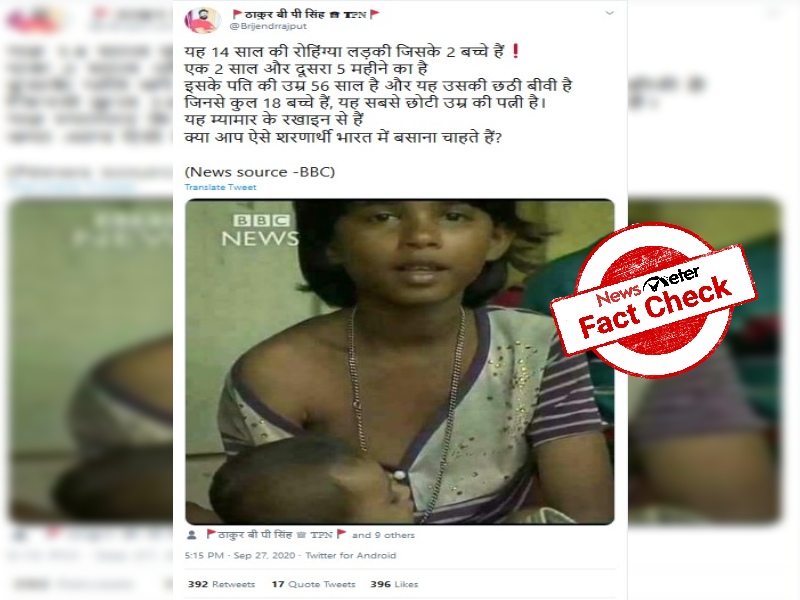 Hyderabad: The image of a girl holding an infant was shared on social media identifying her as a Rohingya refugee and a mother of two children. The image captioned with xenophobic narrative was asking social media users whether they should allow Rohingya refugees into India or not. This post cited BBC as a source for its claim.
The caption when translated from Hindi reads, "This 14-year-old Rohingya girl with 2 children. One is 2 years old and the other is 5 months old. Her husband is 56 years old and is his sixth wife with a total of 18 children, she is the youngest wife. It is from Rakhine in Myanmar. Do you want to settle such refugees in India?(News source -BBC)."
Archive of the post can be accessed here.
The same claim was viral on Facebook in 2017 during the widespread social media discourse around Rohingya refugees.
Archive of the post can be accessed here.
Fact check:
FALSE, this image is a screengrab from the BBC video of 2017 and is being circulated with a false narrative.
Upon reverse image search, Newsmeter came across a BBC video report dated back to September 5, 2017. The video titled "In the jungle with Rohingya refugees fleeing Myanmar" covered Rohingya refugees fleeing violence in Myanmar. The image of the girl can be found at 2.06 minutes in the video, which lasts only for a few seconds. There was no context or story about the girl mentioned in the video.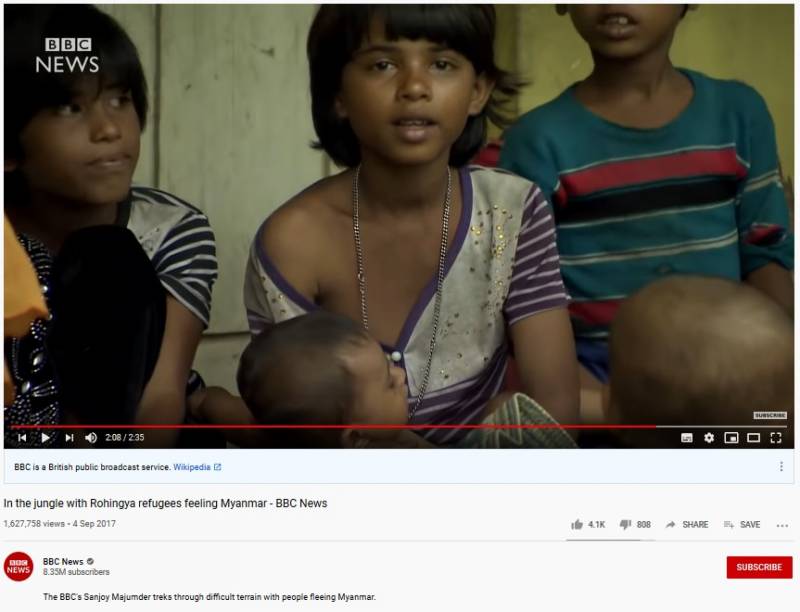 This false claim was widely circulated in 2017 amidst the widespread social media discourse around Rohingya refugees. Since then, the same claim resurfaced several times on social media. Boomlive earlier fact-checked this claim in 2019 and according to which BBC spokesperson said, ''the picture circulating on social media is misrepresenting a BBC Report about the first shelter where Rohingya refugees camp after entering Bangladesh. At no point in the story is there any suggestion the young girl is holding her own child."
Rohingya community is an ethnic minority group from Myanmar, who predominantly follow Islam. However, these people became stateless after Myanmar's military crackdown on Rohingya community in August 2017. Following the persecution, they started migrating into India and Bangladesh. Opposing their entry into India, several right-wing ideological groups started hate campaigns against Rohingya Muslims. This false communal narrative is one among the claims in the hate campaign against Rohingya Muslims.
So the claim about Rohingya refugee girl in the screengrab is FALSE and it resurfaced again on social media.
Claim Review :
Fact check: Image of a Rohingya refugee girl shared with false communal and xenophobic narrative