Hyderabad: An image of a Ramzan rice kit of the Telangana government with an underlying communal message is circulating online.
A post by Suresh Chavhanke, editor-in-chief of Sudarshan News , on his Twitter handle, @SureshChavhanke reads : "तेलंगाना सरकार मुसलमानों को रमज़ान कि स्पेशल किट फ्रि में दे रही है। हिन्दू के त्यौहार रामनवमी, हनुमान जयंती, उगादि पर घर से भी बाहर निकलना मना था."
English translation: "The Telangana government is giving Special Ramazan kits to Muslims for free. On Hindu festivals of Ramnavami, Hanuman Jayanti, and Ugadi, even stepping out of the homes is forbidden."
[amp-tweet tweetid="https://twitter.com/SureshChavhanke/status/1259891769367396353"]
Fact Check:
The claim is FALSE.
A pink color rice kit with the Telangana government logo is shared on Twitter. Though the Telangana government has distributed free rice kits previously, no special Ramazan gifts have been distributed so far in Telangana. To ease the suffering of white ration cardholders due to the lockdown, the government supplied 12 kg free rice per head and Rs 1,500 per family to 87 lakh white cardholders in the State.
When NewsMeter did a keyword search on Google search engine we found a 2018 article on Sakshi Post. Headlined 'Telangana Govt Gift to Muslims for Ramzan', the article had the same image posted by Suresh Chavhanke.
In 2018, Ramazan gift packs were handed over to 4 lakh families in Telangana by the state government. Also in 2019, the government has distributed gift packs to Muslim communities through 832 mosques.
Hence, the image being circulated as Ramazan kits can be from the 2018 Ramazan season or before that.
Responding to the tweet, an official from the Telangana government told News Meter that the State government is not giving Ramzan gift this year due to Corona situation. "Actually the state government generally does such gift distribution for Bathukamma, Ramazan and Christmas. This year Telangana government is NOT giving Ramzan gift due to Corona situation This tweet is mischievous because it implies that the state government gives such festival gifts only to Muslims."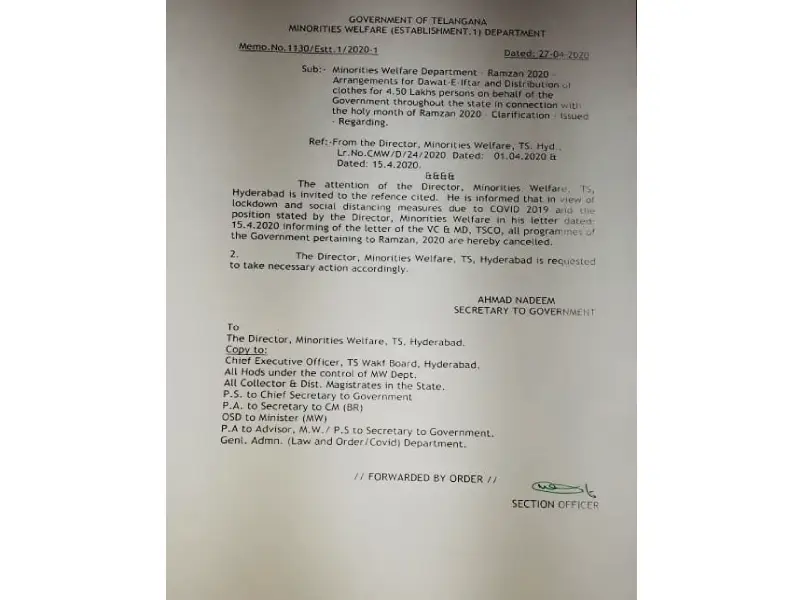 Several citizens also questioned the tweet taking note of the Sakshi article.
[amp-tweet tweetid="https://twitter.com/7_g_r_a_m/status/1259902766308352000"]
[amp-tweet tweetid="https://twitter.com/stoppression/status/1259926615301087233?s=09"]
Since nationwide lockdown was announced, no religious gatherings have been allowed in the state.
A pastor was detained in Hyderabad for defying lockdown restrictions. Also, religious heads have called upon Muslims to follow the lockdown restrictions during the month of Ramazan and not hold congregational prayers at mosques or host 'iftar'.
Result
Hence, both the claims of Sudarshan News Chief Editor are FALSE.
No free Ramazan rice packets have been distributed to Muslims in the state. Lockdown restrictions have been imposed across the board in Telangana.
Claim Review :
Telangana govt offering free Ramzan kits amid lockdown
Claimed By :
Social Media Users