By NN Dharmasena
With lockdown restrictions being gradually relaxed across the globe, a video of a bulky man playing with a tennis ball took social media by storm. A large number of people on Twitter and Facebook claimed that the man in the video is Diego Maradona.
Here is the video that went viral:
https://facebook.com/watch/?v=569442200378661
and a screenshot of the video shared by another user: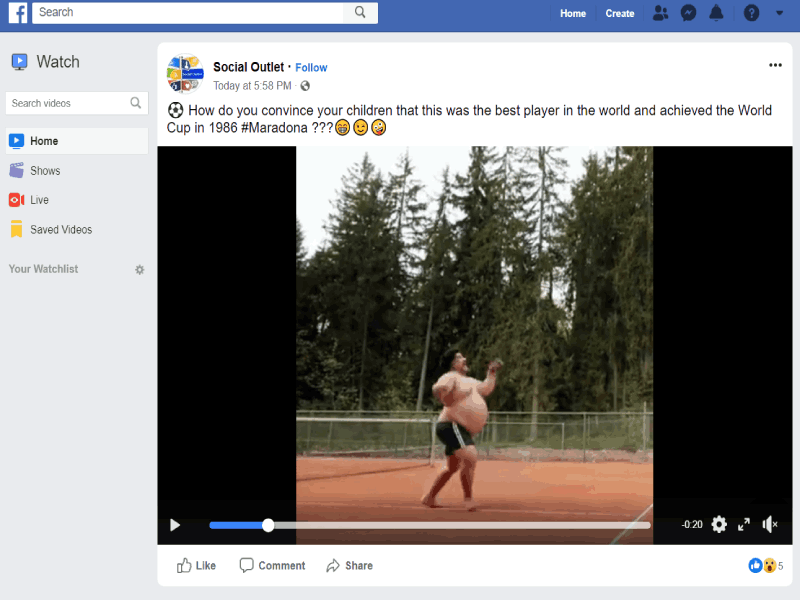 FACT CHECK:
That claim by social media users is FALSE!
A quick reverse image search on Google revealed that the video is available on the internet well before the lockdown. So, the claim that the video is shot after the lockdown is FALSE!
So, digging further, we found a YouTube clip at
uploaded by Johnny Andrus on October 24, 2015.
The information revealed that it was a trailer of an Italian comedy-drama, 'Youth', directed by Paolo Sorrentino and released on May 20, 2015.
Though the movie plot has nothing to do with Diego Maradona, the portrayal of the character leaves some clues that it is inspired by the soccer star.
Actor Roly Serrano has Carl Marx tattoo on his back while Maradona has a tattoo of Che on his right biceps. The actor has a dialogue that he is a left-hander hinting the infamous 'hand of the god' goal. The studs and beard showed a marked resemblance.
Clip: I am left-handed too- https://www.youtube.com/watch?v=vtl-MOaxMNI
Full clip of the Maradona inspired scene- https://www.youtube.com/watch?v=ayXURbmujEg
Hence, the person playing with the tennis ball in the video is not Diego Maradona and the claims by the social media users are FALSE.
Therefore, the video with a lookalike of Diego Maradona playing with a tennis ball is not shot in recent times.
The claims being made by social media users that he is Diego Maradona playing with a tennis ball after lockdown are FALSE.
Claim Review :
Man kicking tennis ball in viral video is Diego Maradona
Claimed By :
Social Media Users