Fact Check: MP Congress wrongly claims that state deployed women officials to sell alcohol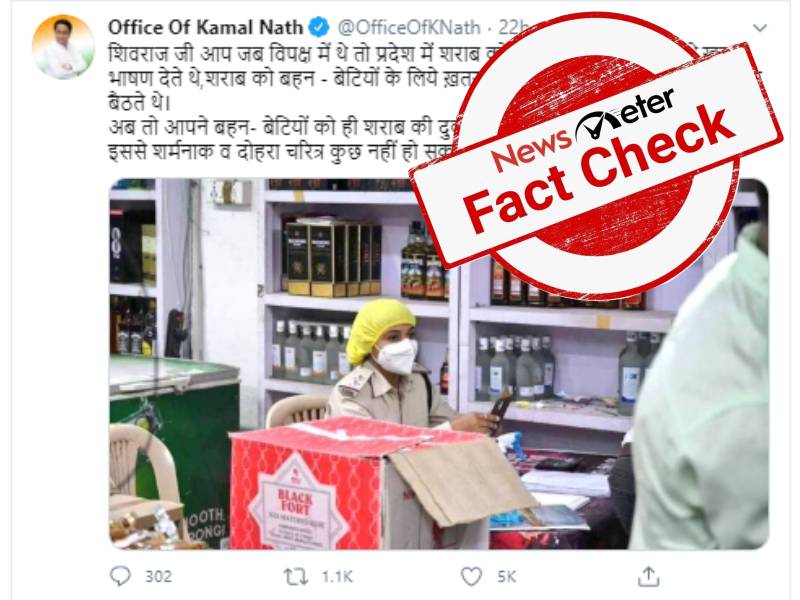 Hyderabad: The official Twitter page of the Madhya Pradesh Congress recently tweeted a photo of a woman selling liquor at a store and said the Shivraj Raj Singh Chouhan government is degrading the status of women in the state by making them sell alcohol in wine shops. The tweet translates to, "This photo is shameful. The Shivraj government, eager to sell liquor, has shown its disgusting and sorrowful attitude towards our sisters and daughters by making them sit at liquor shops. Shivraj ji, our culture worships women and your culture makes women sell alcohol."
You can view the archived tweet here.
The tweet has been around 2,700 retweets and more than 5,000 likes. The same photo was also shared by the official page of Congress leader Kamal Nath. The tweet translates to, "Shivraj ji, when you were in the Opposition, you protested about liquor in the state, gave speeches, and sat on dharnas. You said liquor was a threat to our sisters and daughters. Now you have made your sisters and daughters sit at liquor shops? Nothing can be more embarrassing than this."
You can view the archived tweet here.
Fact Check:
NewsMeter did a reverse image search and found that the same image was used by the Hindustan Times in one of its news articles. According to the report, the woman is an Excise official and she was not selling alcohol but supervising the sales. The newspaper quoted state BJP leader Dr. Hitesh Bajpai saying, "The Congress leaders are not able to understand that there is a difference between a woman employee selling liquor and a woman employee supervising the sale as per her duty in the department. Did Congress leaders try to know which of the women employees were discharging what duties?"
The Times of India also had an article with a similar image. It quoted assistant commissioner (excise), Sanjeev Dubey, who said they didn't employ a woman official to sell liquor and she was part of the inspection team.
Hence, the claim of the MP Congress that women are selling alcohol in liquor shops is FALSE. The woman excise official was inspecting the sale of alcohol.
Claim Review :
MP Congress claims that state deployed women officials to sell alcohol
Claimed By :
Social Media Users