Fact Check: Viral videos of COVID patients playing cricket, dancing to 'Lungi dance' not from Gachibowli stadium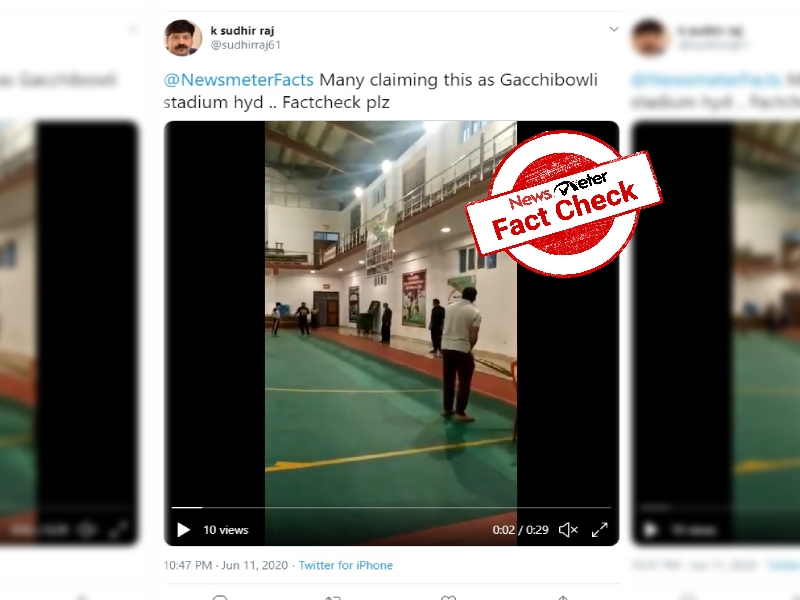 Around 500 junior doctors of Gandhi Hospital, who went on strike demanding police protection after one of their colleagues was attacked by relatives of a patient, called off their strike after state health minister Etela Rajender assured them that he would look into their demands. The junior doctors, however, have given the state a 15-day deadline to fulfill its promises. They have also demanded decentralisation of COVID-19 cases to other hospitals.
Amidst this, a video of patients playing cricket at Hyderabad's Gachibowli stadium, which has been turned into a quarantine center, has gone viral.
A Twitter user shared the video and wrote, "This is gachibowli stadium how people r simply playing cricket take action on them (sic)."
Many Facebook users have also been sharing the video with similar claims.
NewsMeter received a request to fact-check this video on our Fact Check Twitter handle @Newsmeterfacts.
We also received another video of patients at a quarantine center dancing to the song "Lungi dance" and asking if it was also from the
Gachibowli quarantine center.
[video width="640" height="352" mp4="https://newsmeter.in/wp-content/uploads/2020/06/RLmOgoxvE9lJefvc.mp4"][/video]
Fact Check:
The above claims are FALSE.
NewsMeter did a search using keyframes extracted from the video and found that the video of patients playing cricket at the quarantine centre has been shared several times on Facebook. It is reportedly from the Baramulla indoor stadium in Kashmir.
We searched using the keywords 'Indoor stadium Baramulla' and found that the stadium shown in the viral video bears resemblance to the Baramulla stadium.
https://kashmirdespatch.com/sports-stadium-turned-covid-19-wellness-center-in-baramulla/
https://www.republicworld.com/india-news/city-news/covid-19-baramulla-indoor-stadium-converted-into-quarantine-centre.html
A website named Oneindia.com had also uploaded the video claiming that it showed patients playing cricket at an isolation ward in Kashmir.
The former Chief Minister of J&K, Omar Abdullah, had also shared the video.
The Telangana government has converted the 14-storey sports tower at the Gachibowli Stadium, which had remained unused for more than a decade, into a COVID-19 isolation ward.
Though only a few pictures of the tower are available online, it definitely does not match the premises of the viral video.
Meanwhile, another video showing patients at a quarantine center dancing to "Lungi dance" is also NOT from Gachibowli stadium.
When we extracted keyframes of the video and searched using keywords 'COVID patients dancing', we found that the video was from a government quarantine center in Tripura's Agartala.
Here are other reports:
https://zeenews.india.com/hindi/india/states/agartala-covid-19-patients-doing-lungi-dance-inside-quarantine-centre/693789
Therefore, the claims that two viral videos - one showing patients playing cricket at a quarantine centre and another showing patients dancing to "Lungi dance" at an isolation ward - are from Hyderabad's Gachibowli stadium are FALSE.
Claim Review :
Viral videos of COVID patients playing cricket, dancing to Lungi dance from Gachibowli stadium
Claimed By :
Social Media Users