Hyderabad: Bharat Bio-tech, a Hyderabad-based pharma company, has got approval to conduct human trials of its Coronavirus vaccine. The Indian Council of Medical Research hopes that the vaccine prepared by this firm will be ready by August 15.
In this background, there was an image with a tweet claiming that Dr V.K. Srinivasan, vice-president, Bharat Biotech, has become the first person to take the vaccine have gone viral. The viral tweet read, "Dr V. K. Srinivas, vice president, Bharat Biotech, taking Corona vaccine...clinical trial. After taking the first dose, he said he is the first person in India to take a vaccine developed by him and his team in Bharat Biotech. Look at the confidence that they have in their product. (sic)"
The message was also viral on WhatsApp.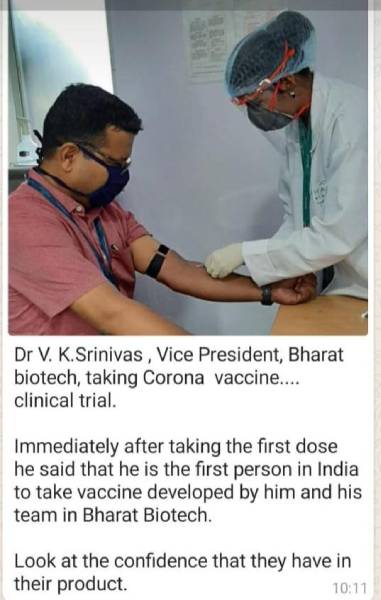 Fact Check:
As the images went viral, Bharath Biotech company on their Twitter page confirmed that the claim was fake.
It said that, "Certain images and messages being circulated on WhatsApp and other social media platforms have not been disseminated by Bharath Biotech. The image being circulated is a routine procedural blood draw for testing all production staff."
The vaccine has been currently sent to 12 institutes where human trials are to be held for Covaxin. Furthermore, the Chairman and MD of Bharath Biotech Dr. Krishna Ella stated on July 1 that they are waiting for a few more clearances and the human trials will be started in 10 days.
Hence, the claim that Dr. V. K. Srinivas is the first person to take the Covid-19 vaccine developed by their own company is false. The image shows a routine procedure of blood draw from all production staff in the company.
Claim Review :
Dr. V.K. Srinivasan of Bharath Biotech take the Covid-19 vaccine
Claimed By :
Social Media Users