Fact check: Old video of woman assaulted by lawyers in Pakistan shared with false communal narrative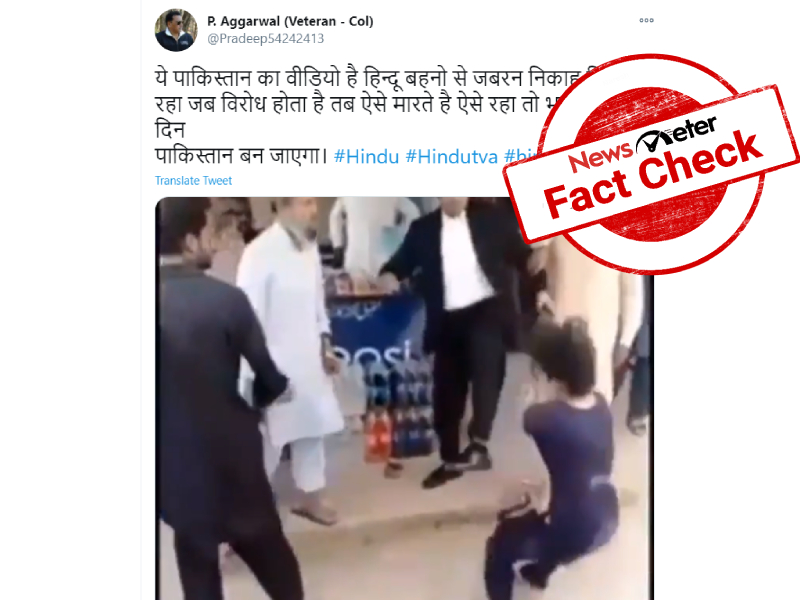 Twitter user @Pradeep5424243 shared a video of a woman being assaulted by lawyers and claimed that this video is from Pakistan and the woman is a Hindu.
"This is a video of Pakistan where Hindu sisters are being forcibly married. When they protest, they kill us like this...," reads the message translated in English. #Hindu#Hindutva#Hinduism."
Fact check:
This incident is indeed from Pakistan, but the woman in this video is a Muslim. There is no religious angle to the incident as claimed on social media.
A reverse image search of one of the keyframes of the video revealed that this incident is from Oct 2019. Pakistani newspaper Dawn carried a report on the incident on 31 Oct 2019. The article stated, "Amrat Shahzadi, a resident of Shahpur Bhangu village, visited a court in Shakargarh in connection with a land dispute. A group of people, including lawyers, thrashed her and her cousin Abdul Qayyum who was accompanying her."
Other Pakistani media reported this incident including Samaa TV, Geo TV, Naya Daur TV, and others.
Keyword search on Twitter resulted in an FIR copy of the incident tweeted by Tahir Imran Mian, a former BBC Urdu journalist from Pakistan, on 1 Nov 2019.
The FIR mentioned that "Advocates Yasir Khan, Waseem Latif and Asif Sultan dragged Amrat Shahzadi D/o Mohammed Suleman Ansari from the chamber of Advocate Md. Atif to the road and have attacked her and her cousin Abdul Qayyum."
Media reports and FIR copy made it clear that the woman in the video is from the Muslim community, and the incident is related to the land dispute. So the claim made in social media is false.
This video went viral on Pakistani social media in October last year, and during the same time several right-wing social media handles in India shared this video with a false communal narrative. Video again resurfaced now with a similar false narrative.
In conclusion, the claim about the video is FALSE, and there is no religious angle to the incident.
Claim Review :
video of woman assaulted by lawyers in Pakistan for communal narrative
Claimed By :
Social Media Users