Fact Check: Video showing toppled truck carrying liquor bottles was from Tamil Nadu, not AP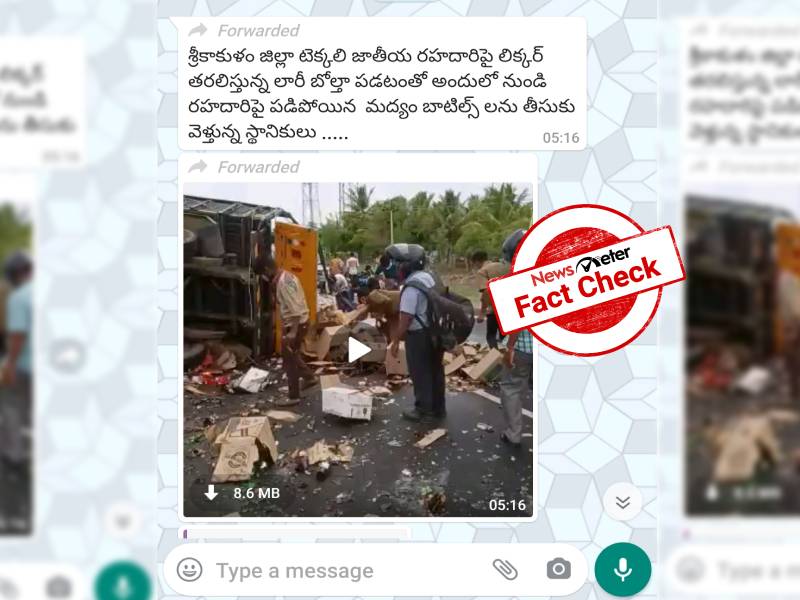 A video showing many people lifting liquor bottles from a toppled truck is going viral on the internet. It has been circulated on all platforms of social media depicting various locations. We can see many persons taking the liquor bottles from the overturned truck.
A few social media users shared it as an incident that took place on the national highway in Tekkali, Srikakulam district.
A truck carrying liquor toppled on the National Highway at Srikakulam district of Andhra Pradesh. Locals took away bottles from the accident site. @APPOLICE100
While some shared it as stating 'On Hosur Road happened today morning... DISGUSTING to see the people more interested in looting than lending their helping hands to the driver involved in the accident.. Highly REPREHENSIBLE to say the least...'
Archived versions of the posts are here, here and here.
Some Telugu media outlets have shared it as the incident occurred on Chennai Tambaram Highway.
https://telugu.asianetnews.com/video/national/wine-truck-accident-in-chennai-tambaram-highway-people-are-looting-the-liquor-bottles-qdhybw
https://mictv.in/liquor-transport-lorry-overturned
We can see many people wearing masks in the viral video which proves that it is recent. But the location of the incident remains a mystery as many versions are in circulation on social media.
Fact Check:
The above claim is FALSE.
Firstly, when observed the video carefully, we could find some persons holding bags with Tamil inscriptions. After extracting the keyframes from the video, we performed a reverse image search with keywords liquor lorry accident on the highway, which was not successful.
Later when we translated the keywords into Tamil using Google Translate and performed the reverse image search using Tamil Keywords, we found several results from Tamil Nadu local media, reporting that the government liquor truck overturned on July 10, 2020, and the driver was stuck in the truck for many hours.
The onlookers, instead of helping the driver, lifted the liquor bottles from the damaged truck. Later, the police rushed to the site and got him admitted to Vedasandur Government Hospital. Liquor bottles worth more than Rs 10 lakh were damaged in the incident, the reports said.
The incident occurred on Dindigul Karuru national highway, near Vitthal Nayakampatti, Vedasanthur. YouTube videos from Sathiyam News and Polymer News showed similar visuals seen in the viral video.
Scroll.in also published the video with title, Watch: It was a free-for-all liquor fest when an alcohol truck overturned on the road. The incident took place near Dindigul, Tamil Nadu.
We found reports in Dinamani.com and also ns7.tv
https://ns7.tv/index.php/ta/tamil-news/tamilnadu/10/7/2020/lorry-met-accident-which-took-load-tasmac-alcohols
Hence, the above claim that the incident in the video is from Tekkali, Srikakulam is FALSE. This incident occurred in Dindigul district of Tamil Nadu.
Claim Review :
Video showing toppled truck carrying liquor bottles was from AP
Claimed By :
Social Media Users