Hyderabad: Kangana Ranaut's spat with Shiv Sena leaders led to a series of controversial events and kept her in the news. Now, an image is being shared on social media claiming that the Kangana is posing with underworld don, Abu Salem.
Congress leader Nagma also shared this image.
Newsmeter also received this image on Whatsapp, along with Marathi text, to check its authenticity.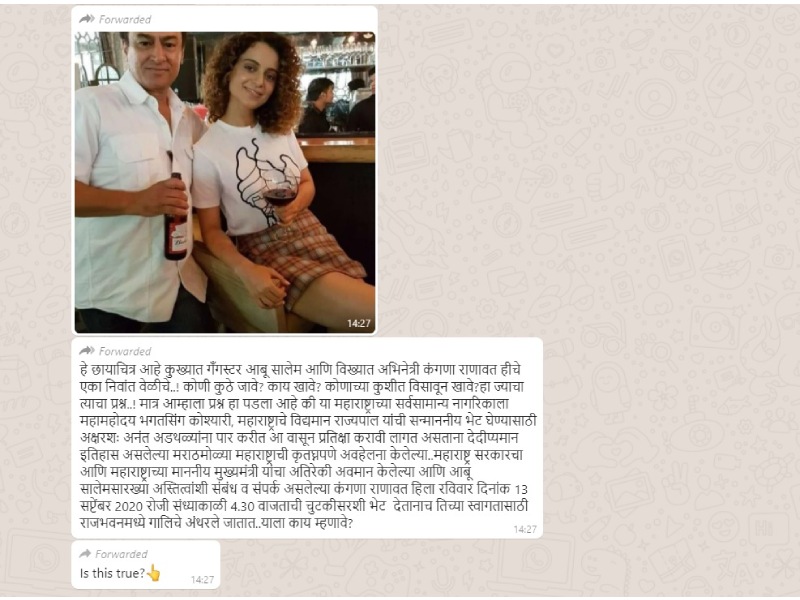 The message shared along with the image when translated states that, "This image shows Kangana Ranaut with notorious gangster Abu Salem. A common person, a citizen of Maharashtra, has to wait and cross endless obstacles to visit the Governor of Maharashtra, Bhagat Singh Koshyari. But Kangana Ranaut, who insulted Maharashtra and has connections with people like Abu Salem gets greeted by the red carpet at the Raj Bhavan on Sunday, September 13, 2020, at 4.30 pm.
Archive of the claims can be found here and here.
Fact Check:
The person seen in the viral image is NOT Abu Salem.
The person seen is Mark Manuel. Mark Manuel is a senior Mumbai editor with over three decades of journalism in leading publications including the Times, Mid-day and Afternoon. Currently with the Dainik Bhaskar Group, he is respected for his writing, especially his interviews with famous people. His first book, a fictional police procedural crime thriller, will be out later this year. Bollywood has already shown an interest in it. In a tribute to Mark Manuel's years of experience, every super cop of the Mumbai police has worked on the book with him.
When performed Google reverse image search, we found an article published in Huffington Post in September 2018, titled Kangana Ranaut Should Realise She's Too Talented To Milk Her Personal Life For Attention.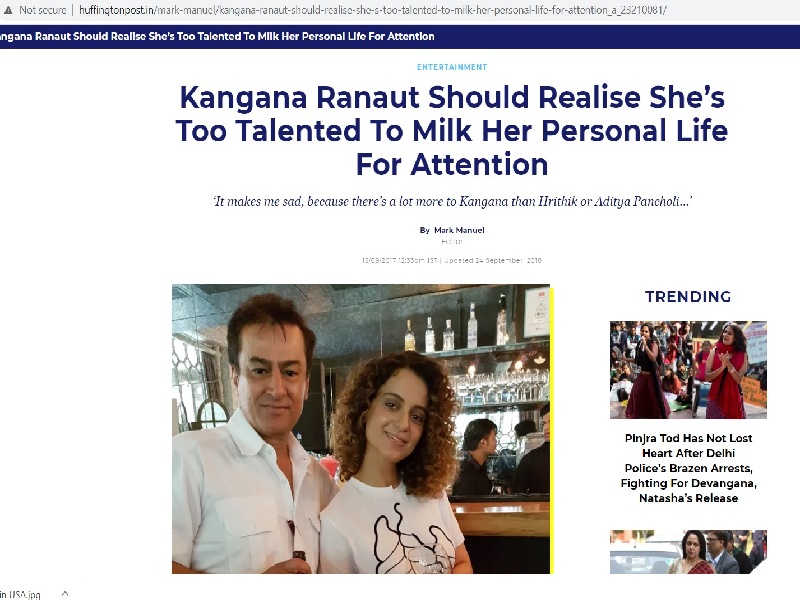 We also found Tedx talks video which feature him. According to the description, he has interviewed almost every famous person in the country, from Mother Teresa to Muhammad Ali. He also published a book named Moryaa Re! and is a crime thriller that is perhaps the country's first police procedural. He began his career covering crime and in a tribute to his experience and knowledge of this beat, several distinguished officers of the Mumbai police and its Crime Branch collaborated with him to make this book possible.
This claim was also debunked by India Today, Alt News.
Therefore, the person seen in the viral image is NOT Abu Salem, but a senior journalist, Mark Manuel. The claim is FALSE.
Claim Review :
Viral image shows Kangana with Abu Salem
Claimed By :
Social Media Users