Hyderabad: A message is viral on social media claiming that the government has launched a online health consultation scheme for senior citizens and other people too. It claims that they can seek treatment for minor ailments like headaches and physical pain, sitting at their homes.
The message reads, "The central government has launched an excellent consulting scheme for senior citizens and all other citizens. Elderly people, especially those with high blood pressure, diabetes, etc., cannot be rushed to the hospital for OPD. They seek treatment at home for minor ailments like headaches, physical pain, but are not ready to go to the hospital. You can access it on Google Chrome via the link below. Note:
1. Select Patient Registration.
2. Type your mobile number. Type OTP on mobile for registration.
3. Enter patient details and district.
Now, you will connect with the doctor online. After that, you can consult a doctor for any of your health problems through the video. The doctor will prescribe the medicine online. You can take the medicine by showing it in the pharmacy shop. *This service is completely free. You can use this service every day from 10 am to 3 pm. Including Sunday.* Please send this to senior citizens you know.This is the Central Government website https: https://www.esanjeevaniopd.in/".
This news was shared by many users on Twitter and WhatsApp.
Newsmeter received this news on WhatsApp with a request for fact check.
FACT CHECK:
This claim is true.
Newsmeter checked the site in the viral message and found that it was linked to the official site of the Ministry of Health and Family Welfare, Government of India.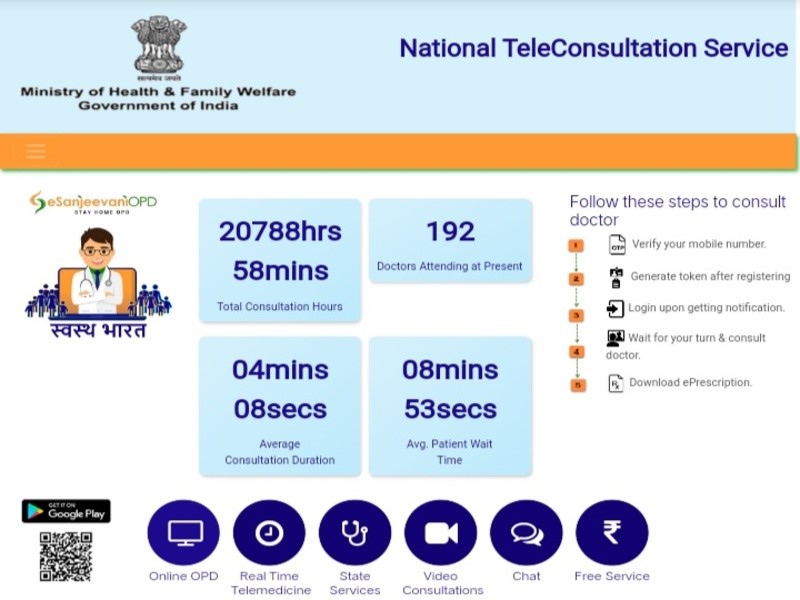 This scheme is a part of the National Teleconsultation Service of the Ministry of Health and Family Welfare. It is an online OPD service offered by the government to its citizens. It aims at providing healthcare services to patients in their homes and enables safe & structured video based clinical consultations between a doctor in a hospital and a patient in the confines of his/her home.
"eSanjeevaniOPD – Stay Home OPD" is developed by Centre for Development of Advanced Computing (C-DAC) in Mohali. The features of this service are as follows:
1. Patient registration
2. Token generation
3. Queue management
4. Audio-Video consultation with a doctor
5. e-prescription
6. SMS/email notifications
7. Serviced by state's doctors
8. Free service
9. Fully configurable (no. of daily slots, no. of doctors/clinics, waiting room slots, consultation time limit etc).
The timings for Telangana state are listed in the below picture.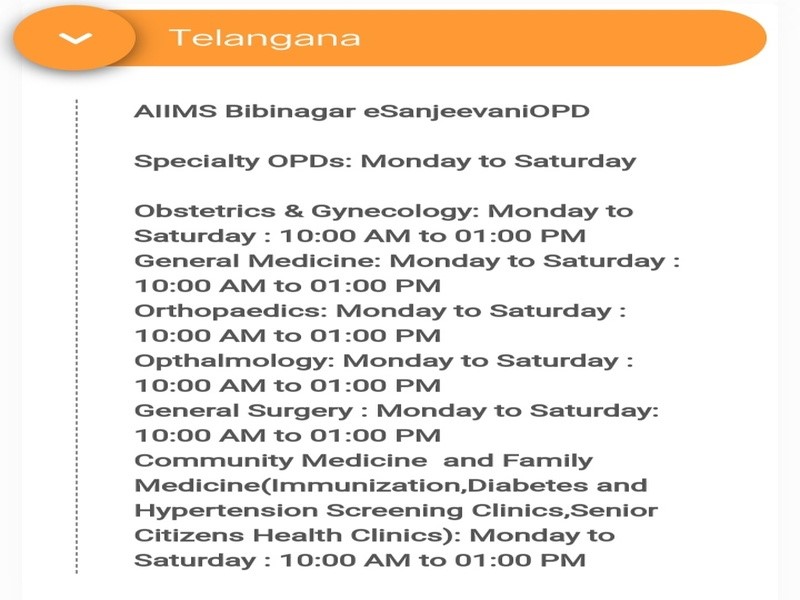 This was also reported in an news article and it read, "Now, the health ministry's initiative eSanjeevaniOPD, a telemedicine service, is slowly gaining ground with the portal registering 1,58,000 online consultations in the last six months".
This is being implemented under the Ayushman Bharat Health and Wellness Centre (AB-HWCs) programme and seeks to connect all 1,50,000 health and wellness centres using the hub-and-spoke model by December 2022.
Citizens can avail this service through the website or by downloading the app from Play Store.
Therefore, this claim is true.
Claim Review :
Indian govt has launched online health consultation scheme
Claimed By :
Social Media Users