Fact Check: 2019 image of Article 370 protests passed off as 2020 farmers' protests in Delhi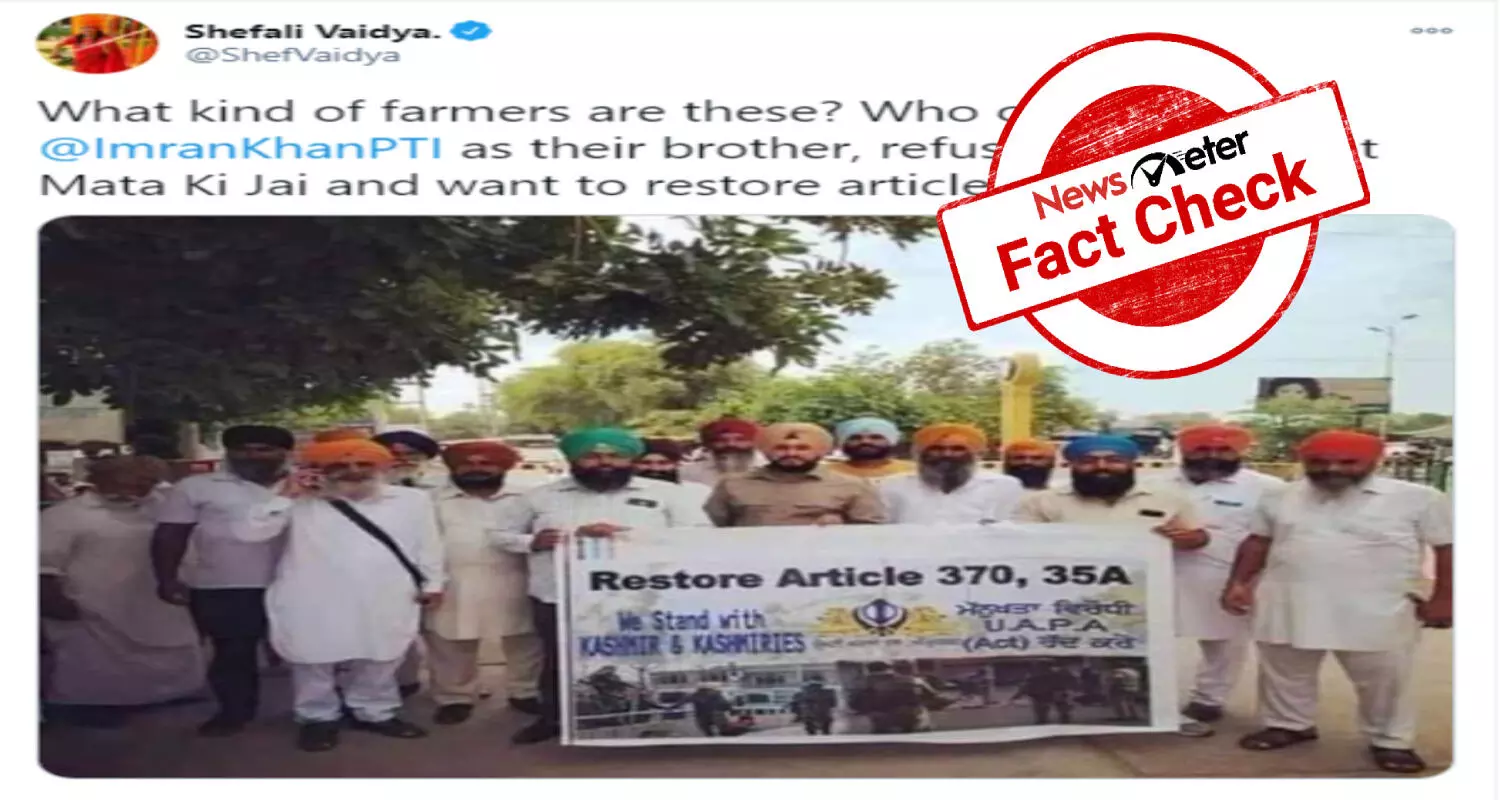 Hyderabad: Several social media users are sharing a photo of a group of Sikhs holding a banner which reads "Restore Article 370, 35A". They claimed that these Sikh men are farmers protesting in Delhi against the farm bills 2020. The photo was widely shared on social media against the backdrop of the ongoing farmers' protests in Delhi.

A verified Twitter user, @ShefaliVidya, shared the image with the caption, "What kind of farmers are these? Who call @ImranKhanPTI their brother, refuse to say Bharat Mata Ki Jai and want to restore article 370?" This post has garnered 9.4k likes and 2.6k retweets by the time of writing the story.
Another Twitter user, @ExSecular, shared the same image with the caption, "Farmers want article 370 and 35A to be restored in Kashmir." This post has received 11k likes and 2.7k retweets so far.
The same image was also shared widely on Facebook with a similar claim.
Fact Check:
The photo is not from the ongoing farmers' protest in Delhi. It was taken last year during the protests organised by Shiromani Akali Dal (SAD) against the abrogation of Article 370 and 35A.
Several users pointed out in the comments that this image is from 2019. In reply to Shefali Vaidya's post, Twitter user @143shoaibakhtar shared a screenshot of the Facebook post containing the same image which dated back to 8 August 2019.
Taking a cue from the user's comment, NewsMeter did a reverse image search on Google along with a keyword search. We found the original image uploaded by the Facebook page 'Shiromani Akali Dal Amritsar' on 8 August 2019.
Article 370 and 35A were abrogated by the Central government on 5 August 2019 making the erstwhile Jammu and Kashmir into two Union territories. This viral image appeared on Facebook at the same time in August last year.

A lot of misinformation is being spread on social media to demean the farmers' protests in Delhi Earlier, Newsmeter had debunked a false claim about pro-Khalistan slogans raised at ongoing farmers' protests.
In conclusion, the viral image of a group of Sikhs holding banners demanding restoration of Article 360 is from 2019 and is not related to the ongoing farmers' protests in Delhi. Therefore, the claim is FALSE.
Claim Review :
image of 2020 farmers' protests in Delhi
Claimed By :
Twitter Users