Fact Check: Man in viral video is not Congress MLA Anil Upadhyay but Vinay Kumar Singh of Janshakti Party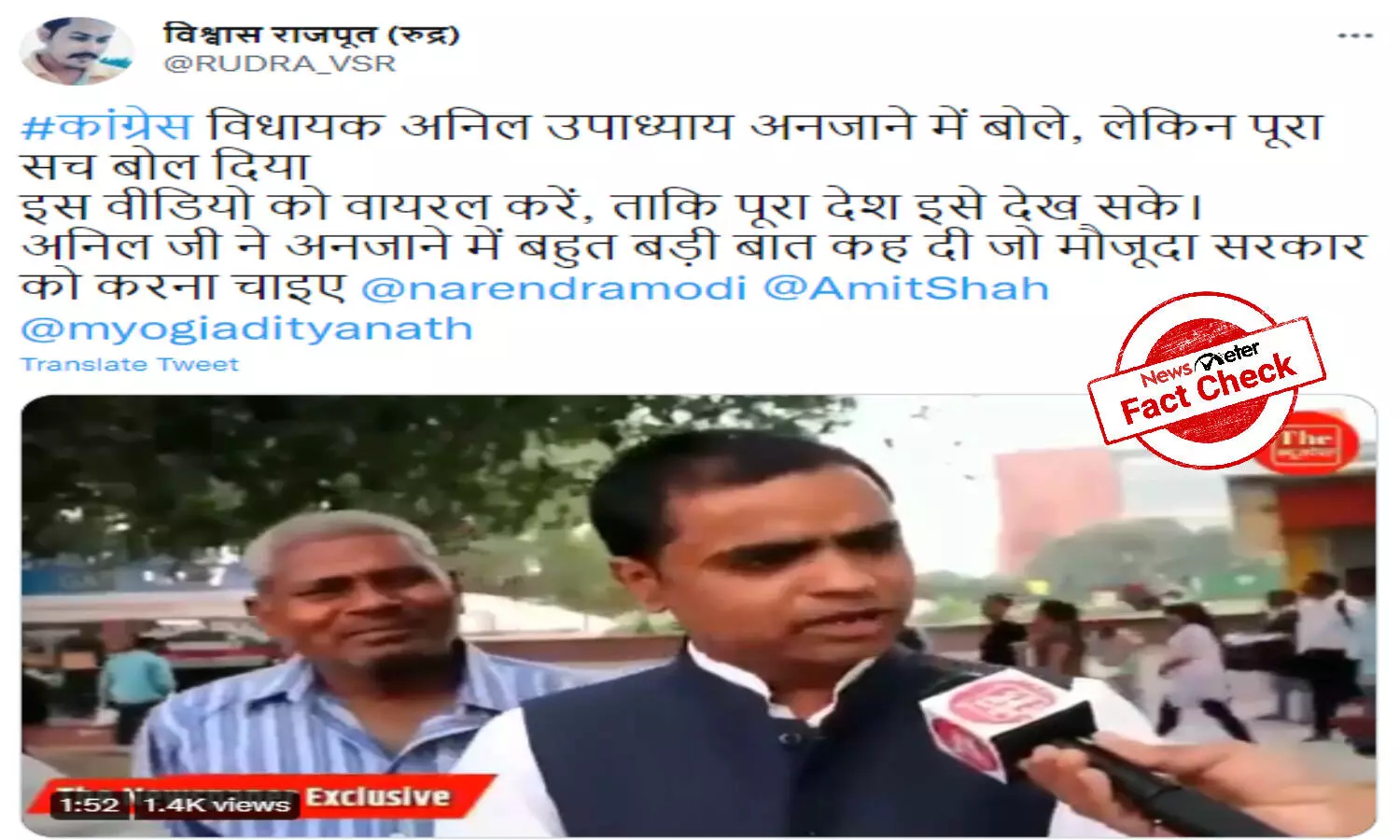 Hyderabad: A video reportedly showing Congress MLA Anil Upadhyay criticizing Congress leaders for inciting people to take to the streets and agitate is being widely being shared on social media.

The caption of the viral post reads, "Congress MLA Anil Upadhyay spoke unintentionally, but he spoke the truth. Make this video viral, so that the whole country can see it." (Archive)
(Click here for Archive)

Fact Check
The claim is false.
NewsMeter searched for Congress MLA Anil Upadhyay but did not find any MLA from the Indian National Congress with this name.
The team then noticed the logo of 'The Newspaper' in the viral video. Taking a cue from this, we searched for videos uploaded by The Newspaper which led us to an 11-minute video uploaded on the YouTube channel of The Newspaper on 5 March 2020. The viral visuals appear at 0:45 seconds. The title of the video identified the man only as "professor".
We compared screenshots from the viral video with those from the YouTube video and found several similarities.
NewsMeter performed a keyword search on YouTube which led us to another video by The Newspaper from 4 January 2021. The video shows a man, identified as Professor Vinay Singh, who looks similar to the man identified as Congress MLA Anil Upadhyay in the viral video.

We then searched for Vinay Singh and found he belongs to Janshakti Party. (Source: Firstpost)
The details of Vinay Kumar Singh were also available on the website myneta.info.

NewsMeter had earlier debunked a similar claim in 2020. We had found that Anil Upadhyay is a fictitious name that has been used for various claims.
It is therefore evident that the claim made through the viral post is false. The man in the viral video is Delhi-based Janshakti Party leader Vinay Kumar Singh and not Congress MLA Anil Upadhyay.
Claim Review :
A video of Congress leader Anil Upadhyay criticizing his own party.
Claimed By :
Social Media Users