Fact Check: One Drive In falsely claims that reports of its employee filming women is fake news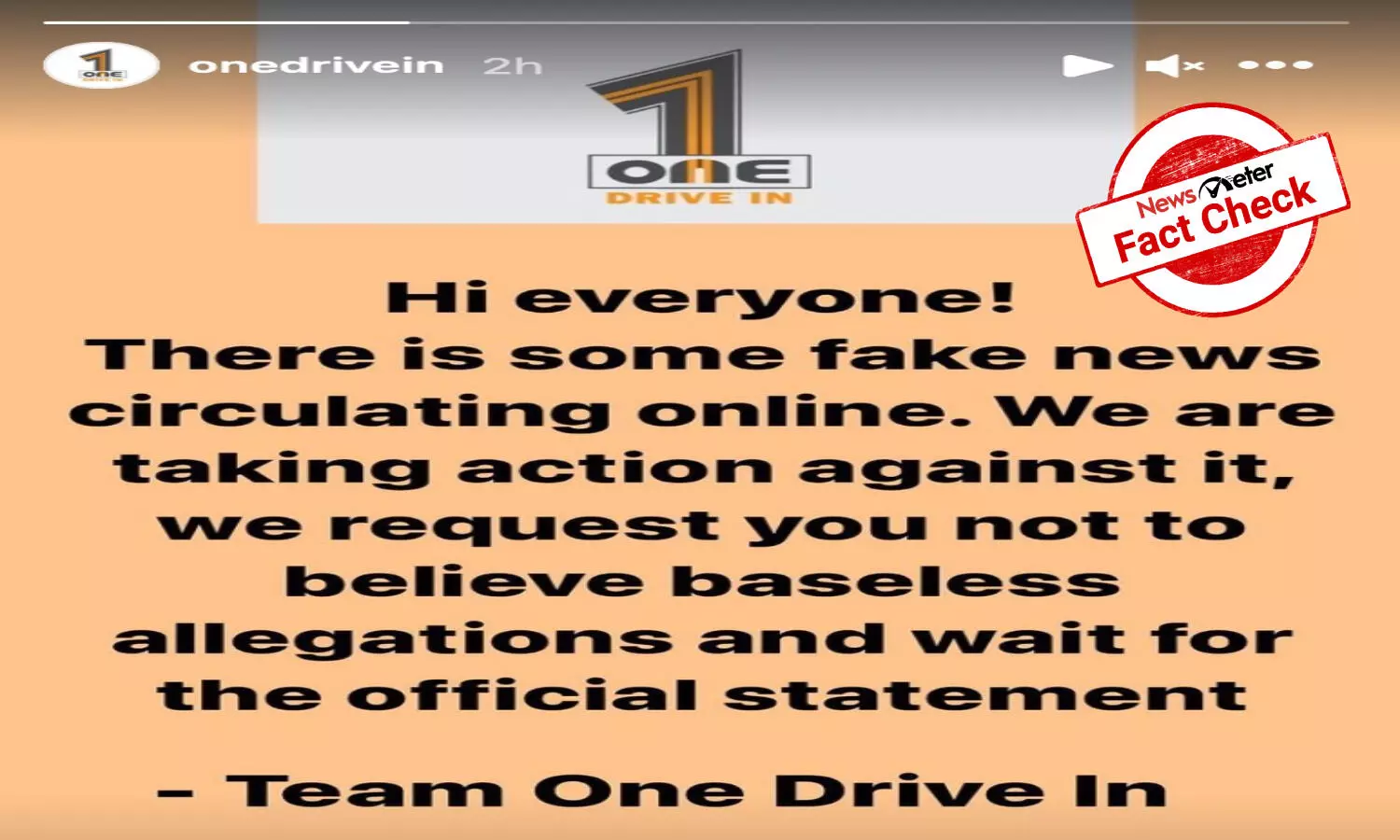 Hyderabad: On 22 September, the Jubilee Hills police arrested an employee of 'One Drive In' restaurant for secretly filming women in the restaurant washroom. When the news began doing the rounds, the company put up a story on Instagram claiming that fake news was circulating online and that people should not believe these baseless allegations. They should wait for an official statement, it said.
Fact Check
The claim made by 'One Drive In' that the allegation is baseless is false.
Newsmeter found that the accused identified as Benerjee has been booked under sections 354C and 509 of the Indian Penal Code and section 67 of the IT Act for filming customers with his cell phone in the washroom.
According to the police, a 25-year-old woman and her friends had checked into the restaurant. She later went to use the washroom and noticed a suspicious object at a vantage point. She found it was a mobile phone, raised an alarm, and alerted the staff. The police rushed to the spot and arrested Benerjee.
During questioning, he confessed to having placed a mobile phone in the restroom and told the police that he had been secretly filming people in the washroom.
https://newsmeter.in/must-read/jubilee-hills-police-arrest-1-drive-in-employee-for-installing-hidden-camera-in-womens-toilet-683626
The investigating officer, Naveen Reddy, confirmed to NewsMeter that the complainant had spotted the camera in the restaurant toilet. "The investigation has revealed that the accused's intention was to capture the private moments in the women's washroom," he said.
The same was also reported by Telangana Today and The Hindu. On being questioned, the man is learned to have told the police that he had kept the phone in the washroom when he went to clean the place.

One Drive In is yet to issue a statement on the issue.

The restaurant's claim that the allegations are baseless is false as the accused has confessed to having placed a mobile phone and secretly filming people in the washroom.
Claim Review :
One Drive In claims that allegations of employee secretly filming women in washrooms is baseless.