Fact Check: Viral image of green building is not Congress office in Kerala but IUML's office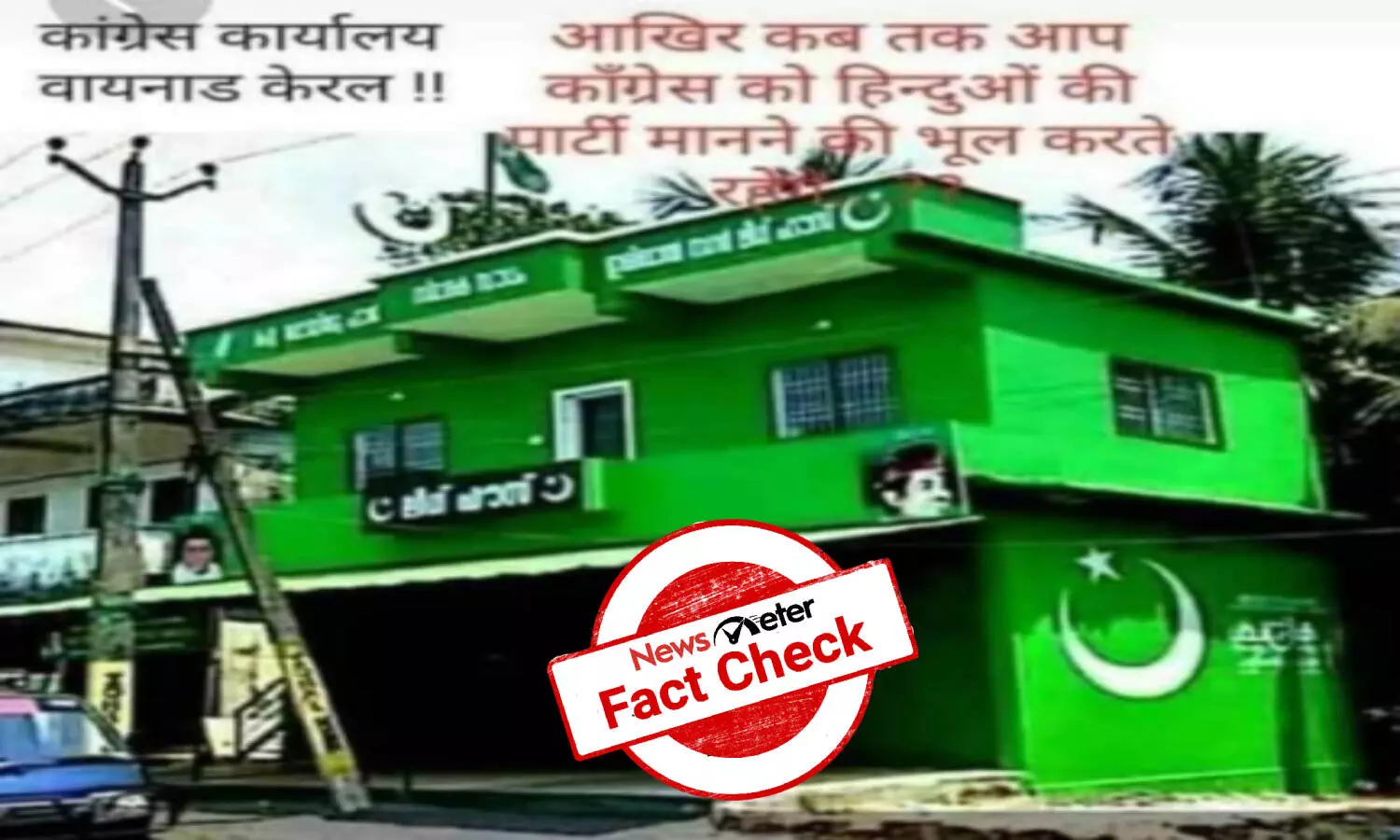 Hyderabad: Several Facebook users are sharing an image of a green building with a crescent and a star symbol claiming that the building is the Congress party office in Wayanad, Kerala.

A Facebook user who shared the photo wrote, "This is the office of the Congress party in Wayanad; now you can guess why Congress was so generous in its manifesto" (translated). Other photos contained the text "For how long will you make the mistake of believing that Congress is a party of Hindus?"
Click here, here, and here to view a few posts.

Fact Check
The claim that the green building is the Congress office in Kerala is false.
NewsMeter noticed several texts and symbols on the building that gave away that the building is not linked to the Congress. The following clues indicated that the building is linked to the Indian Union Muslim League (IUML), a political party primarily based in Kerala and Tamil Nadu:
1. On the left upper corner, a symbol of a ladder can be seen. This is the symbol of the IUML party.

2. The image of a man on the left side is Syed Mohammad Ali Shihab who was the chairman of the Kerala State Committee of IUML.
3. On the upper right corner, a text written in Malayalam can be seen. This translates to 'Iqbal Nagar League House'.
4. The symbol of the crescent moon and star is the flag of IUML.
5. On the upper left, a text in Malayalam can be seen. This translates to "I Moidu Haji", an IUML activist killed in 2001.
6. The electric pole contains a text in Malayalam that refers to "Iqbal Nagar" which is a part of Kanhangad town in Kerala's Kasaragod district.
This proves that the viral image is not a Congress office but is an IUML building. Hence, the claim is false.
Claim Review :
The green building with crescent moon and a star is a Congress office in Wayanad, Kerala.
Claimed By :
Social Media Users