It's no secret! Women find bearded men attractive and desirable! Even men feel that growing facial hair makes them look rugged and manly. If you are trying to jump into this beard bandwagon, then we have something interesting for you! There are many superfoods that promote beard growth naturally by offering the right nutrients!
These beard growth foods work by stimulating male hormones which directly contribute to a bushy and strong facial hair. Time to turn those stubbles into fully-grown beards! Are you in for it?
10 Best Foods for Beard Growth:
The impact various foods can have on beard is incredible. Let's learn about certain foods for facial hair and their other vital benefits.
1) Avocado:
Rich in nutrients such as Copper, Vitamins A, B, C and K, potassium, folate, and fiber, Avocado is the perfect food to eat to grow a beard. The presence of proteins and amino acids helps significantly improve the texture of hair and reduce any inflammation or itchiness. Avocado can be vouched as one of the best foods for facial hair growth as it can not only be applied but also eaten as DIY face masks.
2) Bell Peppers:
Red, Yellow, or Green, Bell Peppers, also famously known as Capsicum contains capsaicin; the warming properties of capsaicin enhances the circulation of oxygen to the roots of the hair which rejuvenate the hair. Consumed in salads or sandwiches or any recipe, Bell Peppers, when added in the diet for growing beard, not only make the food more delectable but also help tackle carcinomas through phytonutrients.
3) Chicken:
Chicken is an eternal favorite with non-vegetarians. But what many people don't know is that it boosts beard growth when consumed in the right way. Power-packed with nutrients such as Biotin, Zinc, Vitamins A, B5, and C as well as iron and proteins, Chicken is a food that helps with beard growth. High in proteins and low in calories, chicken breasts are ideal for consumption.
4) Cinnamon:
If a person aims for a beard that looks even better than that of the Kings, then Cinnamon is a spice that must be included in the diet for facial hair growth. Eat it or apply it, the options are endless, and so are the precious properties of Cinnamon. It has heating agents that improve the oxygen flow and the antibacterial and antifungal aspects avoid any kind of skin inflammations. Coffee, tea, buns, rolls, or merely sinful curries, Cinnamon stick is an unavoidable beard boosting food.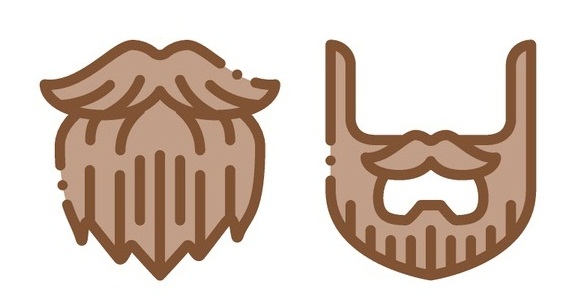 5) Peanuts:
When added to our diet, we are well aware that nuts make our meals complete and a lot healthier because of their nutrition value. Apart from being a tasty snack, Peanuts with high biotin, folic acid, and niacin content are directly related to hair growth. Highly affordable and readily available, Peanuts are a good food option that stimulates beard growth while not making you spend loads of money.
6) Pumpkin Seeds:
Usually considered a waste, seeds of certain fruits and vegetables can be a very healthy snack. Believe it or not, Pumpkin seeds are a food that increases facial hair growth. The presence of mineral zinc in these seeds when consumed raw provides the essential factor for hair rejuvenation and growth. Add to your favourite salad or munch as it is to gain the most benefits out of these magical seeds.
7) Raisins:
Boron is a nutrient that helps with hair damage, hair falls, and brittle hair. Raisins are little powerhouses of Boron; they help in maintaining and accepting other vitamins and minerals. Include Raisins in your beard growing diet to achieve visible results. Apart from being an excellent food for beard growth, this dry fruit also helps with bone disease and anemia.
8) Salmon:
A lean protein treasure box, Salmon, is a healthy and tasty food that make facial hair grow. A superb alternative for people who are not very fond of Chicken but would still like to consume an adequate amount of proteins. Keep the meal healthier by using a minimal amount of oil and adding veggies rich in nutrients.
9) Spinach:
A leafy vegetable that is so versatile that it can be eaten raw, parboiled, or gravy, Spinach is delicious and healthy in all forms. With beneficial nutrients such as Iron, Vitamin A, and C, Beta Carotene, and Folic Acid Spinach is a vegetable for beard growth that must not be skipped. The veggie keeps a beard hair moist and revived look.
10) Sweet Potatoes:
Sweet Potatoes are real superfoods when it comes to offering the right amount of nutrients for beard growth. Rich in Beta Carotene converts into Vitamin A, which further helps in the multiplication of cells. These nutrients result in significant growth in beard hair, making it the right food to eat for beard hair growth.
Now that you have learnt about these beard growth foods, it's time to include them in your diet and flaunt a healthy-looking beard. However, these foods do not along guarantee a beard and factors like age, genes and health condition play an important role. Have you achieved positive results with any of these foods before? Do let us know!