Hair loss is a common issue in men and women today, considering the stressful life they are leading. But is there no easy solution? Well! Worry not! Alongside several treatments that promise to arrest hair fall, hair transplantation is the most sought solution, as there is no waiting involved, and the results are super exciting. Now, with options and opportunities galore for hair transplant centers in Hyderabad, it becomes challenging to choose the right clinic or the hair transplant surgeon. Here is the list of various hair transplant clinics exclusively for you. Check out!
15 Best Hair Transplant Centers and Surgeons in Hyd:
1. Dr. Ashok's Hair Transplant Clinic:
Dr. Ashok built his practice in the challenging field of Aesthetic Medicine and got trained in Italy and underwent training in Hair Restoration Surgery in the USA. He has established Dr. Ashok's Aesthetic Clinic and Dr. Ashok's Hair Transplant Clinic, which have gained a lot of popularity in the town for best hair transplantation services. They work on hair restoration and transplantation and have been curing patients for 11 years. He has been successfully doing hair transplant surgeries since the year 1999.
Address: 326, Lakshmi Nilayam, Begumpet, Hyderabad-500 016. Phone: (040) 66622244/66632255/66632266.
2. Dr. Madhu's Advanced Hair Transplant Centre:
Dr. Madhu's Advanced Hair Transplant Centre has been obtaining steady results not only in hair transplant but also in halting hair loss. This hair transplant hospital in Hyderabad has all the latest and modern facilities, and they aim to be the best in providing hair transplantation service in Hyderabad. They offer treatment for different kinds of hair issues and problems. What sets them apart is that their results are remarkable in the form of natural-looking hair.
Address: Aditya Jay Rag, 3rd floor, Flat no. 301&302 Above Cannon Showroom, Road no.36/37, Near Madhapur Police Station, Jubilee Hills, Hyderabad, Andhra Pradesh – 500033, Phone: (+91) 9000411511, (+91) 9000411522
3. Radiance Hair Transplantation Clinic:
These ISO 9001 certified clinics are at major cities like Hyderabad, Vijayawada, and Rajahmundry. They believe in providing excellent solutions for hair loss problems and baldness. They have an expert panel of doctors who are experienced and skilled with the most robust surgical equipment for the transplantation. They use Mantis microscope in their hair transplantation surgeries.
Address: Flat No 101, H No:8-3-903/9, 1st Floor, Rajeshwara Building, Kallu Compound Road, Nagarjuna Nagar Colony, Ameerpet, Yella Reddy Guda, Hyderabad, Telangana 500073, Phone: +91 8008 44 55 11
4. Trichos Hair Transplant Institute & Research Center:
Trichos Hair Transplant Institute & Research Center is one of the most modern clinics for hair transplantation in Hyderabad. They provide customized Root by Root solutions in three diverse formats – Root by Root Total, Root by Root Dense, and Root by Root Exclusive. They use the latest technology with Root by Root hair follicle harvesting and grafting method. They have an exceptionally high success rate in hair transplant results, which in combination with quality and affordability, makes hair loss treatment accessible to all in the long run.
Address: (KUKATPALLY) 3rd Floor, Road No 1, H.NO18/HIG-18, Above Talwarkar, Beside Prime Hospital, Kukatpally Housing Board Colony, Kukatpally, Hyderabad, Telangana 500072, Phone: (+91) 910 096 2721, (+91) 900 056 6767, (+91) 4048883636
Address: (Dr. A.S. RAO NAGAR) Plot no 72, 1st Floor, Above Vision Express, ECIL Road, Srinivasa Nagar Colony, Kapra, Secunderabad, Telangana 500062, Phone: (+91) 900 056 6767, (+91) 4048883636
Address: (JUBILEE HILLS) Above Clove Dental, 2ND Floor, Plot No:14 Kavuri Hills Phase 3, Adjacent to Kakatiya Hills Kamaan, Jubilee Hills Rd.No.36 Extension, Madhapur, Hyderabad, Telangana 500081, Phone: (+91) 910 096 2721, (+91) 900 056 6767, (+91) 4048883636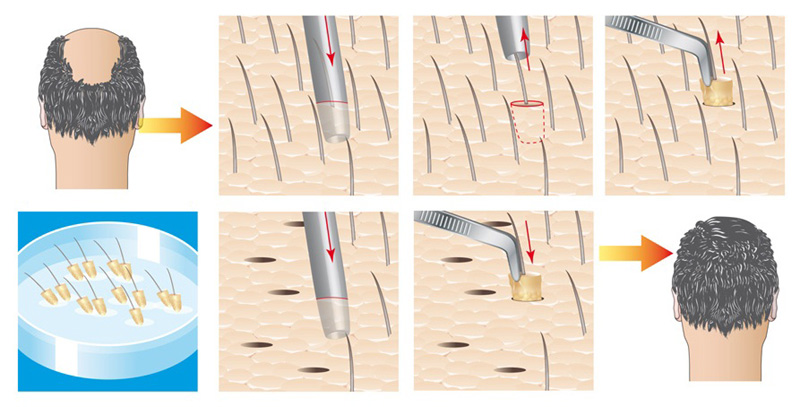 5. HairSure:
Among several hair clinics and hair transplant centers in Hyderabad, HairSure has been one of the best clinics. HairSure has over ten years of experience in hair restoration and hair baldness treatment. They aim to provide exclusive attention to hair restoration procedures. They use the best surgical and laser equipment. HairSure hair clinic offers the assurance that all their treatments and surgeries are not only safe, but they have very positive results too.
Address: 3 Road Floor; Street No -5, Habsiguda Main Road Near NGRI Metro Station Opposite Metro Pillar C969 Hyderabad-500 007, Phone: 040- 42020202, 9494020202
6. ReDefine:
Redefine Plastic Surgery Center is a famous plastic surgery clinic in Hyderabad. They have highly skilled hair transplant surgeons who are skilled at providing both surgical and non-surgical surgery. They have three branches that are conveniently located for easy access. They are one of the leading names when it comes to providing marvelous service in Dermatology, Advanced Hair Transplant, Cosmetic & Plastic Surgery, and Skin Care procedures and dedicated to offering personalized care to every patient
Address: Kothapet – 3rd Floor, Axis Bank Building, Beside OMNI Hospital, Kothapet 'X' Road, Road No. 2, Laxmi Nagar Colony, Kothapet, Hyderabad, Telangana 500035, Phone: +9140 2405 1222, +91 92371 23456/70362 24574
Address: Gachibowli – 3rd Floor, Millennium Square, Above Ratnadeep Supermarket, Lumbini Avenue, Near Bio-Diversity, Gachibowli, Hyderabad, Telangana 500032, Phone: +91 93 4747 3737, +91 93 9292 8282
Address: Kukatpally – 1st Floor, Kapil Complex, 21/A, Vasanth Nagar Main Rd, Dharma Reddy Colony Phase VI, KPHB Colony, Kukatpally, Hyderabad, Telangana 500072, Phone: +91 93 929 28282, +91 92 371 23456:
7. DHI Medical Group:
DHI Medical Group is one of the biggest chains of hair restoration clinics in the world. They have pioneered in FUE (2003) and have begun the Direct Hair Implantation procedure (2005). DHI Global Medical Group has launched SOPs (standard operating procedures) for the first time in the history of hair restoration. The SOPs apply to safety, quality, and excellent results every time. At every DHI clinic, each doctor and member of staff rigorously adhere to these procedures.
Address: Oliva Hair Transplantation & Surgery Center, H.No. 8-2-293/82/A/502, Road No 36, Jubilee Hills, Hyderabad 500034, Phone: 1800 103 9300
8. Dr. Khan Exclusive Hair Transplant Clinic:
Dr. Khan Exclusive Hair Transplant Clinic provides medical treatment to prevent hair loss and progression of baldness alongside offering hair transplantation services. The clinic has some of the most advanced modern equipment, along with highly skilled technicians. The procedure of hair transplantation refers to transplanting live hair roots in the bald areas. They guarantee hair transplant procedures that are painless without side effects and that the hair matches natural hair.
Address: Raghuram Nagar Colony, Beside HDFC bank, Saamrat Heights, Sun City, Hyderabad- TS 500008. Phone: +091 9703131989, 9010308800
9. Darling Roots:
Darling Roots Clinic is located in Banjara Hills and has a team of highly qualified staff in hair transplantation techniques. Darling Roots provides quick solutions to a variety of hair loss issues. Their treatment costs are pocket-friendly and affordable. The clinic also includes accommodation for one night with food. Some of the services offered are FUE Hair Transplant, trauma, Scarring Alopecia, female-pattern hair loss, hair loss due to burns, male-pattern hair loss, etc.
Address: 8-2-682 May Fair Gardens, Suite #504, Hyderabad 500034, Telangana, Phone: +91-9030-028-028, +91-9032-093-093, +91-9000-500-341
10. Scala Clinic:
Scala Skin and Hair clinic offer effective treatment at affordable rates. They aim to lead the industry in hair and skincare. They have earned the name for being one of the best clinics in Hyderabad. They give exclusive attention to hair restoration apart from a different extended range of hair treatment. They have a dedicated team of skilled staff. They offer two types of hair transplant, FUT (Follicular Unit Transplantation) and FUE (Follicular Unit Extraction).
Address: H.No: 1-2-25/1 First Floor, Near Mallikarjuna Bramaramba Theater, JNTU Kukatpally, Hyderabad
11. Microsurg-4 Hair Transplant & Cosmetic Clinic:
Dr. P. Vishal Goud is the practicing Hair Transplant Surgeon and trichologist here. The clinic strives to offer patients safe and affordable treatment. The services provided here are Hair Health Treatment, Hair transplant, etc. The other two doctors in the team are Dr. M. Srinivas Rao, who is the Consultant Plastic Surgeon and is a Certified Aesthetician from the American Academy of Aesthetic Medicine. Dr. Krishna – MBBS, Certified in Master course in hair transplant from Indo-German board, Consultant hair transplant surgeon.
Address: Near Surya Fertility Centre, Behind TV9 Office, H-No: 8-2-277/33, Plot No: 33, UBI Colony, Road No 3, Banjara Hills. Hyderabad 500034, Phone: +91-9398866227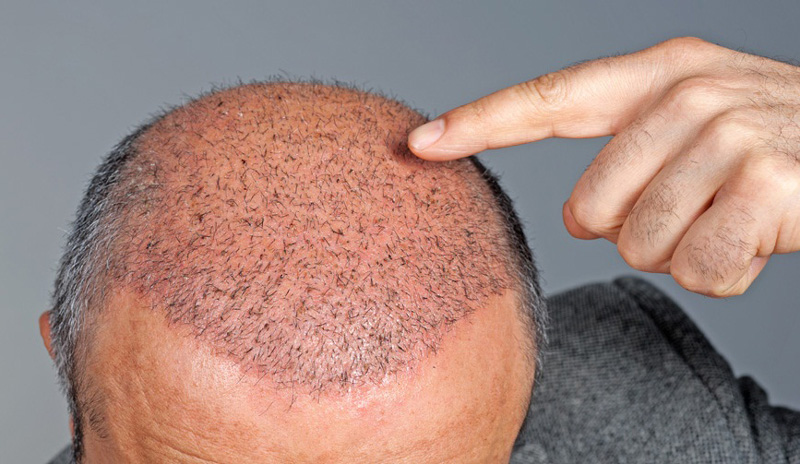 12. Rich Hair Clinic:
Rich Hair Clinic specializes in FUE Hair Transplantation, and they offer 25 years warranty on hair transplantation. The establishment is an extremely modern hospital, which uses sophisticated equipment. The team has experts who are highly qualified and skilled hair transplant surgeons. The Rich Hair Clinic has Hyderabad's most trusted trichologists, and they promise no scar and pain with natural hair growth. They also offer custom non-surgical hair transplant and restoration options.
Address: 2-1-409/C, O.U Road, Landmark: Opp to St. Mary High School, Fever Hospital X Road, Nallakunta, Hyderabad 500044, Phone: +91-970 411 4172, +91-934 829 8456
13. Cosmo Care Hair Transplant Clinic:
The Cosmo Care Clinic is committed entirely to hair transplantation and also one that would provide quality care at affordable rates. They offer different techniques based on individual needs. The various hair issues treated here are male pattern baldness, female pattern baldness, hair loss following childbirth, etc. Hair transplant surgeries are in the form of accentuation of eyebrows, beard, mustache, and sideburns. Repair for previous hair transplant surgeries, hairline reconstruction, and revision, are also undertaken here. Cosmo Care is an exclusive hair transplant clinic that ensures complete privacy and personal attention to everybody.
Address: 5-4-28/A/1 IInd Floor, MarhabaManzil, Farmanwadi, Jn Road Lane, Beside Agrawala Sweet House Near General Post Office, Abids, Hyderabad, Telangana, Phone: (040) 24749999 / 30409999, 09347128899
14. Elite Hair Studio:
The Elite hair studio has performed numerous surgical and non-surgical hair replacement procedures for men and women with hair loss compared to any other hair loss treatment group in the world. They are the originators of many of the top hair restoration procedures. They are also the longest established hair loss replacement clinics in the United States and manufacturers of hair replacement products for global distribution. They have won almost every significant award in the hair replacement industry and have featured in numerous international journals.
Address: Jubilee Hills, Plot No.774/B, Road No 39, Opp: The Kids Centre, Jubilee Hills, CBI Colony, Jubilee Hills, Hyderabad – 500033, Telangana, Phone: +91-800 800 9090, 7288 909192
Address: Himayat Nagar, 3-6-562/2, First Floor, Himayat Nagar, Hyderabad – 500029, Telangana, Phone: (040) – 40030300, +91-88882 23456
15. VCare:
VCare is a popular brand name for those living in India. This brand has won so much trust from people by combining innovative methods to cure hair and skin related problems and launching excellent products that are very efficient and helpful. VCare has been successfully contributing hair solutions for men and women and endeavors to work with the most innovative and efficient Doctors, Trichologists, and Hair Experts globally, so that they can always deliver value-added products and reliability to their clients.
Address and Phone:
Banjara Hills – 8-2-610/68, 1,2,3 Road No. 10, Accord Blu Building Opp: Care Hospital Outpatient, Gaffar Khan Colony, Banjara Hills, Hyderabad, Telangana – 500034.PH: 7092525252
Kukatpally – 1st floor, Ratnadeep Super Market building 16-2-23/2, NH65, Dharma Reddy Colony Phase II, Block 5, Hyder Nagar, Block 5, Kukatpally, Hyderabad, Telangana 500090 PH: 7092525252
Malakpet – H/no 16-2-741/d/5, Asmangadh, Malakpet, Hyderabad – 500036.PH: 7092525252
A. S. Rao Nagar – D.No:1-19-71/A-8/2 Aiswarya Chambers, Above Ratnadeep Super Market, Main
Road, Rukminipuri Colony, Telangana – 500062. PH: 7092525252
Hair transplantation is the latest trend not only for those suffering from hair loss or hair fall but also for those who want to change their original hairlines to a new structure for an attractive look. Now that you know where to go in Hyderabad for best hair transplantation services, choose one from this list and get your appointment fixed! We wish to bring back the smile on your face as you remain in safe hands with qualified, experienced, and accredited hair transplantation teams. Let us know your experiences!