Hyderabad: According to the data uploaded by the Greater Hyderabad Municipal Corporation (GHMC) on its official website, the number of men who have contracted the coronavirus is nearly twice that of women in the area.
Of the 25,168 total COVID-positive patients, 8,198 are females. The rest, and almost twice the number of women, are men (16,250). This pattern is also seen in the entire state of Telangana.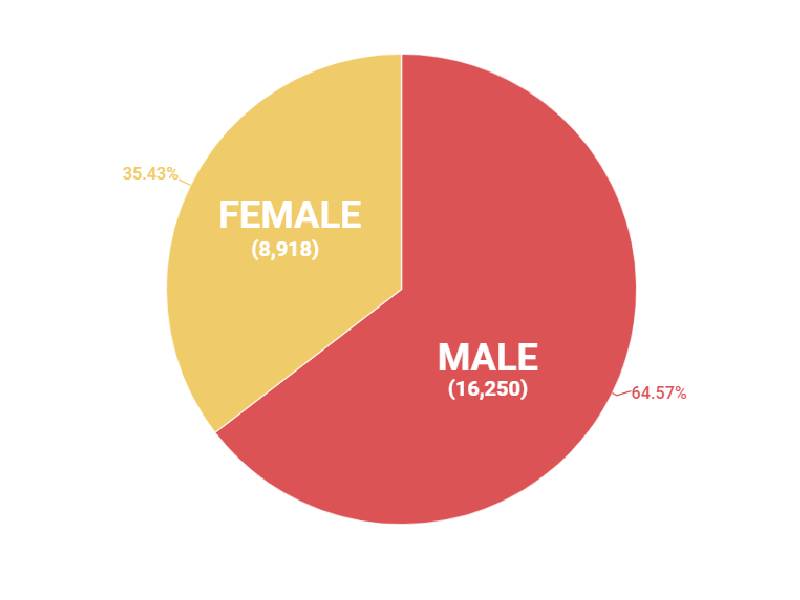 The number of males that have contracted the virus vs females (GHMC)
Source: GHMC
5 July
, the number of males who had contracted the virus up to then was 15,559, while the number of females who had tested positive was 8,343.
"One of the reasons for this might be the carelessness men usually show towards precautionary measures listed by medical experts and state governments," said Dr. Khizer Hussain Junaidy, a medical practitioner at the Gandhi Hospital and secretary of the Junior Doctors Association.
He further said that during the lockdown men went out to buy essential items for the family, which put them at risk.
Initial studies have shown that gender is a risk factor for higher severity and mortality in patients with COVID-19, especially because men tend to have a shorter life expectancy than women, in general.
The first preliminary study that investigated the role of gender in morbidity and mortality in patients with the virus was able to conclude that men with COVID-19, barring age, are more at risk for worse outcomes and death.
"Women are relatively more responsible in following the precautions that have been advised. Mothers often try to inculcate the precautionary habits in their children. However, this is not the same with men," Dr. Khizer added.
Studies done separate of COVID in Nature, a leading science journal, about the immunity system of both genders have concluded that women, due to their hormones, have a higher immunity to diseases and infections than men.