Does your double chin make a bolder statement that your own personality? Instead of 'deleting' it from your face using photoshop, you can smartly conceal a double chin using a hairstyle. Yes, Ladies! You read that right! To give you a better picture of what we are talking about, we have compiled 10 best hairstyles and haircuts for Women with Double Chin.
These styles give the illusion of a slimmer chin area and temporarily remove the "double" effect. It does sound like an inexpensive and easy idea to coverup your flabby chin, Doesn't it? Then, Read along to check out these flattering haircuts for double chin with pictures.
10 Best Haircuts for Women with Double Chin Face:
Here are some of the slimming hairstyles that can cover up your double chin at the snap of your finger:
1. Layered Chin Length Bob Cut: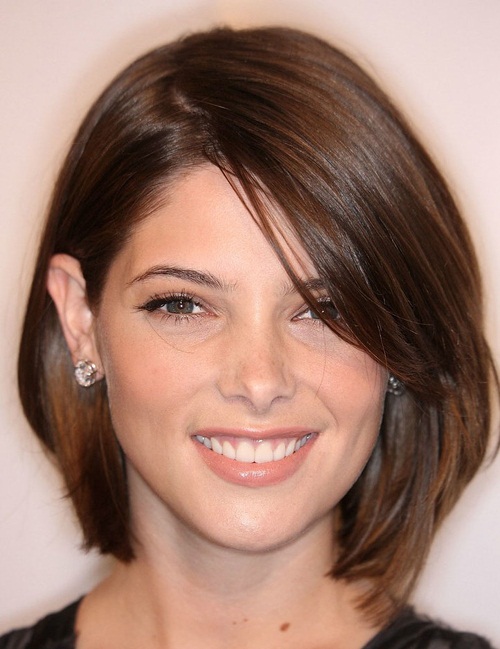 This haircut for heart-shaped faces that not only adds an element of style but also covers up your double chin like a pro! The voluminous look of the short length haircut takes away unwanted attention from the chin area. The fringes are also kept longer on one side and slightly shorter on the other for added effect. Keep the ends unevenly cut and use a round brush to turn your locks inward. That's it! Your double chin is now a secret!
2. Medium Length Layered Shag: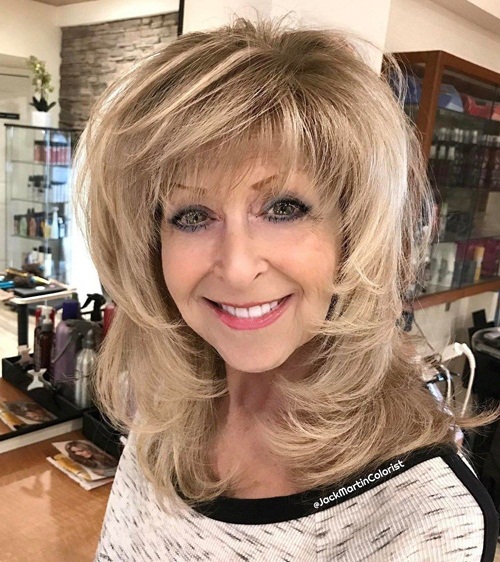 When it comes to hiding a double chin for those over 50's, the secret mantra is to add more volume to your hair. You can do that by either reverse combing your hair or trying out this layered shag hairstyle for double chin. Depending on the desired length, add as many layers as you can and use a blow-dry to achieve a voluminous look. Pull your hair to the front and cover up your jawline with luscious locks to look sensuous.
3. Long Length Haircut With Side Bangs: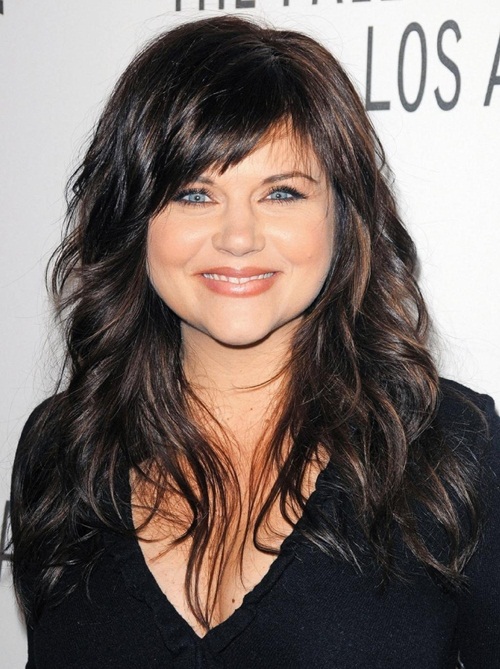 Adding layers to your long-length hair gives not only a voluminous appearance but also hides that double chin. This is a great option for those who want a shaggy look without actually compromising on the length. The uneven sidebangs remove chubbiness from your round face and leave a chiseled appearance that you always dreamt of. Pull your locks to the front and curl up the ends to look sensational!
4. Beach Curls Style for Thin Hair: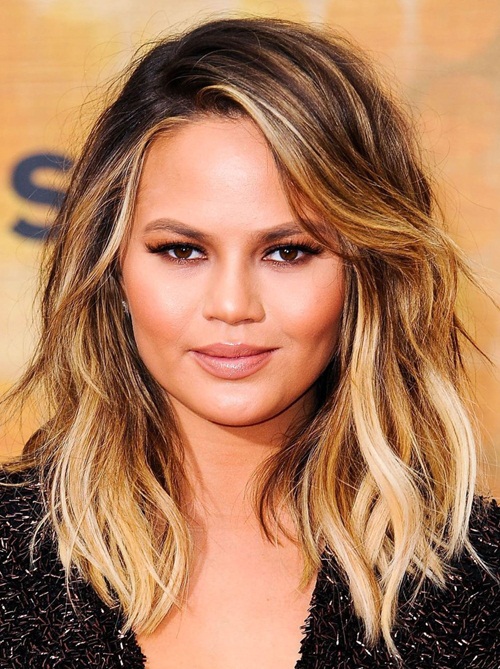 This messy, beach waves hairstyle is a smart option to cover up that double chin without having to spend too much in front of the mirror. Just chop those locks into uneven layers and use a sea salt spray to add some texture. Now twist your hair and blow-dry to get these dreamy waves. This style serves two purposes – one to hide your bulged out chin and another to flaunt a bountiful mane. We also recommend adding a golden streak or two to highlight key areas.
5. Angled Bob Cut for Short Hair: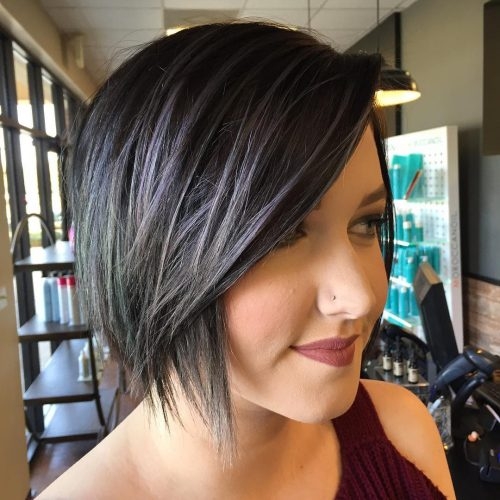 It may sound strange, but a short hairstyle can actually cover up a long face with a double chin. The magic lies in the angled bob cut where one side has long fringes that gives the illusion of a thin, contoured face. The other side is cut straight and short for a sleeker finish ! To maximize the effect, keep the ends wispy and textured. Use a blow dry to create volume on the side bangs and take away the emphasis on your double chin.
6. Shaggy Mid-Length Bob Cut: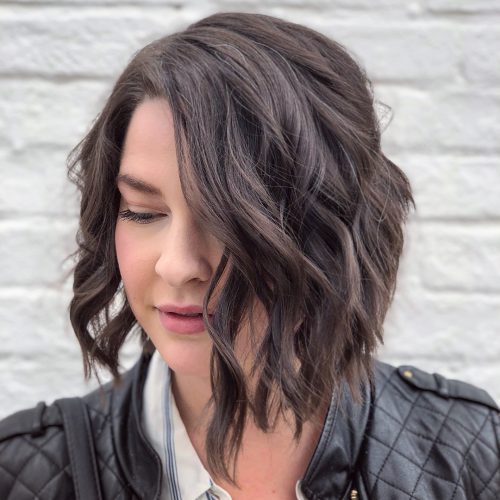 If you have a round face with a prominent double chin, then its time to befriend the popular shaggy bob cut. The textured hairstyle goes slightly beyond the chin-length to take away the emphasis from the excess bulk. It is ideal for those who are looking for a not-too-short or not-too-long look that works well for both work and play. You can use a straightener to create a polished look or leave your gorgeous locks to their free will!
7. Center Parting Hairstyle for Chubby Face: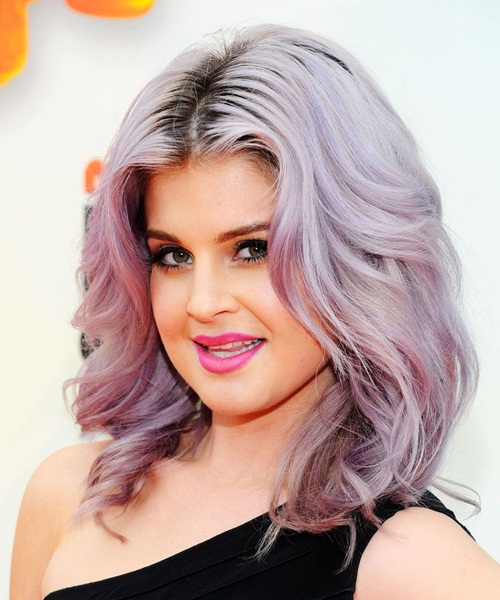 A common mistake that most women do with their center-parted hairstyle is to leave their locks too long and straight. This can make your mane look flat and limp and automatically shifts attention to your chubby cheeks and double chin. Instead, using a comb to lift up the roots and add volume on the top. Cut your locks upto the shoulder level and curl them into loose waves. Voila! You are done! Did anyone say double chin?
8. Long Bangs Hairstyle for Wavy Hair: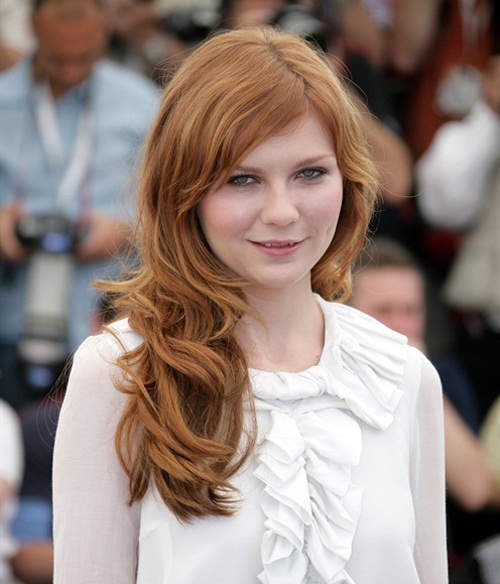 A short and round face can highlight the double chin even more. So, the key is to elongate the facial area and draw away attention from the chin line as much as possible. One easy way to do it without actually trying out a dramatically new hairstyle is by going for side bangs. You can try an edgy one or this naturally wavy, uneven bangs. Pull the ends towards your face to hide that hanging bulk.
9. Side Swept Hairstyle Fora Bigs Face: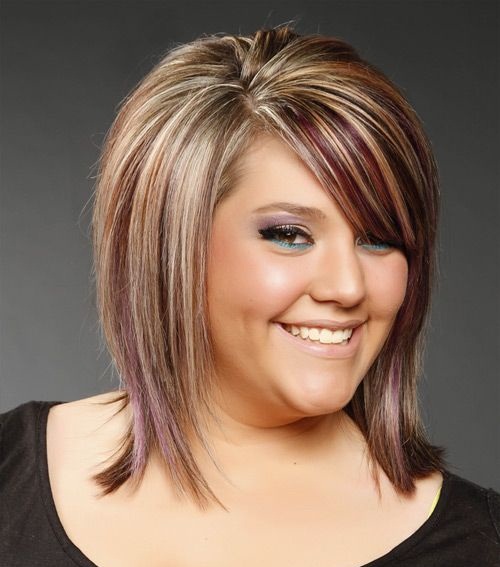 If you love short hair but hate the fact that it can make your double chin appear worse, then try this side-swept hairstyle. From the center point of your hair, take a section of mane and comb it towards one side. Now chop the ends to keep it slightly shorter than the rest of your hair. This voluminous side bangs can draw the eye away from the chin and shift it towards the upper part of your face.
10. Vintage Curly Bob: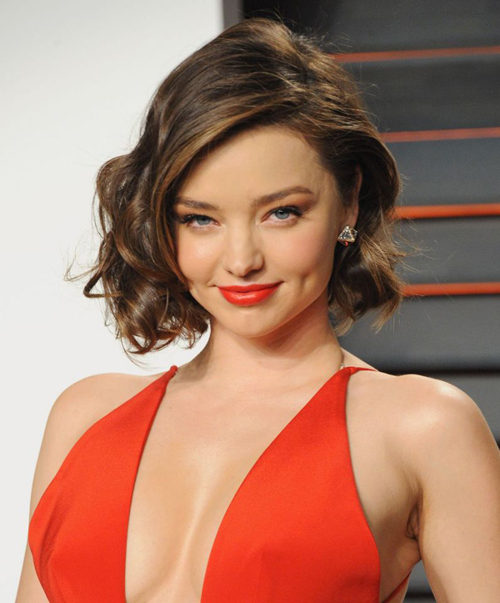 A Vintage curly bob is one of the best double chin hairstyles for round and chubby faces. This classic hairdo can be achieved by using a straightener or a curling wand to twist the ends of your locks. With a little effort, you can achieve the right volume along the chin line to cover up the double chin. Also, add multiple layers on the sides to create a textured look for a slimmer looking face!
Impressed with these different hairstyles and haircuts for double chin faces? We bet yes! Apart trying out these haircuts for a temporary change, you can also sign up for a facial exercise program and a healthy diet to shed that harmless piece of fat sitting under your chin. But for now, 'brushing under the carpet' looks like the best bet!