Did you know that your seemingly innocent blackheads are of dirt and grime accumulated in your pores? Yes! They are mostly found on the nose, T-zone and forehead areas, where the sebum production is quite high. This excess oil blocks the skin pores and turns black due to oxidation. The result – Ugly blackheads!
While salons promise to give you back your shiny nose, their procedures can make you cry in pain. Here is where these 10 Home Remedies for Nose blackheads help in getting these spots out, minus the aching and moaning!
10 Best Home Remedies To Remove Blackheads on Nose:
Let us look into the top 10 natural methods used by many men and women to get rid of blackheads:
1. Brown Sugar and Lemon:
Exfoliating your skin is a natural remedy for removing blackheads on nose overnight. However, if you are not very keen on using artificial scrubs, you can try and make one at home using brown sugar and lemon. Lemon works like an astringent, which shrinks your pores and makes them less visible. The acidic nature of this fruit can also keep your sebum levels under control. Brown sugar gently scrubs away the unwanted particles to leave your skin smooth and shiny.
How to Use:
Ingredients:
Brown Sugar – 1 tbsp
Lemon – ½ tbsp
Method:
Mix sugar and lemon together in a bowl
Now rub the sugar crystals on the affected area gently
Massage in circular motions for 20-30 seconds
Rinse thoroughly with water. Pat Dry
NOTE: You can also add a dollop of honey for additional lubrication and moisturization!
2. Oatmeal, Yoghurt and Orange Peel:
Do you start your everyday with a delicious oatmeal and yoghurt breakfast? Next time, keep some aside to work on those pesky blackheads. Oatmeal is a gentle exfoliator that can buff away the dirt in your pores. Yoghurt has lactic acid which can destroy infection-causing microbes to prevent bumps on your skin. Adding a little bit of orange peel powder can control the greasiness and nourish your skin at the same time.
How to Use:
Ingredients:
Ground Oatmeal – 1 tbsp
Orange Peel Powder – 1 teaspoon
Yoghurt – 2 tbsp
Method:
Mix oatmeal, orange peel powder and yogurt in a bowl
Now apply this mixture on your face
Massage well in circular motions for 30 seconds
Leave the mask on your skin for 3-5 minutes or until dry
Now rinse your face well with warm water
Use a clean towel to dry the area
Apply an oil-free moisturizer if needed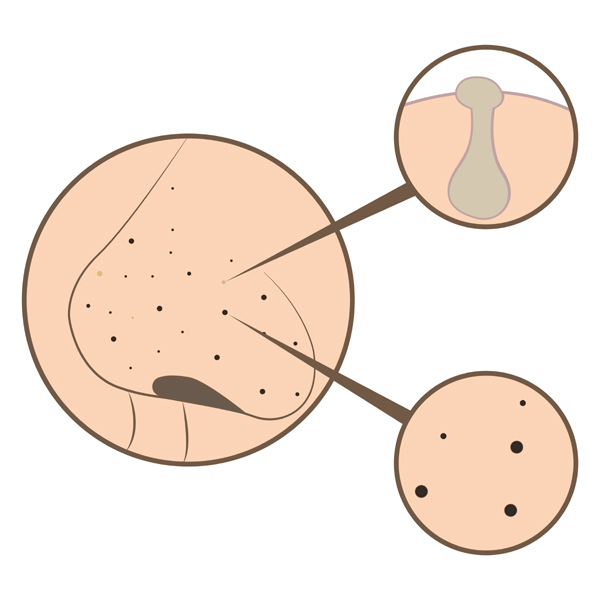 3. Turmeric and Besan:
A mixture of Besan and turmeric is a widely approved Indian home remedy for blackhead removal. This ancient beauty secret not only clarifying your skin, but also leave it smooth and glowing. Turmeric is an antiseptic and antimicrobial agent that clears your pores and inhibits microbial growth (if any). Besan works like a scrub that removes the accumulated grime, along with the dead cells. Adding some fresh milk to this mixture can hydrate and nourish your skin.
How to Use:
Ingredients:
Turmeric – 1 teaspoon
Besan – 1 tbsp
Milk – 2 tbsp
Method:
Make a paste with turmeric, besan and milk
Apply it on the affected area
Allow it to dry for 8-10 minutes
Now wet your fingers and massage the pack gently
Use circular motions for better results
Once done, rinse the pack thoroughly with water
Use a soft cloth to pat dry
Apply an oil-free moisturizer if needed
NOTE: If you have excessively greasy skin, replace milk with water.
4. Cinnamon Powder and Honey:
Powdered cinnamon makes for an excellent home remedy to remove blackheads on nose and face. Cinnamon is an antiseptic and antimicrobial agent that can kill bacterial growth and prevent infections. The coarse texture of this ingredient can exfoliate dead skin and the accumulated grime from your pores. Adding a little honey protects your skin surface from abrasion and also nourishes it at the same time.
How to Use:
Ingredients:
Turmeric – 1 teaspoon
Cinnamon Powder – 1 tbsp
Honey – ½ tbsp
Method:
Mix cinnamon and honey well
Apply the mixture on the affected area
Massage gently using circular movements
Rinse thoroughly with water
Pat dry and apply a nongreasy moisturizer
5. Tea Tree Oil:
Another best home remedy to get rid of blackheads on nose in Tea tree oil. This essential oil is a powerful anti-bacterial and anti-infective ingredient that can penetrate deep into your pores and dry out the blackheads. Once that happens, you can easily remove them using a mild scrub or exfoliator. To dilute the oil, using jojoba oil as a carrier agent to clarify your pores and also control the sebum production.
How to Use:
Ingredients:
Jojoba Oil – 1 tbsp
Tea tree Oil – 1 or 2 drops
Method:
Dilute tea tree oil with jojoba oil
Apply it on the affected area using a cotton pad or your fingers
Massage well for 1-2 minutes
Use a warm washcloth to clean the area thoroughly
Rinse with water and pat dry
6. Steam:
If you have stubborn blackheads, try steaming your face before removing them. Steaming opens up your pores and removes dirt buildup. The hot vapours loosens the blackheads and make them come out easily. You can combine steam with a mild scrub or a blackhead remover tool to get rid of these spots on your nose, forehead and face.
How to Use:
Ingredients:
Steam vaporizer or a bowl of hot water
Scrub
Method:
Steam your face using a vaporizing machine or hot water bowl
Cover your face with a towel for maximum penetration
Continue it for 1-2 minutes
While your face is still warm and wet, apply some scrub on the affected area
Massage well in circular motions
Rinse your face thoroughly with water
Pat dry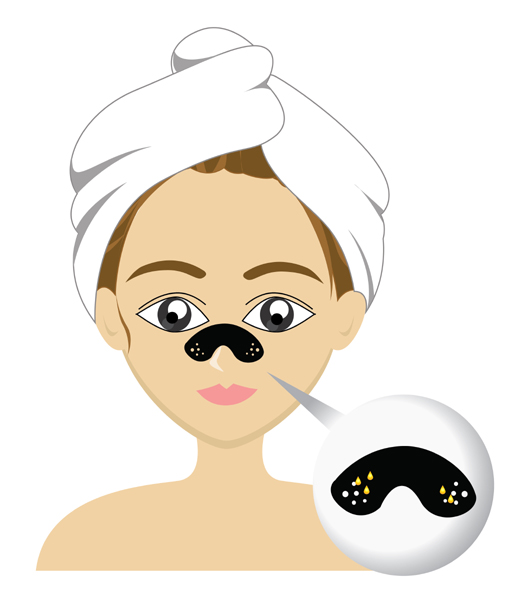 7. Green Tea:
Green tea is a powerful antioxidant that not only benefits your health, but also works like a natural remedy to remove blackheads. It contains a polyphenol called epigallocatechin gallate (EGCG) which can reduce the production of sebum on the skin and therefore, lessen the formation of blackheads. You can also use the leaf as a mild exfoliator to get rid of the black spots on your nose.
How to Use:
Ingredients:
Green Tea Dry Leaf – 1 tbsp
Warm water – 2 tbsp
Method:
Put some green tea leaf in hot water
Once the leaf softens, you can apply it directly on your skin
Massage the affected area using the green tea leaf for a few seconds
Leave it on for an additional 1-2 minutes
Rinse thoroughly with water
Pat dry
8. Egg White and Tissue Paper:
Did you know that you can make a DIY Blackhead removing strip using egg white and tissue paper? Egg white is an excellent binding agent that can form a layer on the skin after drying up. Using a tissue paper on the surface makes the peeling action effective in removing blackheads. Unlike the other strips available in the market, this one will not give you any pain or damage your skin cells.
How to Use:
Ingredients:
Egg White – 1
Tissue Paper – 1
Facial mask brush
Method:
Whisk an egg white until its frothy and smooth
Shred the tissue paper into thin strips
Use a mask and apply this mixture evenly on the nose
Now place a layer of tissue on this area
Brush it again with egg white mixture and place one more tissue paper
Repeat it for 3-4 times, until you are sure that the entire area is packed tightly
Allow it to dry for 5-10 minutes
Slowly pull the edges of the tissue and peel off at one go
Notice how the blackheads get stuck on the paper
9. Bentonite Clay:
Bentonite Clay is another best remedy to get rid of blackheads on nose. It works by cleansing your pores and soaking up excess oil, along with the accumulated impurities. The abrasive action of the clay can remove the debris and leave your skin squeaky clean. However, bentonite clay can dry up your skin if used too frequently. We recommend trying out this method for no more than 2 times a week.
How to Use:
Ingredients:
Bentonite Clay Powder – 1 tbsp
Water – To Mix
Method:
Add some water to clay powder
Mix well until you get a thin paste (but not runny)
Apply it on the affected region and let it dry
Once the pack develops cracks, you can massage the area with wet fingers
Rinse thoroughly and pat dry
10. Coffee Powder:
Coffee is not only great for lifting up your sunken spirits but also works like a physical exfoliant to remove blackheads. The coarse texture of this powder can scrub away the dead cells, along with the impurities in your pores. Caffeine present in the Coffee powder can leave your skin tighter and brighter than before. To counter the roughness of this ingredient, you can add a drop or two of honey.
How to Use:
Ingredients:
Coffee Powder – 1 tbsp
Honey – ½ tbsp
Method:
Mix coffee powder with honey
Apply this mixture on clean and dry skin
Use it as a scrub by massaging it gently for 10-20 seconds on the affected area
Rinse thoroughly with water
Pat dry with a clean towel
NOTE: Do not use rigorous movements to rub any physical exfoliants like walnut powder, coffee powder etc. as they can cause microtears on the skin surface.
These 10 Home Remedies for blackheads are mild, gentle and effective when used regularly. Apart from using them, follow a basic skincare routine which includes cleansing, exfoliation, toning etc. Also, use non-comedogenic skincare products to prevent blocks in your pores that can lead to blackheads.
DISCLAIMER: This article is written purely for informational purpose only. Although the methods are all-natural, they may not be suitable for every skin type. So, the user or reader must fully analyze the consequences before trying any of them at home.