Hyderabad: The Hyderabad Commissionerate of Police has launched an official website for connecting Covid-19 patients with plasma donors in the area. The website has been developed in collaboration with the Hyderabad City Security Council (HCSC) and is aimed at easing the process of plasma exchange between Covid-19 affected citizens.
Citizens living in Hyderabad, who were previously affected by Covid-19, and have recovered after quarantine/isolation can register for plasma donation through the following procedure.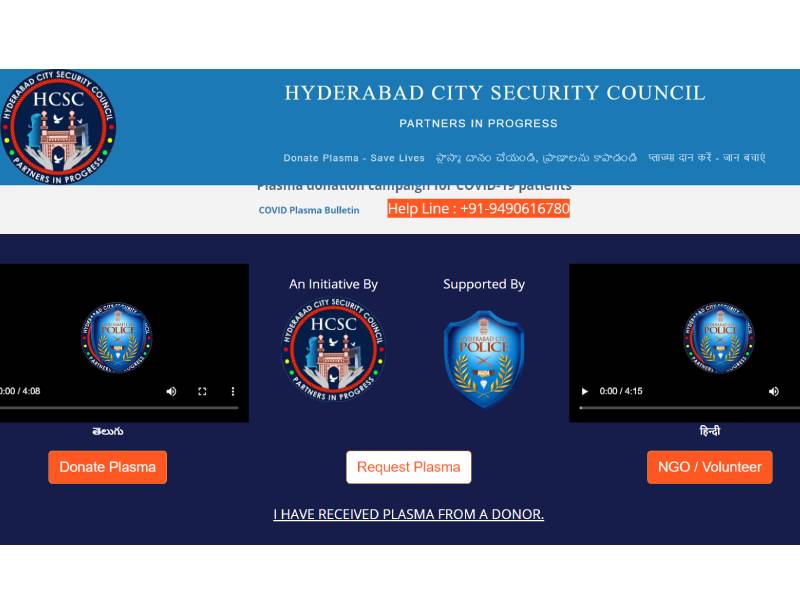 1. Log on to donateplasma.hcsc.in
2. Click on 'Donate Plasma'
3. Check the boxes for declaration and click 'Proceed to register as a donor'
4. Enter your mobile number
5. You will receive an OTP on the registered number. Enter the digits into the given slot on the website.
6. Further, enter your basic details, including details of your treatment
7. Once the registration is completed, you will receive an SMS.
8. Your details will be sent to the Covid Control Room in Hyderabad jurisdiction, where they will then be verified.
9. Once the verification process is complete, you will be called for plasma donation drive.
For those affected with Covid-19, you can log on to the website and click on 'Request Plasma'. The procedure for verification is the same.
Upon complete verification of the user, the donor and recipient will be connected by the HCSC Covid Control Room.
The website also gives an option for citizens to register as volunteers and work in collaboration with HCSC to aid the state government in battling with Covid-19.
In case of any queries, contact HCSC on +91-9490616780.
Also read: Donating plasma for COVID patients is just a click away