Hyderabad: It's been four years since the motorbike accident left Kasulabada Balakiran Kumar almost paralyzed. But when COVID-19 lockdown was announced, he did not lose a minute to volunteer for Cyberabad police despite his physical shortcomings.
Balakiran has been volunteering with Cyberabad police for the past one month, i,e for four days in a week ( every alternate day). The techie and his friend spend close to 6-8 hours at check post. The time spent depends on the ability and the health of Balakiran. Accompanied by a friend, the techie volunteers at Kukatpally junction falling in Cyberabad. "The police have been very concerned about me. They would ask me not to take too much stress and take rest when I can. I was always worried. But I have been able to do my bit. For instance, enquire about people traveling during the lockdown, enter the information with the police and so on," he said.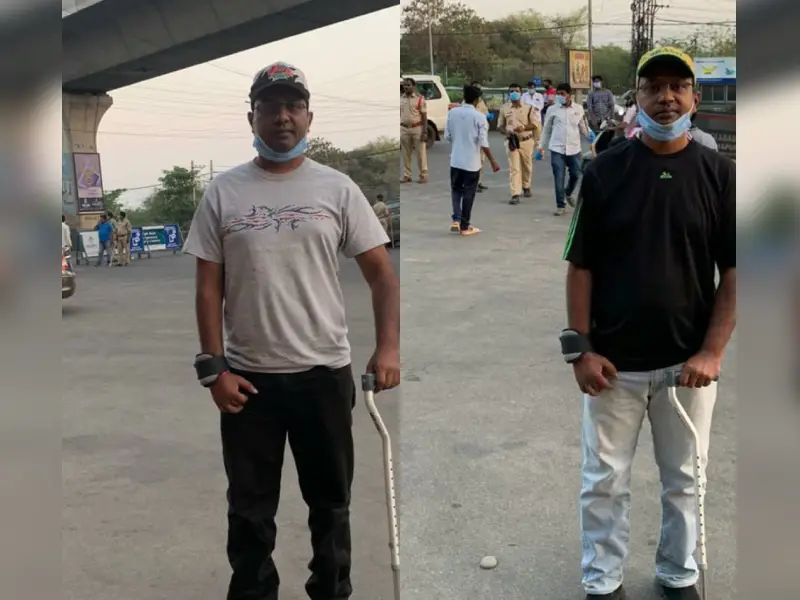 Even though the state had come to a complete halt, life has not changed much for Balakiran does not let disability come in the way . "For someone who was bed-ridden for more than a year, a lockdown does not seem new. But for me, the fact that I can put myself to some use with this volunteering service is something new. I am just happy to be able to help," he said
After the accident, he was not able to even recognize his kin. "My brother, who is a neuro-surgeon based in the UK, keeps reminding me that it is a miracle that I have got my memory back, and I can walk, albeit with effort. I am forever grateful to the doctors, my family, and friends," he said
The software engineer said everyone has a part to play in this crisis. "Now, I feel that I am as normal as anyone else. I have realized that you don't have to be a superman to help others. Nobody forced me into this, and I am just doing what I can. The important part is to try, and do whatever you can do," he said.