Hyderabad: Several citizens took to the streets to protest against the National Registry of Citizens (NRC) and Citizenship Amendment Bill (CAB) on December 8. Around 300 people gathered to form a human chain against the citizenship exercise, which has already rendered 2 million people 'stateless' and without identity in the country. The protest was held under the banner of 'Citizens Against NRC and CAB'.
Speaking to the media, Kiran Kumar Vissa from National Allied People's Movement (NAPM) said "India is a secular democratic country, and NRC and CAB have been brought in to destroy its secular fabric by the present government. Telangana government should immediately take a position about NRC and CAB. They need to take a clear stand and say that in Telangana state, NRC won't be implemented."
Calling the citizenship exercise anti-Dalit and anti-Muslim, many slogans were raised. The protestors also alleged that the government is trying to people busy with useless exercises like NRC to distract them from real problems.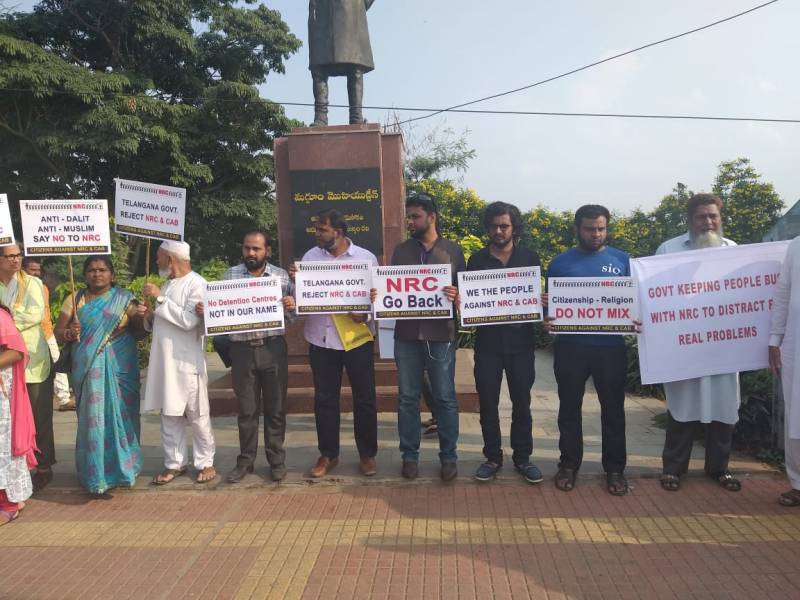 The Citizenship Amendment Bill is expected to be introduced to Parliament on December 9. A brain-child of Amit Shah, the bill maintains that Hindus, Sikhs, Buddhists, Jains, Parsis and Christians from Afghanistan, Bangladesh and Pakistan shall "not be treated as illegal migrants" even if they had entered India illegally. If the bill is passed, this legislation would for the first-time religion becomes a factor in India's citizenship law.
Meera Sanghamitra, one of the protestors said, "As citizens of India, we may be of different religions, but we believe in the Constitution unitedly. Even last time, the BJP government had tried to put forward this bill, but it lapsed in the Rajya Sabha. Citizenship based on religion is completely illegal." Talha Fayazuddin, state president of SIO commented that NRC is not just anti-Muslim but anti-Indian. "NRC is a way introduced to systematically remove poor, backward, minority people who don't have documents to prove their identity. This is a futile exercise that is inhuman, irrational, anti-national and anti-constitutional."
Earlier, on November 26, ex-IAS officer Kannan Gopinathan speaking at a public forum in Hyderabad had said, "NRC is against the poor, unorganised, and displaced people. The Citizenship Amendment Bill (CAB), on the other hand, is the NRC meant exclusively against Muslims."